Christina Aguilera MasterClass Review:

Will it Improve Your Singing Skills?
Just a heads up, whenever possible, I use affiliate links in my reviews to help cover the costs of running this site. You can learn more here.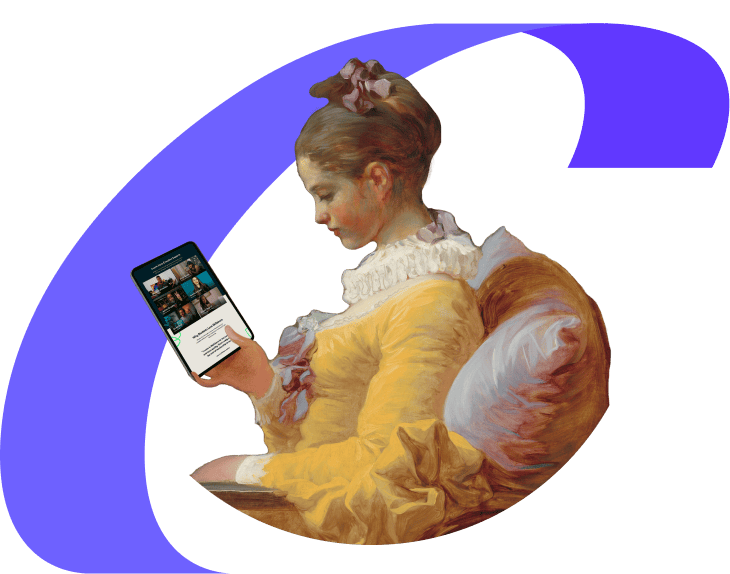 Aspiring singers and musicians today have several avenues to consider when looking to improve their singing skills. From music classes to singing courses, there isn't a shortage of music teachers claiming to have what it takes to make you a better singer.

If you've been exploring online singing courses, chances are you've come across Christina Aguilera's singing course on MasterClass. Aguilera is undeniably one of the most talented musicians of our time. But can this great singer effectively transfer her artistry to others?

Join me in this review of Christina Aguilera's singing MasterClass and let's find out if this online singing course has what it takes to make you a better singer.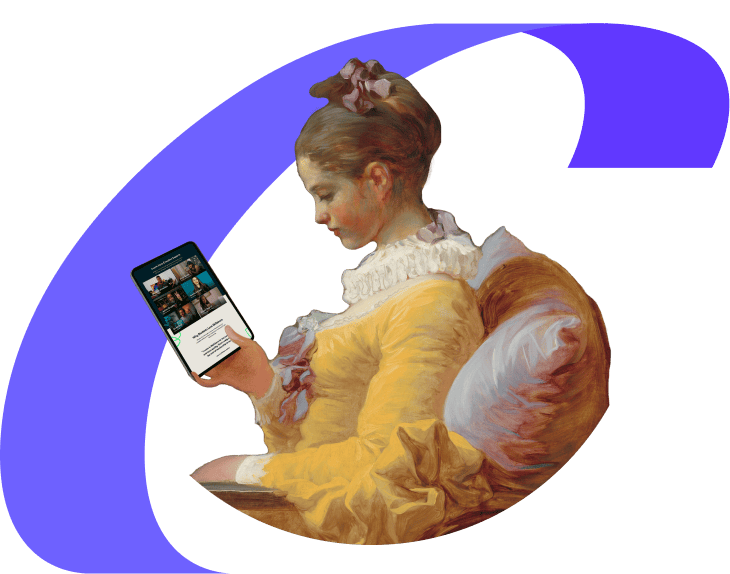 Christina Aguilera MasterClass Overview
Christina Aguilera's Singing MasterClass is in a league of its own when it comes to online courses. Unlike other singing courses, this class is taught by someone who knows what it takes to get to the top of the music industry.

In addition to teaching different vocal techniques, Christina shares numerous insightful tips, covering everything from essential elements in a recording studio to how to create your own style and be your own artist. This online singing course will benefit everyone from aspiring and intermediate singers to experienced singers
Christina Aguilera MasterClass Review Summary
| | |
| --- | --- |
| ⭐ Rating: | 9.8 ★★★★★ |
| 🥇 Category of class: | Arts & Entertainment |
| 📈 Suits best for: | Aspiring artists and fans of Christina Aguilera songs |
| 🕒 Lenght: | 3 hours 43 minutes |
| ⏳ Avg. Lesson Duration | 10 minutes |
| 🛍️ Course Essentials: | Class guide, suggested viewing schedule, pen, and paper |
| 💼 Complementary material: | 46-page class guide, Christina Aguilera's albums |
| 📚 No. of Lessons: | 23 lessons |
| 🛒 Payment options: | Individual / Duo / Family |
| 💵 Price: | 10 – 20 $ (billed annually) |
| 🔄 Refund policy: | 30-day satisfaction guarantee |
| 🎁 Free trial: | ✅ |
Key Skills You'll Learn
How to find your own voice;
Vocal techniques for warming up your voice;
How to expand your vocal range;
How to hit high notes;
How to protect your vocal cords;
How to find your inner rhythm;
How to perform live;
How to choose the right microphones.
Who is Christina Aguilera's MasterClass for?
The Christina Aguilera MasterClass is for anyone looking for detailed insight on how to find and perfect their singing voice. It is also a great value course for any aspiring artist looking to gain insights into the music industry from the perspective of a successful and experienced singer. The Christina Aguilera MasterClass caters to music enthusiasts who want to learn from a living pop legend.
Our Evaluation
Total score: 9.8
Christina Aguilera as an Instructor
Student Engagement and Retention
In This Christina Aguilera's MasterClass
Review, You'll Learn
Christina Aguilera MasterClass Instructor Review
About Christina Aguilera
Christina Aguilera is considered one of the most talented musicians of all time. With over three decades of experience at the top of the music industry, the pop-singing superstar has bagged just about any music award there is, including five Grammy Awards, two Latin Grammy Awards, and numerous American Music and MTV Video Music Awards.

And with over 75 million records sold to her name, Christina Aguilera is one of the most successful music artists of all time. Although Aguilera is primarily known for singing pop, she has proved throughout her singing career that her voice can transcend just about any music category, including jazz, blues, hip-hop, R&B, and rock music.

The pop music legend is a former vocal coach on the popular TV show The Voice and has been honored with a star on the Hollywood Walk of Fame.
Christina Aguilera as an Instructor
Great singers don't always make good music teachers. The problem is that singing is a different skill than teaching others to sing. Does the same apply to Aguilera?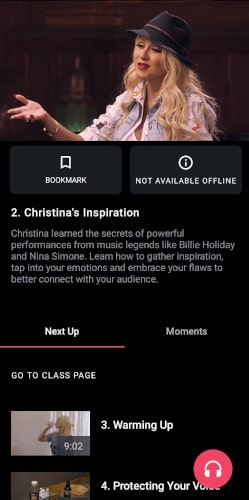 She makes nuanced concepts easy to understand, and I was frequently left wondering why I had never thought of that before. However, Christina teaches music in an unconventional manner. She didn't receive any formal music training and is more of an intuition-based artist.

As such, don't expect formal music lessons in the Christina Aguilera MasterClass. Instead, Christina teaches you how to find your "truth," which emphasizes emotional connection and authenticity in singing.

Christina encourages students to tap into their emotions and personal experiences, allowing their true voice to shine through. This approach helps students develop their own style and expression rather than trying to imitate others. It means identifying the type of singer you are first before working on vocal techniques.

Christina Aguilera's expertise as a teacher is further showcased by her exemplary workbook. It contains practical exercises and valuable insights that complement the video lessons. The workbook even has a suggested viewing schedule to ensure you get the most out of Christina Aguilera's MasterClass at your own pace instead of rushing through it.

Christina's ability to explain nuanced concepts in an easy-to-understand way, plus her natural charm, make the lessons fly by fast.
About MasterClass
Since 2015, MasterClass brings 180+ online classes from top-tier instructors in almost any field. It includes pre-recorded video lessons from masters such as Richard Branson, Martin Scorsese, Aaron Sorkin, Gordon Ramsay, and many others.

The video quality equals Hollywood movies, and every MasterClass course is carefully structured. But that's not all. There are interactive assignments, MasterClass community activities, and an ever-growing video library to enjoy. The sheer amount of content can make it hard to begin. Cursums will help you to choose wisely.
Uniqueness and Freshness of the Content
Whether you are a budding singer or a music artist looking to perfect your singing skills, there's certainly no shortage of online singing courses for you to choose from. However, if you're going to learn how to sing from someone, it may as well be from one of the greatest singers of our generation.

That's what makes Christina Aguilera's MasterClass a cut above the other singing classes. You get Christina's unique take on what you need to do to become a better singer and artist. Moreover, by taking the Christina Aguilera MasterClass, you'll be saving yourself hours of valuable time trying to compile random pieces of singing advice from different sources.

While MasterClass offers a wide range of music courses, from guitar playing with Tom Morello to music crafting with Deadmau5, and other singing courses by talented musicians such as Mariah Carey, Usher, and more, but what sets Christina Aguilera's singing course apart is her emphasis on developing your own style.This approach distinguishes her MasterClass from others, making it a must-see for aspiring singers and music artists.
Christina Aguilera's MasterClass Content and Structure Review
With a runtime of 3 hours and 43 minutes, the Christina Aguilera MasterClass is one of the lengthiest courses on the platform. Fortunately, Christina makes the course content digestible by dividing it into 23 video lessons, each averaging 10 minutes.

While you can complete the entire singing course in one sitting due to how engaging it is, Christina provides a suggested viewing schedule that spans 6 weeks. This schedule aligns with the assignments in Aguilera's workbook, ensuring you review the lessons thoroughly to grasp the knowledge well.
Warming Up
1-5 Lessons Summary
The MasterClass begins with a warm introduction from Christina Aguilera, where she encourages you to approach her singing course with an open mind. She emphasizes that she doesn't always adhere strictly to conventional rules, as Christina believes that attempting to follow every single rule out there can hinder your progression as a singer.
Instead, Aguilera advocates for finding your own unique voice and style, embracing your individuality, and using her teachings as tools to unlock your full singing potential. By doing so, you'll discover a new level of authenticity and confidence in your voice that will set you apart as a truly exceptional singer.

In lesson 2, Christina reveals her inspiration for getting into music and how she used to sing along to legendary musicians such as Billie Holiday to understand her own voice.

Aguilera then emphasizes the importance of warming up and protecting your voice. Christina shares some of the techniques she uses to keep her vocal cords, and thus her voice, in good shape.

In lesson 5, Christina Aguilera shows how to expand your vocal range, enabling you to sing high notes without damaging your voice.
Student Sessions and Mastering Vocal Techniques
6-11 Lessons Summary
Chapters 6 to 8 feature Christina Aguilera vocal coach lessons, where she helps three aspiring singers with different styles improve their vocal techniques. It is a pleasure to watch Christina step into her role as a vocal coach, pinpointing and correcting tiny details that instantly elevate each student's singing.
Christina then touches on diction, highlighting how often singers get caught up in trying to enunciate each word in a song, which can sometimes negatively impact their singing. She further showcases her mastery of various vocal techniques, including belting, sliding, vibrato, and ad-libs.

Additionally, Aguilera demonstrates how to play with different tones and textures to create a unique delivery of a song.
Performance
12-18 Lessons Summary
In the Performance lessons section, Christina shares her process from rehearsal to live performance. It's a real eye-opener on the amount of effort required to deliver a captivating performance, especially in front of a live audience.
In these practice sessions, Aguilera also covers critical topics such as: how to duet properly, how to develop your inner rhythm, microphone techniques, dealing with stage fright, how to perform live.

These lessons are valuable for both beginners and experienced singers, as Christina delves deep into what she does to create her iconic performances.
Advice for Artists
19-23 Lessons Summary
In the final section of Christina's Singing MasterClass, Christina shares profound knowledge on how to take care of yourself as a music artist. Aguilera emphasizes the importance of learning from your mistakes and taking them in stride.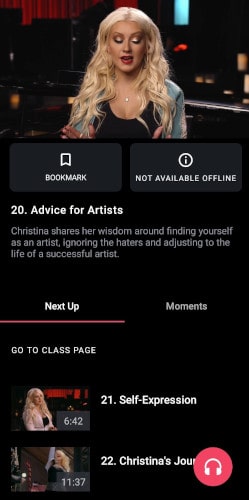 Christina also provides insights into the challenges to expect in the music industry, assuring you that they will all be worth it if you keep singing your truth.
Fast-Track Lesson Plan
Finish Christina Aguilera's MasterClass in 1 hour, 13 minutes, and 59 seconds.
| | | |
| --- | --- | --- |
| No. | Lesson | Duration |
| 3. | Warming Up | 9:02 |
| 4. | Protecting Your Voice | 11:27 |
| 5. | Range | 10:02 |
| 10. | Mastering Vocal techniques | 12:33 |
| 11. | Playing with Textures and Tones | 15:24 |
| 14. | The Beat | 07:06 |
| 17. | Performance Anxiety | 08:25 |
Christina Aguilera's MasterClass Student Engagement and Retention
The Christina Aguilera MasterClass is tastefully done, boasting top-notch production quality that captures your attention from the very first lesson.

In addition to being engaging to both watch and listen to, Aguilera is actually a great tutor. Christina teaches in a way that helps you grasp the concepts intuitively, which is one of the hallmarks of masters.

The lessons progressively build on each other, and the assignments help reinforce the knowledge. Christina's workbook is an incredibly useful resource as it explains the lessons in more detail.
My Personal Experience with Christina Aguilera's MasterClass
Things I Liked About the Christina Aguilera MasterClass
Christina's Unique Perspective
Aguilera's MasterClass is all about using your gut to guide you to your singing voice. Christina believes that we all have a singing voice and that all you need to do to find yours is to sing your truth. She teaches you how to discover your voice as a singer and how to infuse emotions to bring a song to life.
Well-Structured Lessons
You can tell that this MasterClass isn't a hurried compilation of random pieces of advice by Christina. Aguilera took her time to organize the course content in a way that benefits anyone who takes this singing course.
Talks About Life as an Artist
Singing in a highly-controlled environment such as a recording studio is one thing. A live performance is a different kettle of fish altogether. Christina shares the most important lessons she has learned over the years, helping you increase your chances of success as a music artist.
Things I Didn't Like About the Christina Aguilera MasterClass
Doesn't Teach How to Write Songs
The only complaint I have about this MasterClass is the lack of lessons discussing songwriting techniques. While Christina Aguilera provides invaluable insights into singing and performance, it would have been beneficial to also have guidance on crafting lyrics, melodies, and song structures to complement the vocal training provided in the class. However, I found and filled all the gaps with Timbaland's MasterClass, where I found more structure around the songs.
Is Christina Aguilera's MasterClass Worth the Money
Cost of Christina Aguilera's MasterClass
The Christina Aguilera MasterClass payment options starts from $10 per month to access most popular lessons and course materials. Not only will you receive invaluable insights from Christina's singing expertise, but you'll also gain entry into a treasure trove of knowledge – access to all the other courses on MasterClass!
| | |
| --- | --- |
| Plan | Price |
| Individual (one device) | $10 per month |
| Duo (two devices) | $15 per month |
| Family (six devices) | $20 per month |
Does the Class Keep Its Promises
Christina Aguilera's singing course surpassed my expectations. I went into the MasterClass singing class thinking I would learn some basic vocal techniques, but what I gained was so much more. Christina's unique perspective on finding your voice and singing with emotions truly resonated with me.

The well-structured lessons and practical exercises helped me improve my singing skills significantly. Additionally, her insights into the challenges and realities of the music industry were eye-opening.
Christina Aguilera MasterClass: What Others Have Said
The reviews on the Christina Aguilera MasterClass are mostly positive, with students and professionals alike praising the valuable insights and unique teaching style she brings to the table.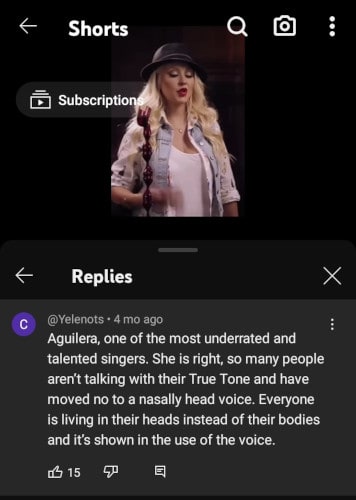 Whether on social media or on a professional review site like Music Grotto, students are raving about how Christina's singing course has helped them discover their true voice and grow as singers.
Some Reddit users criticize Agulera's MasterClass as she is a natural talent. But there are also those defending her, suggesting that those who think Aguilera's methods don't work haven't really tried them.
Essentials Used in the Christina Aguilera MasterClass
Being a singing class, you don't need any fancy or expensive equipment to participate in Christina Aguilera's MasterClass. You only need your voice and a willingness to learn. Still, there are a few extras that will make your learning experience more effective. They include:
A notebook or journal to jot down notes and reflections.
Christina's class guide
A recording device (e.g., smartphone or basic microphone) to track your progress.
A quiet and comfortable practice space to stay focused.
Alternatives to Christina Aguilera'a MasterClass
Other Arts & Entertainment Courses Available on MasterClass
Mariah Carey teraches voice as an instrument
Usher teaches the art of performance
John Legend teaches Songwriting
Danny Elfman's teaches film scoring
Armin Van Buuren teaches dance music
Timbaland teaches producing and beatmaking
Questlove teaches curation and DJing
Ringo Starr teaches drumming and creative collaboration
Metallica teaches being a band
Carlos Santana teaches the art and Soul of Guitar
Alternatives to MasterClass
Udemy
Udemy is one of the most popular online learning providers, with a massive choice of various classes. The learning platform covers a range of music courses for beginner and advanced learners.
Coursera
Coursera is another big name in the online courses market, with a lot to offer in music-related fields. It's a great way to expand your knowledge of the field without spending much money on online learning.
Skillshare
Skillshare focuses on practical courses, with educational videos substituting expensive college courses. The aim is to provide users with marketable skills for finding a job. There are some courses related to creating your own music as well.
Q&A about Christina Aguilera's MasterClass

I've spent the last ten years passionately studying various online learning platforms. Udemy, MasterClass, Coursera, and Skillshare are the main ones, but I review lesser-known study tools as well. I test and analyze each course and lesson thoroughly before sharing my research.