Best MasterClass Courses:

How to Choose the Best Classes for 2023
Last updated on: September 1, 2023, Written by:
Bill Tremlon
Just a heads up, whenever possible, I use affiliate links in my reviews to help cover the costs of running this site. You can learn more here.
MasterClass is one of a kind learning platform bringing video lessons from well-known experts at a modest price. I've spent the last few years learning from these MasterClass classes – from writing courses with famous authors to cooking lessons by world-renowned Michelin chefs.

While every course is taught by an expert you likely know, not all celebrity classes are equally valuable. So before making a purchase, it's good to have all the categories reviewed and have the best MasterClass courses ranked.

That's what this article will present. I will provide my top picks for each MasterClass course category and suggest some of the best MasterClass courses for each.

Note that the best MasterClass classes mentioned in this review might change as new ones are added every month.
Best MasterClass Course Overview
Every MasterClass course is unique in its own way. However, I found that some cover their category more comprehensively than others. With many online courses to choose from, finding the right one to learn a skill can get overwhelming. The top MasterClass courses I listed below are the best classes for their category that will equip you with the essentials you need.
Top 11 MasterClass Classes Ranked
| | | |
| --- | --- | --- |
| 🍽️ Food & Cooking: | Gordon Ramsay. It's Gordon Ramsay! His cooking classes are one of the most popular MasterClass courses | 9.6 |
| 🎩Design & Style: | Kelly Wearstler. An inspiring online class taking you on field trips to design projects. | 9.2 |
| 🖼️ Arts & Entertainment: | Martin Scorsese. With lessons on casting, design, and marketing, this filmmaking course is beyond just directing | 9.5 |
| 🎼 Music: | Christina Aguilera. A deep dive into singing, from vocal techniques to performing live | 9.8 |
| 💸Business: | Chris Voss. Teaches negotiation to boost sales and revenue – the most important aspect of any business | 9.8 |
| 🏆 Sports & Gaming: | Phil Ivey. These online classes feature takeaways applicable to all sports and life in general | 9.4 |
| ✒️ Writing: | Neil Gaiman. Essential writing skills not only for friction writing but for finding inspiration for the writing process | 9.4 |
| 🔭 Science & Tech: | Neil deGrasse Tyson. Learn scientific thinking and how to apply it to the way you communicate | 9.6 |
| 🏡 Home & Lifestyle: | Brandon McMillan. Learn how to train your dog and end behavioral issues | 8.8 |
| 🏛️ Community & Government: | Hillary Clinton. Understand how to overcome any setback and move forward in life | 9.3 |
| 💵 Wellness: | Jon Kabat-Zinn. An online class guiding you to inner calm with a healthier body and mind | 8.9 |
In This Best MasterClass
Review, You'll Learn
Discovering the Ideal MasterClass For You
There are nearly 200 MasterClass courses. Unless you want to learn something specific, like Indian cooking or dog training, choosing the ideal course is relatively easy. But most MasterClass covers numerous options in each category.

It makes it overwhelming to find the best MasterClass classes. Almost all courses are appealing. You'll have the industry's leading names, regardless of what you're learning, from culinary arts to dance music. That's why I had to list the best MasterClass classes for each category after writing a MasterClass review for all the courses.
About MasterClass
MasterClass is a popular online learning platform that brings video lessons from experts in their field. Every course has in-depth lessons that teach new skills, from business strategy to technical aspects of design and adventure photography. MasterClass video lessons are the perfect starting point for picking up something new, and the practical exercises from the workbooks take what you've learned to the next level.

The best part is you can access everything with an annual MasterClass subscription for $10 per month (billed annually). MasterClass provides excellent value with over 180 courses from famous instructors.
How Does MasterClass Actually Work?
MasterClass courses have around 20 lessons that total two to five hours, though some are longer. Each video lesson has exemplary production quality that no other online learning platform can match.

At first, it may appear as MasterClass courses are all about video lessons, but they are more than that. Best MasterClass episodes are supplemented with class guides and homework assignments. Some also include MasterClass Sessions that get you interacting with teaching assistants and other students. There are also live recordings of instructors that answer questions from the MasterClass community.

You can watch MasterClass courses on your computer or download the app on Android, iOS, and Smart TVs. The user experience is excellent, and navigating different online courses or features is effortless.
Applying Curry's teachings to the basketball court step-by-step never felt overwhelming. Throughout the course, he gives helpful tips to overcome common mistakes and ways to create practice routines to focus on your weak areas. I found Steph to be an excellent instructor that teaches everything in a digestible way.
Best MasterClass Courses: Where to Start?
Finding the best MasterClass course for your learning goals starts with choosing a category first. From there, you can pinpoint the best class. For example, if you want to learn different cooking techniques, start with food and narrow it further by cuisines or take an all-inclusive course, like Mashama Bailey or Gordon Ramsay's cooking MasterClass classes.

If you've just got a MasterClass subscription or a MasterClass gift card option but don't know what to learn, the browse tab and the Discover feature will be handy.

Below, you'll find my best MasterClass course list for each category on the learning platform.
Food & Cooking
There are two MasterClass courses of Gordon Ramsay. The first covers the basics of cooking techniques, and the second teaches restaurant recipes at home. It's the overall best cooking MasterClass – and not only it's Gordon Ramsay.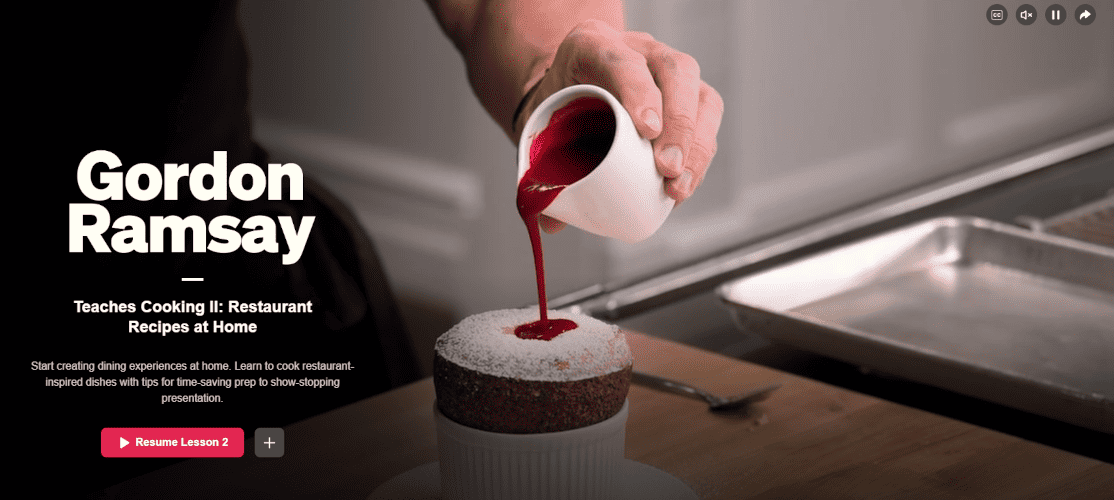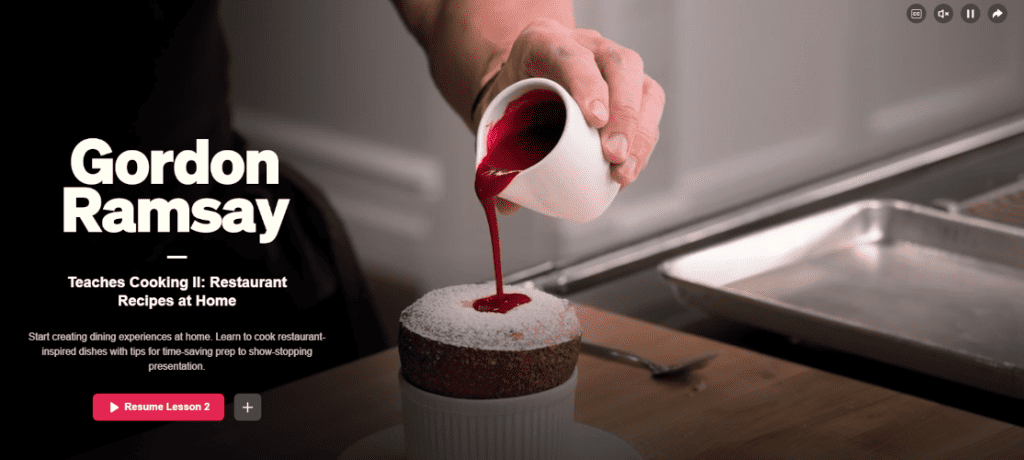 From the first lesson to the end, Chef Ramsay breaks cooking techniques into manageable chunks for everyone to understand. The course covers cooking diverse ingredients in various ways in two parts. It ensures there is a lesson for every cook so you can begin practice with Gordon Ramsay right away.

Honestly, choosing Gordon Ramsay's class as the best cooking MasterClass course wasn't an easy choice. Thomas Keller's course was similar, and the one where Alice Waters teaches the art of home cooking is also of high value. Still, I found Gordon Ramsay's course easiest to follow.
Design & Style
Kelly Wearstler's interior design course is an insightful MasterClass to find your inspiration while taking you on field trips to her projects. You get to see Wearstler's creative process for designing spaces and working with different lighting, materials, texture, and color. The detail and broad appeal of the course make Kelly Wearstler's interior design course the best MasterClass for this category.
Whether you're an interior designer pursuing professional development or simply designing a room, you can benefit from her course. It's full of practical tips for creating an aesthetically pleasing yet comfortable space that will also help you overcome design blocks. Plus, these MasterClass classes feature fun assignments to find your inspiration and understand different design concepts.
Arts & Entertainment
Martin Scorsese's filmmaking course is one of the best classes on MasterClass. It teaches every step of filmmaking. You'll learn what to look for in scripts, how to cast actors, pick filming locations, edit, and design sound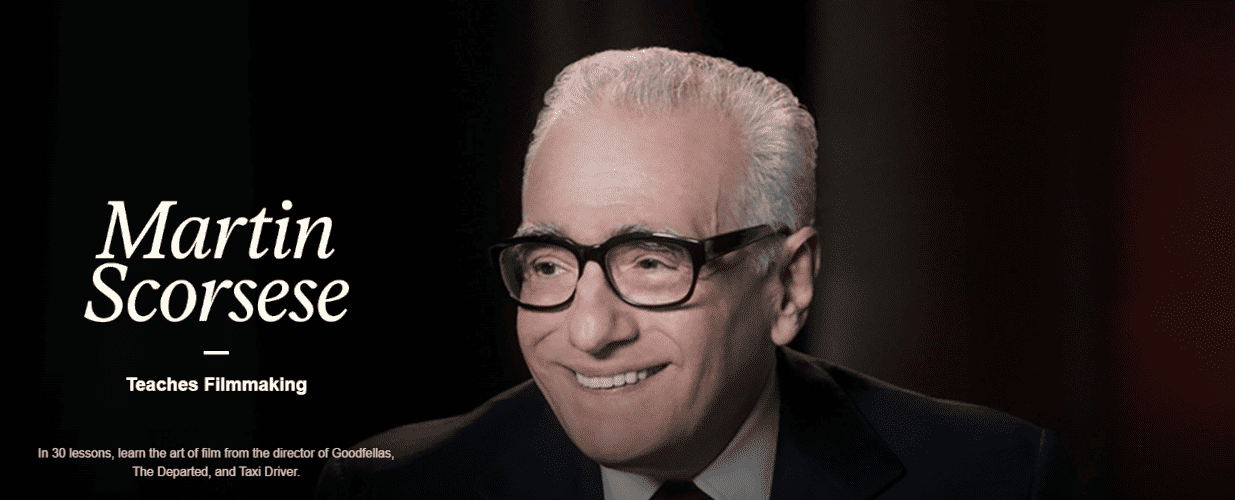 The course teaches everything you need to carry your film to the big screen. It truly shows just what MasterClass courses are all about by giving an opportunity to learn from a director as notable as Martin Scorsese.

While you learn from the detailed video lessons, Martin Scorsese analyzes scenes from films that convey his teachings perfectly. Coupled with Martin Scorsese's teaching style and the examples he gives, you'll have an excellent introduction to filmmaking.
Music
Christina Aguilera, the five-time Grammy-award-winning singer, had a huge impact on the music industry. Often referred to as the "Voice of a Generation," Christina Aguilera is an undoubted instructor. She teaches warming up, vocal ranges, various vocal techniques, and performing live.
Christina also gives practical tips for overcoming mistakes and stage anxiety, but her online class is more than these insightful videos. In addition to the MasterClass videos, you can practice warming up and performing live with student sessions.
Business MasterClass
Chris Voss is a former FBI hostage negotiator and the author of the popular negotiation book, Never Split the Difference. While it may seem like his background doesn't align with MasterClass courses for professional development, Chris Voss MasterClass teaches negotiating skills you can apply to your business strategy.

This online course has a big emphasis on sales that can boost the revenue of your business while helping you understand different customer profiles.

Chris Voss MasterClass supplements these teachings with mock negotiations. The detailed workbook also hones everything taught in the video lessons. It's an excellent MasterClass for anyone that wants to up sales and learn the art of negotiation.
Sports & Gaming
There are various MasterClass courses on sports. For example, where Stephen Curry teaches shooting, and Serena Williams teaches tennis. While these are sport-specific, I found Phil Ivey's poker course to apply to all sports. The course does an excellent job of conveying how to set up a strategy and play it out. Phil Ivey's MasterClass videos also cover keeping a strong mindset to overcome difficulties and losses.
Even if you have no interest in poker, you'll find Phil Ivey's poker course one of the best MasterClass courses for athletes aiming high. It's a MasterClass class that reaches beyond its primary focus, giving it a well-deserved spot in this MasterClass review.
Writing
Neil Gaiman's writing MasterClass had to be at the top in his category. You witness the writing process of a highly acclaimed writer and learn how to develop stories, create compelling characters, and find your voice for different genres.

The production quality of this class makes it stand out among all the courses on writing. The class also has an incredible workbook that supplements the video lessons with practical exercises, charts, and excerpts.
It's visually appealing, which keeps you engaged. Although Neil Gaiman's lectures make one of the best MasterClass courses, it focuses on fiction writing. So I recommend Malcolm Gladwell Teaches Writing MasterClass for non-fiction writers.
Science & Tech
In 2 hours and 14 minutes, Neil deGrasse Tyson teaches scientific thinking and how you can apply that to your life. He does an incredible job applying the scientific method to critical thinking and helping you communicate better. Tyson essentially teaches you to express yourself like him – perhaps the most notable trait of his personality.
Neil deGrasse Tyson's MasterClass may be short, but the lessons are very detailed and strategically build up to communication skills. It's one of the best courses on MasterClass, where you'll have fun while learning how to use scientific thinking in your daily life.
Home & Lifestyle
The former host of "Lucky Dog," Brandon McMillan, had to be on my best MasterClass courses list. He's an engaging teacher that guides training in the seven basic commands, housebreaking, and curbing unwanted behaviors.
Brandon's MasterClass is mostly about training your dog, but the video lessons go beyond that. It will also open up an understanding of your dog's behavior and psychology, which will help you create a stronger bond. Even if dog training wasn't on your mind when signing up for MasterClass, I highly recommend this course for dog owners.
Community & Government
Hillary Clinton is a prominent political figure with a lengthy career. Her MasterClass classes teach the power of resilience and show you how effective it can be in all aspects of life. While it won't guide you to becoming a secretary of state, it will help you to stay resilient and pursue your goals in life.

Hillary Clinton's class is one of the best MasterClass courses beneficial to anyone with lessons on organizing a busy schedule, public speaking, negotiation, and overcoming setbacks. The MasterClass also goes beyond class description to give you a chance to hear Hillary Clinton's would-be victory speech for the 2016 Presidential Election.
Wellness
Top MasterClass on Wellness: Jon Kabat-Zinn Teaches Mindfulness and Meditation
The Wellness category on MasterClass hasn't gained as much traction as others, but Jon Kabat-Zinn's content is one of the best MasterClass courses. It's a MasterClass class with lessons that guides you through mindfulness and meditation.

You also learn the science behind meditation and how you can utilize it to reduce stress for a better life. Jon is a founder of the "Stress Reduction Clinic" and is an excellent teacher. Following him was as easy as it was fulfilling.

The course has structured video lessons that build on top of each other. Overall, it's one of the top MasterClass courses brought to you by a credible teacher with numerous published works and achievements in mindfulness and meditation.
Alternatives to MasterClass
Udemy
Udemy is one of the most popular online learning providers, with a massive choice of various classes. The learning platform covers a range of basketball courses for beginner and advanced learners.
Coursera
Coursera is another big name in the online courses market, with a lot to offer in sports-related fields. It's a great way to expand your knowledge of the field without spending much money on online learning.
Skillshare
Skillshare focuses on practical courses, with educational videos substituting expensive college courses. The aim is to provide users with marketable skills for finding a job. There are some courses related to basketball as well.
FAQ for Top-Ranked MasterClass Courses

I've spent the last ten years passionately studying various online learning platforms. Udemy, MasterClass, Coursera, and Skillshare are the main ones, but I review lesser-known study tools as well. I test and analyze each course and lesson thoroughly before sharing my research.