David Lynch MasterClass Review:

A Class As Sensational As His Films
Just a heads up, whenever possible, I use affiliate links in my reviews to help cover the costs of running this site. You can learn more here.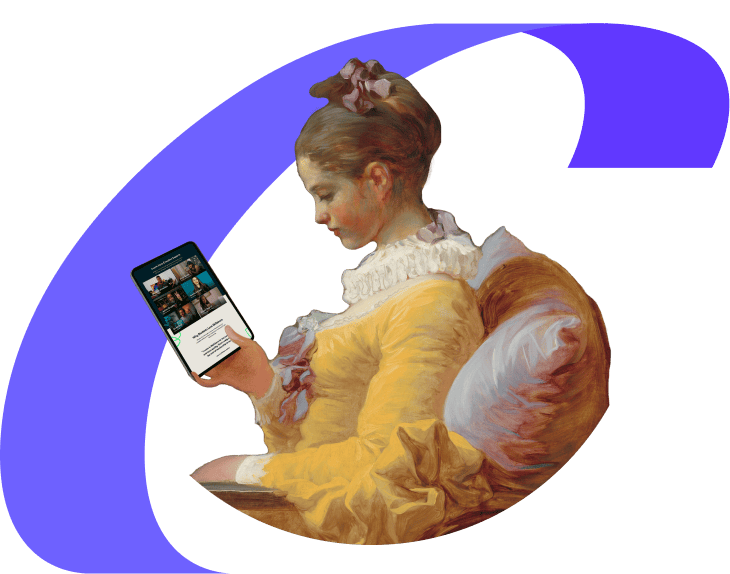 David Lynch is the man behind some of cinema's most mesmerizing creations. The surreal David Lynch work is absolutely mind-boggling and falls in its own category of films – Lynchian. If you are a Lynchian fan, you must take his amazing MasterClass, where he unveils the rule-breaking secrets behind his work.

In this David Lynch MasterClass review, I will shed light on the actual worth of taking this course for young filmmakers. My first-hand experience with this class will help you make an informed decision on whether to buy it.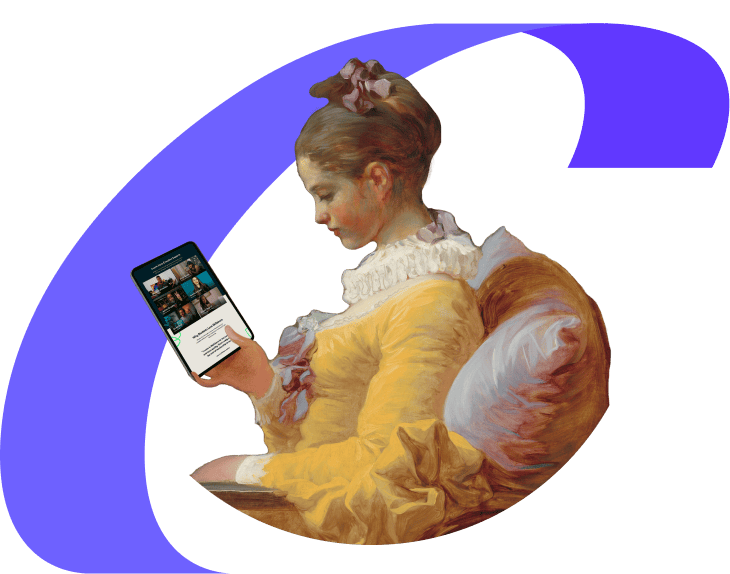 David Lynch MasterClass Overview
The highlight of the course is how Lynch, with his iconic films as examples, explains his surrealistic style of filmmaking. You also gain invaluable insights into the film industry, creativity, writing, and working with actors. This masterclass is an opportunity to learn from a visionary filmmaker who defies all conventions.

David Lynch MasterClass Review Summary
| | |
| --- | --- |
| ⭐ Rating: | 8.9 ★★★★★ |
| 🥇 Category of class: | Arts & Entertainment |
| 📈 Suits best for: | Novice filmmakers, David Lynch fans |
| 🕒 Lenght: | 2 hours 52 minutes |
| ⏳ Avg. Lesson Duration | 12 minutes |
| 🛍️ Course Essentials: | Devotedeness to learn filmmaking |
| 💼 Complementary material: | 27-page PDF class guide |
| 📚 No. of Lessons: | 13 lessons |
| 🛒 Payment options: | Individual / Duo / Family |
| 💵 Price: | 10 – 20 $ (billed annually) |
| 🔄 Refund policy: | 30-day satisfaction guarantee |
| 🎁 Free trial: | ✅ |
Key Skills You'll Learn
Explore deeply and seek thrilling ideas;
Draw from intuition and life experiences for creative inspiration;
Embrace the freedom of writing without a formula;
Learn filmmaking through experiential and hands-on methods;
Conveying ideas for design production;
The art casting for exceptional performances;
Collaboration on creating the soundtrack for the film.
Who is David Lynch MasterClass for
The David Lynch Masterclass is designed for aspiring filmmakers, creative minds, and fans of Lynch's unique cinematic style. Whether you're a beginner or have some filmmaking experience, this course offers a captivating exploration into the mind of a visionary filmmaker. This makes it an enriching experience for anyone passionate about storytelling and artistic expression.
Our Evaluation
Total score: 8.9
David Lynch as an Instructor
Student Engagement and Retention
In This David Lynch's MasterClass
Review, You'll Learn
David Lynch MasterClass Instructor Review
About David Lynch
David Lynch has solidified his position as a true visionary. He gained widespread recognition for his iconic works, including Mulholland Drive, Twin Peaks, Blue Velvet, and The Elephant Man. David's work possesses an uncanny ability to transport audiences into dark and dreamlike realms. They have earned him critical acclaim, including Oscar nominations for Best Director and Best Screenplay.

As an instructor, David's extensive experience and unique artistic approach make him a highly respected figure in the field of filmmaking. His mastery of storytelling, cinematography, and unconventional techniques ensures an extraordinary learning experience in his MasterClass.
David Lynch as an Instructor
David Lynch's skills as an instructor are proven by his engaging and responsive approach. While he may not have any formal teaching experience, Lynch compensates with his passion for surreal filmmaking and his ability to convey his artistic vision.
When David breaks down complex filmmaking concepts, he makes it worth listening to with personal anecdotes and practical tips. His unique teaching style, combined with his unconventional approach, ensures an enriching learning experience for students.
About MasterClass
Since 2015, MasterClass brings 180+ online classes from top-tier instructors in almost any field. It includes pre-recorded video lessons from masters such as Richard Branson, Martin Scorsese, Aaron Sorkin, Gordon Ramsay, and many others.

The video quality equals Hollywood movies, and every MasterClass module is carefully structured. But that's not all. There are interactive assignments, MasterClass community activities, and an ever-growing video library to enjoy. The sheer amount of content can make it hard to begin. Cursums will help you to choose wisely.
Uniqueness and Freshness of the Content
You can find David Lynch's advice online in scattered interviews and articles. However, they do not match the comprehensiveness and structured approach of this MasterClass. Nothing else provides the same depth of film education on Lynchian movies.

David's MascterClass is meticulously crafted to provide a comprehensive exploration of his creative process, techniques, and philosophy. Learners can access a wealth of knowledge directly from David Lynch himself.

Filmmaking and acting is tackled well by other experts on MasterClass as well, notably Samuel L. Jackson as a teacher, or film scoring with Hanz Zimmer. However, David Lynch is as unique as the instructor himself. You get to delve into the mind of a truly visionary filmmaker. The course's emphasis lies in writing, creativity, casting, and working with actors.
David Lynch MasterClass Content and Structure Review
The David Lynch MasterClass consists of a structured curriculum that covers a wide range of topics related to creativity and filmmaking. The course is comprised of 13 video lessons, with each lesson averaging around 12 minutes in length. The longest video in the course offers insights into creativity and the writing process and is approximately 25 minutes long.

One of the most significant David Lynch MasterClass pros is that the course is designed to be self-paced. On average, it takes 3 hours to complete the entire course. Reading the supplementary PDF guide would take a few more hours. I found the guide filled with Lynch's anecdotes and advice interesting.
Fishing for the Ideas
1-2 Lessons Summary
David Lynch's MasterClass commences with clips from several of his movies. He begins by explaining what is art life. He then advises filmmakers about the importance of exploring deeply for great ideas, finding their voice, and enjoying the process of catching ideas and working on them.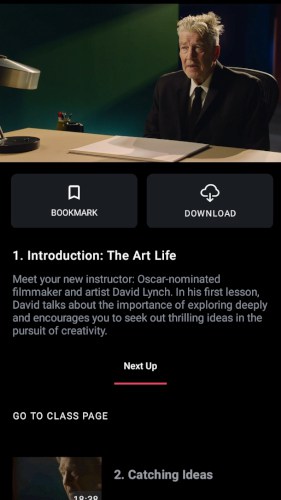 In lesson two, David Lynch talks about picking ideas by mentioning his own work as an example. Stating that ideas are super important, he goes on to advise always to write down your ideas so you don't forget them. Twin Peaks would not exist if Lynch wasn't writing his ideas.

David shares that making a feature film requires 70 scene ideas. He recommends following one's intuition for inspiration during film making.
David Lynch Teaches Creativity and Inspiration
3-4 Lessons Summary
After covering idea-catching, David Lynch delves into the writing process, advocating against strict formulas. He covers techniques such as using free-writing to nurture ideas, revising notes to develop scripts, and transforming abstract concepts into tangible storytelling elements.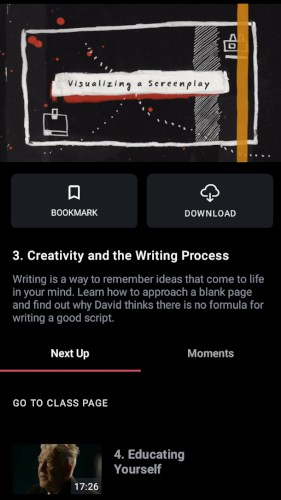 Later, David Lynch talks about the art of translating ideas into the realm of cinema. In lesson four, he places significant importance on technical knowledge. Moreover, he shares valuable lessons from master filmmakers who have inspired him.
Advice on Casting, Actors, and Working with Them
5-7 Lessons Summary
David Lynch delves into the art of casting and reveals the intuitive process of recognizing and selecting the right performers for each character. He explains how actors might be suitable for different roles than you originally thought.
David shares his experience working with his favorite actors, including Laura Dern and Kyle MacLachlan, providing valuable insights on collaboration and fostering a creative environment.
Creating Ambiance for Your Story
8-12 Lessons Summary
While much of David's teaching revolves around generating ideas, he also delves into the intricate aspects of production design and cinematography. Lynch teaches how to manifest their creative vision on screen. Through show-and-tell techniques, he shares ways to effectively convey ideas to production designers, encouraging improvisation along the way.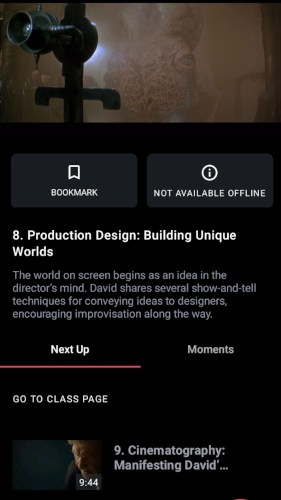 Using examples from his films, such as Eraserhead and The Elephant Man, David Lynch guides students in thinking cinematically and creating unique worlds that immerse audiences. There is a whole lesson on David reflecting on his collaboration with composers and sound designers to create music.

In lesson 11, David Lynch encourages filmmakers to bend or break the rules for the sake of extraordinary creative work. He also emphasizes that staying true to the idea is a goal that surpasses everything else in filmmaking.
Transcendental Meditation to Help with Ideas
13 Lesson Summary
In the final lesson, David Lynch introduces students to Transcendental Meditation, a practice he follows. He explains how meditation amplifies mindfulness and assists in tackling life and work with heightened awareness. David emphasizes that almost any activity can be enriched by meditation, offering students a powerful tool to tap into their creativity and find inspiration.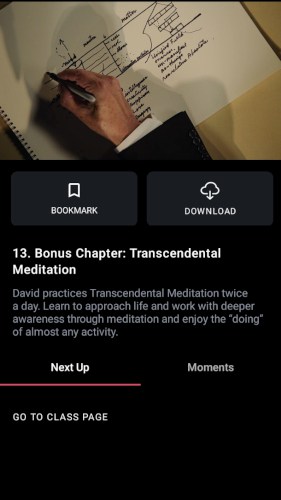 Fast-Track Lesson Plan
For a fast-track lesson plan to complete the David Lynch MasterClass in less time, you can focus on the following essential lessons and complete the class in 1 hour 37 minutes 48 seconds.
| | | |
| --- | --- | --- |
| No. | Lesson | Duration |
| 1. | Introduction: The Art Life | 03:46 |
| 2. | Catching Ideas | 18:38 |
| 3. | Creativity and Writing Process | 24:27 |
| 6. | Working with Actors | 14:03 |
| 8. | Production Design | 18:06 |
| 9. | Cinematography: Manifesting David's Vision | 09:44 |
| 12. | Make It True to the Ideas | 09:04 |
MasterClass Student Engagement and Retention
David's MasterClass unfolded like a captivating feature film, inviting an effortless binge-watch. The visual appeal is incredible, thanks to the production quality that is at par with David Lynch's films. David connects with the learners by making the content easy to understand and frequently explains concepts using his work as an example.

However, for learners who prefer a direct approach, the course content may appear to lean towards abstraction. For example, unlike comedy masters Steve Martin's workbook, The PDF guide in David Lynch's course doesn't run parallel with the lessons.

As mentioned earlier in this David Lynch MasterClass review, David's passion for the subject matter and his unique perspectives encourage users to keep watching further lessons, enhancing retention and making the course a continuous source of inspiration and knowledge.
My Personal Experience With David Lynch MasterClass
Things I Liked About the David Lynch MasterClass
Helps Develop A Unique Creative Process
David Lynch's MasterClass helps learners develop a unique creative process. Throughout the course, David shares his personal insights, techniques, and philosophy that have shaped his own creative approach. He encourages exploration, intuition, and breaking free from conventional rules.
Amazing Advice On Catching Ideas
David definitely gives the best advice when it comes to catching ideas. If you've seen any of David Lynch's films, they prompt contemplation on how he generates such unconventional ideas, far surpassing traditional norms.

In his MasterClass, David teaches about tapping into intuition, exploring deeply, and finding powerful sources of inspiration. Through his teachings, you can learn to capture compelling ideas for creative projects. Along with his own movies, he talks about work from other filmmakers that inspired him, such as Frank Capra's It's a Wonderful Life.
Bonus Lesson On Transcendental Meditation
In the final lesson, David Lynch shares that practicing Transcendental Meditation twice a day has been a vital part of his creative process. This lesson offers insights into incorporating meditation to find clarity, reduce stress, and enhance creativity in various aspects of life and artistic pursuits.
Things I Didn't Like About the David Lynch MasterClass
Familiarity With Lynch's Work Required
As David frequently refers to his work to dive deeper into some of his teachings, having watched his films will give you an edge while taking this class. But it's not a strict requirement, and learners new to the Lynchian style can also benefit from the course, as David Lynch MasterClass covers various aspects of filmmaking.
Less Comprehensive Advice On Technical Aspects
The MasterClass does not provide a comprehensive technical approach. For a more technical approach, I recommend checking out Annie Leibovitz's photography fundamentals course. Nevertheless, David Lynch offers valuable insights into incorporating technical aspects into your overall artistic vision. The emphasis here is on understanding how these technical elements contribute to storytelling rather than providing a step-by-step technical guide
Is David Lynch MasterClass Worth the Money
Cost of David Lynch MasterClass
MasterClass offers a monthly subscription priced at $10, granting you access to its extensive course library, gift certificates, community, and much more, including David Lynch's MasterClass. However, if you are an ardent Lynchian fan and wish to gain insights from this legendary filmmaker, it's worth considering purchasing the subscription solely for this course
| | |
| --- | --- |
| Plan | Price |
| Individual (one device) | $10 per month |
| Duo (two devices) | $15 per month |
| Family (six devices) | $20 per month |
David's unique perspective, artistic brilliance, and willingness to open up about his creative process make his online class truly special. Whether you're a fan of Lynch, an aspiring filmmaker, or a creative individual seeking inspiration, learning directly from David Lynch is an incredible opportunity.
Does the Class Keep Its Promises
With a mix of abstract and practicality, David Lynch's MasterClass provides the eagerness to explore his creative process. His insights and techniques are the reason why I would recommend this course to aspiring filmmakers and enthusiasts alike.

Unlike most MasterClasses, the course isn't very long. It's interesting enough to make you watch it in one go. It is well worth your time and money, given the value it provides.
David Lynch MasterClass: What Others Have Said
David's unconventional approach to filmmaking and storytelling has been lauded, and he has garnered a huge fan following. His MasterClass is no exception, and you will find several course takers on social media who review it highly.

Here is what a Reddit user thinks about the class: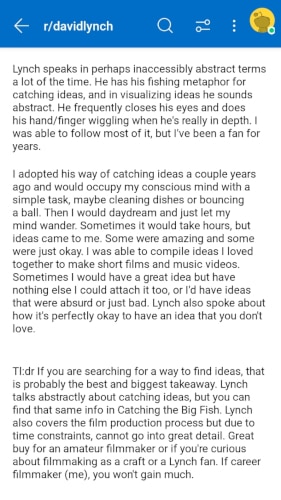 Here are a few of the YouTube comments under the trailer of David Lynch MasterClass.
Essentials Used in the David Lynch MasterClass
Besides lots of enthusiasm to learn about creativity and filmmaking from a master, you do not require any essentials to take the course. If you want, you can note down key takeaways from each lesson of David Lynch's MasterClass and refer to them when needed.
Alternatives to David Lynch MasterClass
Other Arts & Entertainment Courses Available on Masterclass
Martin Scorsese teaches Filmmaking
James Cameron teaches Filmmaking
Jeff Koons teaches Art and Creativity
Aaron Sorkin teaches Screenwriting
Samuel L. Jackson teaches Acting
Judd Apatow teaches comedy
David Sedaris teaches Storytelling and Humor
Helen Mirren teaches Acting
Nancy Cartwright teaches Voice Acting
Alternatives to MasterClass
Udemy
Udemy is one of the most popular online learning providers, with a massive choice of various classes. The learning platform covers a range of comedy film and creativity courses,
Coursera
Coursera is another big name in the online courses market, with a lot to offer in film-related fields. It's a great way to expand your knowledge of the field without spending much money on online learning.
Skillshare
Skillshare focuses on practical courses, with educational videos substituting expensive college courses. The aim is to provide users with marketable skills for finding a job. There are some courses related to movies, writing, and directing.
Q&A about David Lynch MasterClass

I've spent the last ten years passionately studying various online learning platforms. Udemy, MasterClass, Coursera, and Skillshare are the main ones, but I review lesser-known study tools as well. I test and analyze each course and lesson thoroughly before sharing my research.