Exploring the MasterClass Gift:

How To Use It and Why It's The Perfect Gift

Card

Just a heads up, whenever possible, I use affiliate links in my reviews to help cover the costs of running this site. You can learn more here.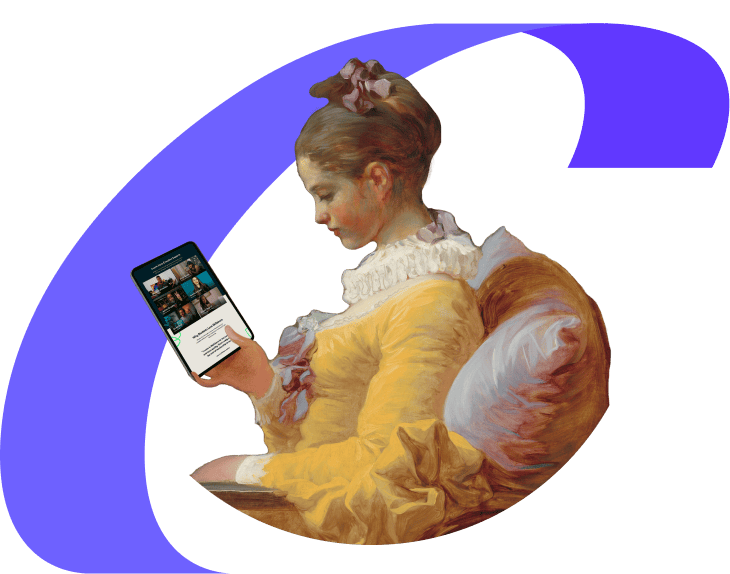 We all are familiar with a Holiday season situation where your loved one expects a present, and you are left wondering what is a perfect gift. Then the time runs out, so you end up buying something at random, hoping to avoid an awkward situation.

Even if we know the person well, thinking of good gift ideas is difficult as we usually congratulate the same person multiple years in a row. Many gift givers have turned to purchasing streaming services as gifts. But is it worth it?

In this article, I will argue that giving MasterClass gift cards are a great gift idea. It packs some of the best online courses, is easy to purchase, and find an annual subscription that will suit everyone's needs. Besides, what can be more meaningful than online classes full of new skills from world-famous experts?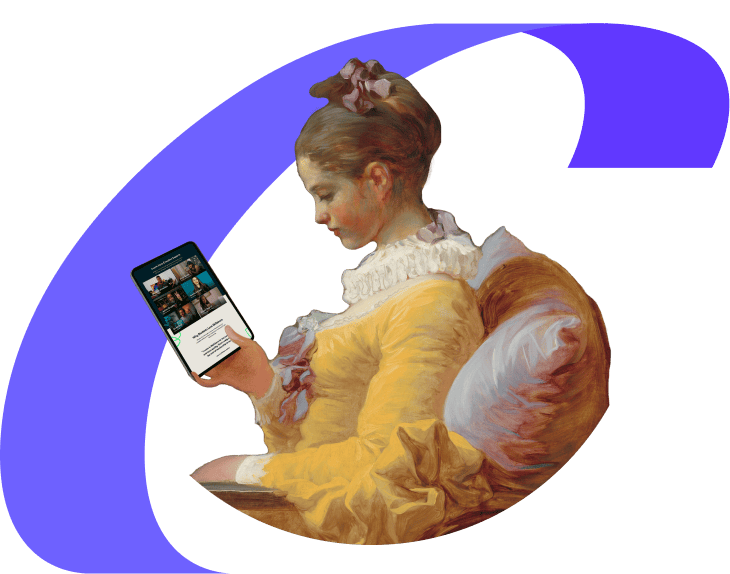 An Overview of MasterClass as a Gift
MasterClass is one of the most popular online learning platforms. Its secret lies in combining courses from world-renowned experts with an entertaining format akin to streaming services. Its library of 180+ high-quality video lessons is both entertaining and educational. A great combination for all casual learners.
MasterClass Gift Options
MasterClass offers three pricing options for purchasing an annual subscription gift code. They work the same as a usual all-access pass subscription but allow you to gift MasterClass access to a friend or a relative.
| | |
| --- | --- |
| Individual Plan | Only one device | $10 per month billed annually | The Individual plan is best for those learning alone, from one device at a time. $120 might seem a lot, but if you complete at least two online courses in a month, one course will average around $5 per month. |
| Duo Plan | Up to two devices| $15 per month billed annually | The Duo Plan is best for couples, and it is a personal choice of mine. It includes unlimited access for two concurrent devices. Me and my spouse split the bill, so the annual membership costs only $90 per person. |
| Family Plan | Up to six devices | $20 per month billed annually | The Family Plan is best for, well, families or groups of close friends as it allows six devices concurrently. It's the cheapest option which costs around $40 if you split the bill with everyone. |
In This MasterClass Gift
Review, You'll Learn
About MasterClass
Since 2015, MasterClass brings 180+ online classes from top-tier instructors in almost any field. It includes pre-recorded video lessons from masters such as Richard Branson, Martin Scorsese, Aaron Sorkin, Gordon Ramsay, and many others.

The video quality equals Hollywood movies, and every MasterClass program is carefully structured. But that's not all. There are interactive assignments, MasterClass community activities, and an ever-growing video library to enjoy. The sheer amount of content can make it hard to begin. Cursums will help you to choose wisely.
MasterClass As a Gift Stands Out
The platform has been in the online learning market since 2015 and has compiled MasterClass courses from celebrity instructors like athlete Lewis Hamilton, screenwriter Aaron Sorkin, song writer Christina Aguilera, academic Neil deGrasse Tyson, business executive Bob Iger, and many more.

Every online course includes a PDF class guide that provides additional context and assignments. There are also playlists, Daily Moments, live streams, a convenient app, and much more that goes with the classes.

The latest addition – MasterClass Sessions, allows you to get feedback and interact with other students. MasterClass as a gift is better than many other alternatives. Netflix does not have such educational value and Coursera or similar platforms won't be so entertaining. It is really the best of both worlds with a near-perfect balance.
How to Choose the Best MasterClass Gift Card?
Your choice of an all-access pass to MasterClass generally depends on two factors. The first is how many people will access MasterClass concurrently. Most people go with the individual plan, but I recommend choosing Duo as there is always some roommate or a significant other that people want to share their MasterClass gift.

Another factor to consider is whether your loved one will find any favorable MasterClass courses. I can assure you that anyone will find something to like. After signup, MasterClass begins its experience with a short quiz that recommends some courses. If you want to recommend some courses yourself when presenting the gift, I made a list of recommendations by category below.
Food & Cooking
My Recommendations
Gordon Ramsay Teaches Cooking | Runtime: 4 hours 49 minutes | Average lesson length: 15 minutes
Thomas Keller Teaches Cooking Techniques | Runtime: | Average lesson length: 15 minutes
Aaron Franklin Teaches Texas-style BBQ |Runtime: 4 hours 36 minutes | Average lesson length: 20 minutes
Design & Style
My Recommendations
Kelly Wearstler design lessons | Runtime: 2 hours 13 minutes | Average lesson length: 8 minutes
Marc Jacobs Teaches Fashion Design | Runtime: 4 hours 38 minutes | Average lesson length: 16 minutes
Bobbi Brown Teaches Makeup and Beauty | Runtime: 4 hours 49 minutes | Average lesson length: 10 minutes
Writing
My Recommendations
Neil Gaiman Teaches The Art Of Storytelling | Runtime: 4 hours 49 minutes | Average lesson length: 15 minutes
Margaret Atwood teaches Creative Writing| Runtime: 3 hours 43 minutes | Average lesson length: 11 minutes
Malcolm Gladwell Teaches Writing | Runtime: 4 hours and 54 minutes | Average lesson length: 14 minutes
Arts & Entertainment
My Recommendations
Tom Morello Teaches Electric Guitar | Runtime: 5 hours 34 minutes | Average lesson length: 12 minutes
Armin van Buuren Teaches Dance Music | Runtime: 6 hours 50 minutes | Average lesson length: 13 minutes
Deadmau5 Teaches Electronic Music Production | Runtime: 6 Hours | Average lesson length: 15 minutes
Science
My Recommendations
Researcher Neil deGrasse Tyson MasterClass | Runtime: 2 hours 14 minutes | Average lesson length:10 minutes
Chris Hadfield Teaches Space Exploration | Runtime: 7 hours 47 minutes | Average lesson length: 17 minutes
John Douglas teaches How to Think Like an FBI Profiler | Runtime: 2 hours 54 minutes | Average lesson length: 12 minutes
Business
My Recommendations
Robin Roberts teaches Effective and Authentic Communication | Runtime: 2 hours 22 minutes | Average lesson length: 12 Minutes
Bob Iger Teaches Business Strategy and Leadership | Runtime: 2 hours 11 minutes | Average lesson length: 12 Minutes
Chris Voss Teaches The Art of Negotiation | Runtime: 3 hours 4 minutes | Average lesson length: 10 minutes
Sports & games
My Recommendations
Misty Copeland Teaches Ballet Technique and Artistry | Runtime: 1 hour 46 minutes | Average lesson length: 7 minutes
Serena Williams Teaches Tennis | Runtime: 2 hours | Average lesson length: 11 minutes
Phil Ivey Teaches Poker Strategy | Runtime: 3 hours 30 minutes | Average lesson length: 20 minutes
How to Gift MasterClass Subscription?
After you have decided on how much you want to spend for a MasterClass gift and know what the recipient needs, purchasing the MasterClass gift subscription is fairly straightforward. There's only one caveat – you won't find gifts on the app.

Once you log in to your account on the browser, press your account icon in the upper right corner. A drop-down menu will appear in which you must choose "Manage Gifts."
There you can find all the information about your gifts – who you have sent them to, whether they have received and claimed them. And before you ask, yes. You can schedule gifts to be sent automatically at a given date.

To send a gift, you need to press the "Add gift" button, and then the checkout process will look just like purchasing a regular subscription. You choose a plan and then pay with a payment card, such as Visa, MasterCard, American Express, and Discover. There is also an option to pay using PayPal.

Lastly, you need to provide the recipient's name, email, and delivery date, and there's a field for writing a custom gift message. Make sure the gift recipient checks the spam and promotions folder in this email as the gift might end up there.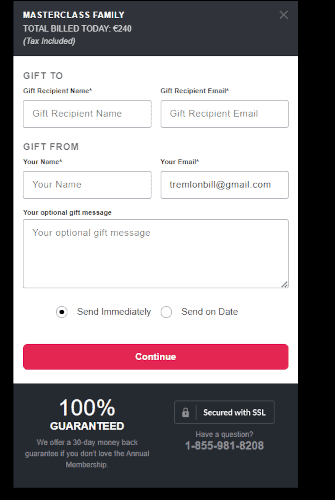 If your friend doesn't claim the gift, you will only need to reach you to the MasterClass support team, and they will refund you. If, in an unlikely case, your friend won't be satisfied with MasterClass, the same 30-day money-back guarantee applies.
Redeem MasterClass Gift: Step-By-Step Guide For a Gift Recipient

Step 1: Receive an email
After your contacts are provided in the recipient's email address field, you will receive an email from MasterClass. An email will reach you instantaneously unless the delivery is scheduled for a future date. It will include your name, gift message (optional), and, most importantly, the red "Activate Gift" button.

As a gift recipient, you only need to press this button, and you'll go to the next step.

Bear in mind, MasterClass gifts purchased during promotions have an expiration day. For example, multiple gifts from the "MasterClass gift 2 for 1" promotion must be redeemed in one year after purchase.
Step 2: Create an account
The second step of redeeming your MasterClass gift membership is creating an account or logging in to an existing one. The recipient must enter his email and the desired password when creating a new account.

Also, the gift recipient needs to set up his payment details. He won't be charged right away. It's only needed for future annual membership renewals. However, he can enter the payment information later by pressing the "Why do we ask for a credit card" button.
Step 3: Start Learning
The last step in the gift process is to set up your MasterClass courses. After a short quiz, the recipient will get some good recommendations and can start learning at his own pace.

If the gift recipient already has an account, then the current MasterClass membership will be extended. One exception is when he has purchased a subscription through Apple App Store or Google Play Store. An annual subscription from there can't be extended. The gift recipient will have to wait for it to expire first.
Printing MasterClass Gift Card
There is an in-built MasterClass gift card print function which you can find in the "Manage your gifts" section. On the right side, you will find a "Print Gift" button. Another option is to enter your own email in the "Gift recipient email" field. Once you receive the email, simply print it out.

Both options are fine for MasterClass gift printout, but I recommend sending a gift email as the recipient will still need to press the link to activate his annual membership.
So, Is MasterClass a Good Gift?
MasterClass is one of the best gift ideas that you can have. It houses plenty of courses from world-renowned experts. Even if your loved one is interested only in one course, others will come as a year-long benefit at no extra cost.

From my experience, if you give MasterClass as a gift, it's much better to go with a MasterClass family plan. They give you more freedom, and you can even present it to multiple people at the same time.

Even if your friend won't be satisfied with the gift, MasterClass offers a 30-day money-back guarantee and the possibility to resend gift to someone else. MasterClass membership gift is an overall win-win for everybody.
Alternatives to MasterClass Gift
Udemy
Udemy is one of the most popular online learning providers, with a massive choice of various classes. The learning platform covers a range of basketball courses for beginner and advanced learners.
Coursera
Coursera is another big name in the online courses market, with a lot to offer in sports-related fields. It's a great way to expand your knowledge of the field without spending much money on online learning.
Skillshare
Skillshare focuses on practical courses, with educational videos substituting expensive college courses. The aim is to provide users with marketable skills for finding a job. There are some courses related to basketball as well.
Q&A About MasterClass Gift

I've spent the last ten years passionately studying various online learning platforms. Udemy, MasterClass, Coursera, and Skillshare are the main ones, but I review lesser-known study tools as well. I test and analyze each course and lesson thoroughly before sharing my research.