Kelly Wearstler MasterClass Review:

Unveiling the Art of Inspiring Design
Just a heads up, whenever possible, I use affiliate links in my reviews to help cover the costs of running this site. You can learn more here.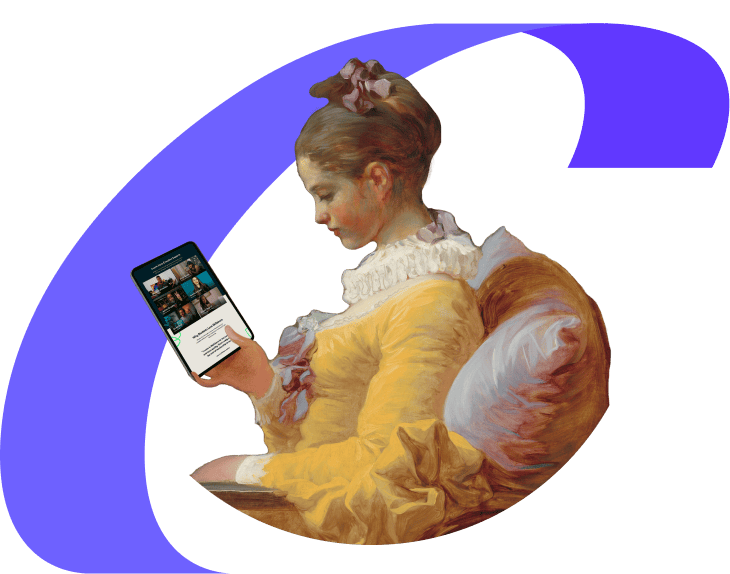 Kelly Wearstler is one of the first names that come to mind when thinking about interior design. She's a world-renowned interior designer behind numerous high-end design projects, like the Proper Hotel in Downtown L.A. and Bergdorf Goodman Restaurant in New York.

If you're interested in interior design, I'm confident you will find Kelly Wearstler's MasterClass a good learning opportunity and inspiration. But before you sign up for MasterClass, consider the points we'll discuss in this Kelly Wearstler MasterClass review to determine if it's worth your time and money.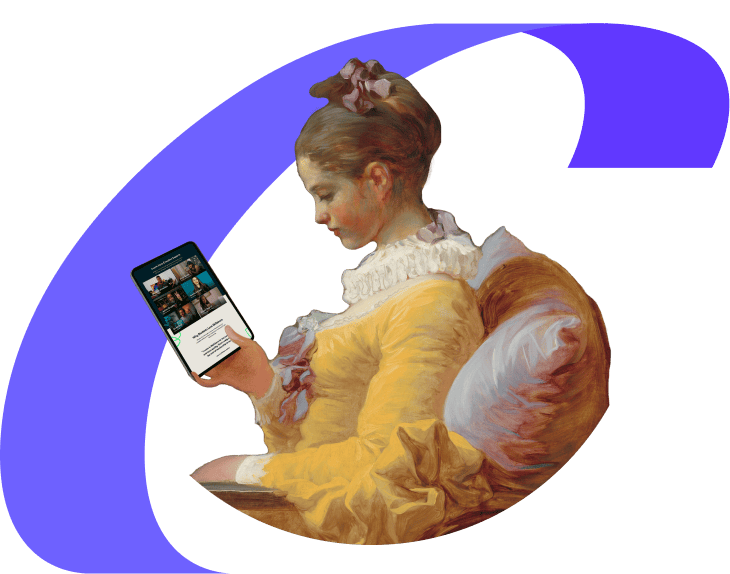 Kelly Wearstler MasterClass Overview
Kelly Wearstler's MasterClass is a comprehensive interior design course. I was able to grasp different interior design concepts and improve with the assignments from the class workbook. It's an interior design MasterClass that will help you gain insight into designing a new space and renovating an existing room to give it a new spirit.

Kelly Wearstler MasterClass Review Summary
| | |
| --- | --- |
| ⭐ Rating: | 9.2 ★★★★★ |
| 🥇 Category of class: | Design & Style and Home & Lifestyle |
| 📈 Suits best for: | Up and coming interior designers |
| 🕒 Lenght: | 2 hours 13 minutes |
| ⏳ Avg. Lesson Duration | 8 minutes |
| 🛍️ Course Essentials: | Interest in interior design |
| 💼 Complementary material: | Photos of places Kelly Wearstler designed and a 40-page class workbook |
| 📚 No. of Lessons: | 17 lessons |
| 🛒 Payment options: | Individual / Duo / Family |
| 💵 Price: | 10 – 20 $ (billed annually) |
| 🔄 Refund policy: | 30-day satisfaction guarantee |
| 🎁 Free trial: | ✅ |
Key Skills You'll Learn
Finding inspiration;
Working with existing architectural features;
Choosing materials for your design projects;
Creative ways to utilize different colors;
Using textures to add dimensions to your design;
Bringing natural light to your space;
Enhancing the space with art and objects;
Managing time and overcoming design flops.
Who is Kelly Wearstler MasterClass for
Kelly Wearstler's MasterClass is mainly for those pursuing an interior design career. But you don't need to be in the interior design industry to benefit from her MasterClass. If you're designing your dream home or have awkward spaces to renovate, you can learn from the thought process of an award-winning designer and apply it to your own work.
Our Evaluation
Total score: 9.2
Kelly Wearstler as an Instructor
Student Engagement and Retention
In This Kelly Wearstler's MasterClass Review, You'll Learn
Kelly Wearstler MasterClass Instructor Review
About Kelly Wearstler
Kelly Wearstler is undoubtedly one of the most notable interior designers. She won numerous awards, and as a highly acclaimed interior designer, she was featured in countless magazines, like Architectural Digest and Elle Decor.

After founding her design firm in the 90s, Kelly Wearstler Interior Design, she has been the lead designer of high-end professional projects. Her portfolio includes everything from designer hotels to restaurants and private residences of celebrities, like the kitchen of Cameron Diaz. With decades of experience and countless projects, she played a significant role in the interior design industry.
Kelly Wearstler as an Instructor
It was delightful to learn from Kelly Wearstler's MasterClass. She did an amazing job teaching different design concepts and simplifying the design philosophy behind it. Wearstler turns her interior design class into an entertaining experience where she keeps things engaging – always with a smile on her face.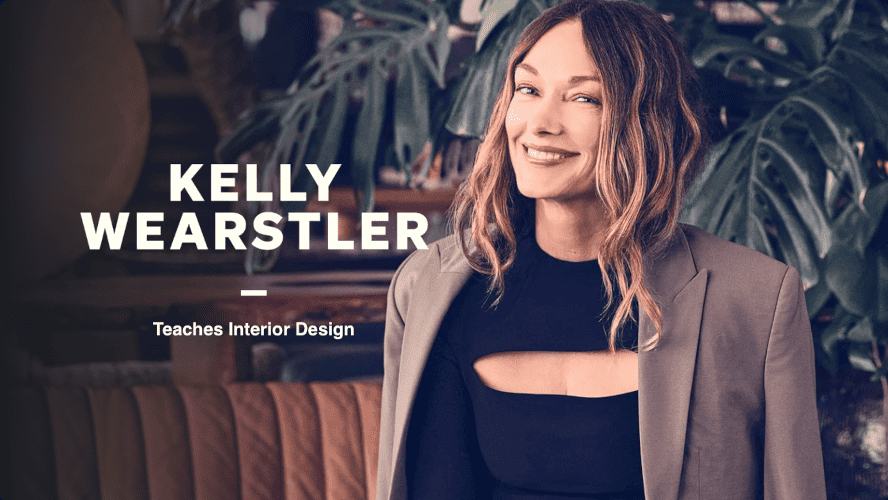 Before teaching aspiring interior designers in her MasterClass, Wearstler did countless interviews for top design magazines. These interviews carried as a teaching experience and allowed her to be very communicative in front of the camera in her class. All the instructions, tips for inspiration, and different concepts felt straightforward and thoughtful.
About MasterClass
Since 2015, MasterClass brings 180+ online classes from top-tier instructors in almost any field. It includes pre-recorded video lessons from masters such as Richard Branson, Martin Scorsese, Aaron Sorkin, Gordon Ramsay, and many others.

The video quality equals Hollywood movies, and every MasterClass course is carefully structured. But that's not all. There are interactive assignments, MasterClass community activities, and an ever-growing video library to enjoy. The sheer amount of content can make it hard to begin. Cursums will help you to choose wisely.
Uniqueness and Freshness of the Content
Kelly Wearstler isn't new to giving interior design tips. She was featured in countless magazines and interviews as a professional interior designer. Kelly gives plenty of advice in these bits, but none are as detailed as her MasterClass. You can watch all her interviews to help your interior design projects, but you'll find yourself looking for more.

This MasterClass is the best (and only) way to get one-on-one with Kelly Wearstler and learn from the best American interior designer. There aren't any other online classes where she will guide you through your interior design project. There are other interior design courses, but with this MasterClass, you will learn from a designer many look up to for inspiration.

This alone makes MasterClass an attractive platform to learn more about interior design. Plus, you can take more classes like this that will supplement what you learned from Kelly Wearstler's interior design course. For example, there's Corey Damen Jenkins' interior design class, which is included in an all-access pass to MasterClass.
Kelly Wearstler MasterClass Content and Structure Review
Kelly Wearstler MasterClass is structured and begins with Kelly giving examples of how she finds inspiration and encourages interior designers to look around for it. She then explains the importance of asking the right questions to start your interior design project.

The lessons range from five to ten minutes, the longest being 13 minutes long. There are a total of 17 lessons in the course. Each is a bite-size interior design lesson that won't overwhelm the student. You can watch one and look around for inspiration before the next lesson. The course features three Field Trips, where Kelly goes to a construction site to showcase what's previously taught.

The whole Kelly Wearstler MasterClass follows this structure and is easy to keep up with. I never once found myself not understanding a particular topic in the class. She does an excellent job introducing and building new good design and color concepts as you advance.
Inspiration and Preparation
1-5 Lessons Summary
The first class is an introductory part of Kelly Wearstler and what you'll learn in her MasterClass. The actual course starts with Kelly giving tips for finding inspiration. She shares examples of what inspires her, such as what she loves, fashion, and traveling.

Kelly follows up on these tips with what questions to ask when starting interior design projects. She explains that asking questions and listening to the client's needs is one of the most crucial things in interior design.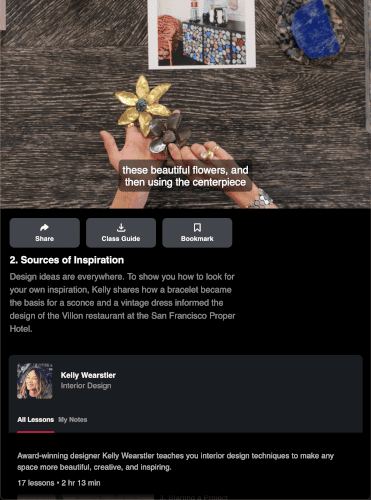 The last two lessons in this section cover using every square inch you have and getting creative. Kelly encourages playing visual trickery to get the most out of every new space, such as using mirrors to make a small space feel large. This section ends with a Field Trip, where she gives examples of these in Proper Hotel, utilizing everything taught in the class to give an old space a new spirit.
Choosing Materials, Color, Texture, and Creating Patterns
6-10 Lessons Summary
This section in Kelly Wearstler MasterClass begins with Kelly creating vibe trays and laying materials down as part of the design process. She experiments with different materials like stone, wood, and metal to create a cohesive story in the space. She also touches on using affordable materials in this class, like paint and plaster, to create a dynamic new space.

Next, Kelly shows her experimentations on computer-aided design software and starts teaching about the choice of color. She encourages interior designers to invite color into the space and experiment with it. This lesson is further enhanced by another Field Trip. She returns to Downtown L.A. Proper Hotel to test how color variations react with the wall's texture and lighting.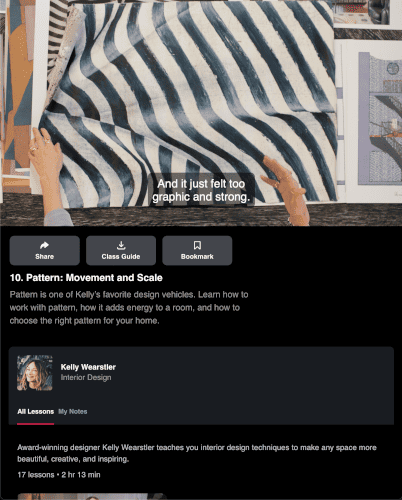 In the last two lessons of this section, Kelly Wearstler touches on different textures and patterns. She gives tips on making distinct color objects and furniture harmoniously look good together using the right texture or the same pattern. The last class brings all materials, colors, and textures together to create a geometric pattern for adding energy to the space.
Lighting and Furnishing
11-14 Lessons Summary
This section is all about lighting and furnishing a new space. Kelly Wearstler encourages interior designers to bring in as much natural light as possible to elevate the mood. She also adds that good lighting can highlight the main subjects in a room, such as art or the architecture of a space. The lighting class was very informative and taught using different types of lights to enhance visual appeal.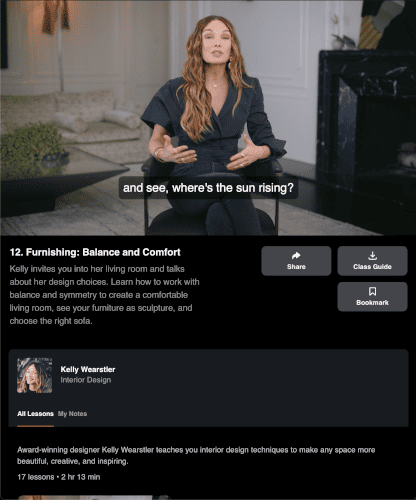 In the 12th lesson, Kelly Wearstler continues her interior design MasterClass from her living room. She shows how to balance the front room to create comfort. Kelly gives helpful tips throughout this class on choosing the appropriate furniture and making the right design decisions in line with the overall architecture.

The next class adds finishing touches to interior design by implementing art and objects. She motivates her students to use their collection and advises letting curiosity guide them to find what makes them feel at home.

The last Field Trip of Kelly Wearstler's interior design MasterClass showcases everything from preparation to furnishing and how they were utilized in the Santa Monica Proper Hotel. This class is very detailed. It exhibits why the chosen color, materials, and patterns make a good design.
Life as an Interior Designer
15-17 lessons summary
The closing section begins with Kelly Wearstler discussing her influences in interior design, such as Pierre Cardin and Charles Rennie Mackintosh. She then touches on her upbringing and how she became a professional interior designer. In this lesson, Kelly Wearstler also talks about her first top design works and creative journey.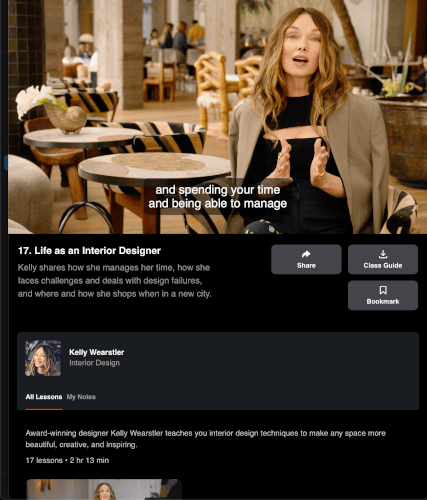 The last lesson is full of recommendations for interior designers. She gives tips on what to do when design flops happen and learning from them, managing your time, where and how to shop, and coming up with unique ideas to bring client projects to the next level.
Fast-Track Lesson Plan
Finish Kelly Wearstler MasterClass in 1 hour, 36 minutes, and 47 seconds
| | | |
| --- | --- | --- |
| No. | Lesson | Duration |
| 2. | Sources of Inspiration | 08:28 |
| 3. | Starting a Project | 04:44 |
| 4. | Working With Space | 11:12 |
| 6. | Materiality in Design | 13:02 |
| 7. | Living With Color | 09:27 |
| 9. | Discovering Texture | 04:01 |
| 10. | Pattern: Movement and Scale | 09:22 |
| 11. | Lighting: Enhancing Your Space | 10:56 |
| 12. | Furnishing: Balance and Comfort | 10:20 |
| 13. | Creating Experience With Art and Objects | 07:56 |
| 17. | Life as an Interior Designer | 07:19 |
Kelly Wearstler MasterClass Student Engagement and Retention
One of the things that I loved about Kelly Wearstler's MasterClass is she explains and simplifies her design process. It makes complicated interior design projects seem simple and easy to understand. Even a novice interior designer can grasp why elements like lighting or color patterns create certain emotions in the space.

You can watch Wearstler's class, make notes, and never have to watch it again. It's that easy to follow along with her. Every lesson features shots at different angles to truly present Kelly Wearstler's designs.

You also won't find yourself digging through the same lesson to get answers. This MasterClass alone won't make you a good designer, but it's a perfect starting point equal to an introductory course in design degree, full of engagement and valuable information.

The 40-page workbook is also full of assignments where you'll find your inspiration. It features assignments like finding new designers, looking into their work, and looking around your home to find objects that can create tension and beauty.
My Personal Experience With Kelly Wearstler's MasterClass
Things I Liked About the Kelly Wearstler MasterClass
Encouragement from an awarded interior designer
I loved how Kelly Wearstler encourages interior designers to find their voice and run client ideas through their filters. Throughout the course, Kelly Wearstler brings this up and motivates designers to follow their voice – one of the key takeaways of this MasterClass.
Career tips for interior designers
Toward the end of the Kelly Wearstler MasterClass, she shares practical tips to make life easier as an interior designer. I liked gaining insights into how she manages her time and how she shops on a tight budget. It was also very empowering to hear one of the most notable figures in interior design talking about her early career.
Simple yet detailed instructions
The course never felt overwhelming. Everything was straightforward down to the smallest detail. All the instructions were crystal clear, from using art to incorporating different materials and colors. While it was easy to digest, learning from Kelly Wearstler opened a new perspective on interior design. I even started to think about getting a design degree.
Things I Didn't Like About the Kelly Wearstler MasterClass
Not many tips for interior designers on a budget
Kelly Wearstler talks about being on a budget and how that forces you to get creative. But she doesn't cover this as much as I would like. She touches on how she used to shop at flea markets and paint to decorate a room, but that's about it.
There could be more field trips
The field trips were such a big part of this MasterClass. It helped visualize what Kelly Wearstler was teaching in previous lessons. Although it covered working with space and color, the last one – Field Trip: The Completed Story only vaguely covered texture, pattern, lighting, and furnishing. The course could be enriched if it utilized these in the field trip lessons too.
Is Kelly Wearstler's MasterClass Worth the Money
Cost of Kelly Wearstler MasterClass
You can sign up to MasterClass for as little as $10 per month. Kelly Wearstler's interior design course is definitely worth the MasterClass subscription. Even if this is the only course you're interested in, note that other online courses on MasterClass can provide as much value while getting you closer to a professional designer.
| | |
| --- | --- |
| Plan | Price |
| Individual | $10 per month |
| Duo | $15 per month |
| Family | $20 per month |
MasterClass offers 180+ video lessons – all taught by experts. With a MasterClass subscription, you will have access to all. Furthermore, if you're seeking a thoughtful gift for an aspiring designer, consider a MasterClass gift certificate that grants access to courses related to interior design. These courses feature lessons from renowned experts like Mindy Weiss, Coray Damen Jenkins, and Shea McGee.
Does the Class Keep Its Promises
I think Kelly Wearstler's MasterClass goes beyond expectations. She touches on the focal points you need to look at while you design interior space and ensures everything is easy to understand. Even someone with zero experience in design can find it beneficial.

It undoubtedly isn't enough to turn anyone into a good designer overnight. But the key takeaways from the course will teach you a lot about using different-sized spaces, colors, textures, patterns, and much more. Wearstler's MasterClass lives beyond expectations, making it one of the best interior design courses available.
Kelly Wearstler MasterClass: What Others Have Said
Not many courses, especially from designers, have gather so many positive reviews about MasterClass. Kelly wearstler interior design course is an exceptionally well received. Here's a company from Twitter that understood the importance interior architecture.

Other commentators on Facebook agree with my evaluation that it is one of the best MasterClasess and even noticed that Kelly Wearstler has a thing for chairs (she does!).

"-One of the beat master-classes I ever had on the platform. Thank you, Kelly, for such an insparation"

"-Loved her class, she is amazing and has incredible taste and it helps that she has a thing for chairs…lol."
Alternatives to Kelly Wearstler MasterClass
Other Design & Style Courses Available on Masterclass
Corey Damen Jenkins teaches interior design
Krank Ghery teaches design and architecture
Marc Jacobs teaches fashion design
David Carson teaches graphic design
Diane Von Furstenberg teaches building a fashion brand
Alternatives to MasterClass
Udemy
Is one of the most popular online learning providers, with a massive choice of various classes. The learning platform covers a range of Design courses for beginner and advanced learners.
Coursera
Is another big name in the online courses market, with a lot to offer in Design-related fields. It's a great way to expand your knowledge of the field without spending much money on online learning.
Skillshare
Focuses on practical courses, with educational videos substituting expensive college courses. The aim is to provide users with marketable skills for finding a job. There are some courses related to interior design as well.
Q&A about Kelly Wearstler MasterClass

I've spent the last ten years passionately studying various online learning platforms. Udemy, MasterClass, Coursera, and Skillshare are the main ones, but I review lesser-known study tools as well. I test and analyze each course and lesson thoroughly before sharing my research.