Martin Scorsese MasterClass Review:

Breaking into The Film Industry
Last updated on: September 4, 2023, Written by:
Bill Tremlon
Just a heads up, whenever possible, I use affiliate links in my reviews to help cover the costs of running this site. You can learn more here.
I am a huge fan of Martin Scorsese's work. But it's not just me, he has become an inspiration for a whole generation of young filmmakers. It's because he masterfully combines the thrill of his passion with his vision to produce groundbreaking films. He is not just an academy award winner, but also a mentor.

I am writing this Martin Scorsese MasterClass review for cinema enthusiasts like myself. Martin encourages the creative process for aspiring filmmakers in Hollywood firms. It will enrich your filmmaking journey with his invaluable experience. Martin's Masterclass is your chance to learn about the filmmaking process from scratch.
Martin Scorsese MasterClass Outline
Scorsese's masterclass is your chance to learn at your own pace. It is an enrichment tool for an aspiring filmmaker to learn about inherently cinematic elements. The Oscar-winning director focuses on understanding the film's potential audience. Martin Scorsese highlights scene discussions, production design, sound design, and camera movement.
Martin Scorsese MasterClass Review in a Nutshell
| | |
| --- | --- |
| ⭐ Rating: | 9.5 ★★★★★ |
| 🥇 Category of class: | Arts & Entertainment |
| 📈 Suits best for: | Anyone interested in filmmaking, screenwriting, and Martin Scorsese's work |
| 🕒 Lenght: | 4 hours 35 minutes |
| ⏳ Avg. Lesson Duration | 9 minutes |
| 🛍️ Course Essentials: | Paper, pen, and curiosity for the filmmaking industry |
| 💼 Complementary material: | 76-page class guide |
| 📚 No. of Lessons: | 30 lessons |
| 🛒 Payment options: | Individual / Duo / Family |
| 💵 Price: | 10 – 20 $ (billed annually) |
| 🔄 Refund policy: | 30-day satisfaction guarantee |
| 🎁 Free trial: | ✅ |
Main Skills You'll Learn
Production design;
Camera movements;
Mastering the editing process;
Directing actors;
Researching for feature films;
Finding right people when making films;
Scouting locations;
Identifying your filmmaking style;
Shooting low-budget films.
Is Martin Scorsese's Masterclass for Me?
This masterclass is great for cinema enthusiasts and new filmmakers. Martin Scorsese teaches filmmaking from a new perspective through examples of his own films. I was able to find value in all discussions. His calm voice kept me hooked on the lessons. As a film enthusiast, I enjoyed his explanation style and wisdom.
Our Evaluation
Total score: 9.5
Martin Scorsese as an Instructor
Student Engagement and Retention
In This Martin Scorsese's MasterClass
Review, You'll Learn
Martin Scorsese Masterclass Teacher Review
Meet Martin Scorsese
If you are still wondering what is Martin Scorsese known for, you probably don't know much about movies. Martin Scorsese is one of the MOST influential Filmmakers and storytellers of the new Hollywood era.

He made his way to NYU's film school to perfect his techniques. With a career in the filmmaking industry spanning five decades, Martin has produced films that are PURE GOLD. He is an academy award winner for The Departed. He has made his way from mean streets to red carpets and the New York film festival with his talent.

Martin Scorsese leaves the audience in awe with movies like The Wolf of Wall Street, The Irishman, Shutter Island Raging Bull, a black and white film, Taxi Driver, and many more. He is renowned for thrillers, drama, epics, and documentaries all around the globe.
Martin Scorsese as a Teacher
Martin Scorsese does a great job of using his experiences to explain the filmmaking process. Martin ignites a desire in newbies by focusing on events that sparked his desire to work with limited resources. Martin teaches collaboration with talented crew members and actors throughout his video lessons.
He explores the intricacies of feature films compellingly as if he is telling a story. Martin Scorsese's masterclass also stands out because of his expertise, experience, and inspirational storytelling. Despite not having any teaching experience, Martin teaches everything from scratch without boring the viewers.
About MasterClass
Since 2015, MasterClass brings 180+ online classes from top-tier instructors in almost any field. It includes pre-recorded video lessons from masters such as Richard Branson, Martin Scorsese, Aaron Sorkin, Gordon Ramsay, and many others.

The video quality equals Hollywood movies, and every MasterClass course is carefully structured. But that's not all. There are interactive assignments, MasterClass community activities, and an ever-growing video library to enjoy. The sheer amount of content can make it hard to begin. Cursums will help you to choose wisely.
Content and Structure of the Martin Scorsese MasterClass
You can find Martin Scorsese's interviews on YouTube, IMDB, Film Festivals' websites, and elsewhere. However, these interviews about the film industry are often unorganized, lack attention to detail, and are incomplete. MasterClass is perhaps one of my favorite platforms where Martin shows film enthusiasts a direction for success.

The lessons are organized under a single course. You can stream one lesson after the other easily. There is no break in the chain of relevant lessons. The platform has short and crisp videos. It only costs around $10 per month and offers a list of over 180 other courses.

You can also find MasterClass filmmaking lessons from other filmmakers, such as David Lynch and Spike Lee. They all use their experiences to help you bring your creativity to life. Martin Scorsese's Masterclass is the best and the FIRST place where he breaks down his journey and techniques to help you enter the film industry with a bang.
Content and Structure of the Martin Scorsese's MasterClass
Martin Scorsese's Masterclass contains a total of 30 lessons. Course completion will take you 4 hours and 35 minutes. The average length of each video is around 9 minutes. The longest lesson is 18:05 minutes long.

Martin hasn't worked on the assignments there himself, but there are Martin's filmography recommendations and material like storyboards by him. I noticed each workbook recaps the lesson and allows me to compile, organize, and simplify my own process.

Learners like myself are encouraged to share the work to receive comments to enrich our filmmaking journey. So far, I have not come across any relevant comments related to shared work, but I feel it is a great way to encourage newbies. The exercises will take additional time. I took almost a week to go over them.
Discovering Your Process
Lessons 1-6
Before Martin explains the technical aspects of filmmaking, he walks you through the basic requirements of channeling your creativity. He introduces himself in the first two lessons. Martin's work, aspirations, and educational background connect to breathe life into his talent.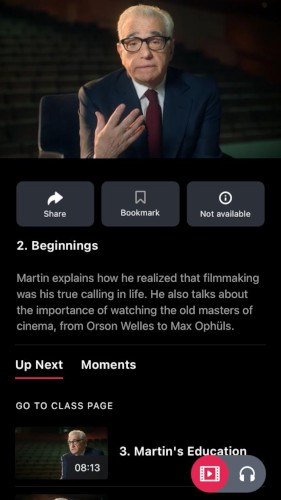 You will find that the smaller things in our daily life that we ignore are the reason that makes filmmaking our true calling. Throughout film history, all great directors undergo events that shape their style and stories. It's often reflected in the voice-over. He also sheds light on the masters of Hollywood films, like Orson Welles.

You will learn that filmmaking isn't a usual process. In fact, there is no set process in place for it. Martin's MasterClass teaches us to stay open to the idea of new challenges while making a film. He discusses the importance of visual literacy, voice-over, storyboards, and the experience of other directors to create your own art.
Directing and Technology
Lessons 7-15
Martin Scorsese teaches filmmaking by highlighting the importance of technological advancements. They can make or break a film. Martin explains his process of reading scripts. There is plenty of research required for accuracy and relevance.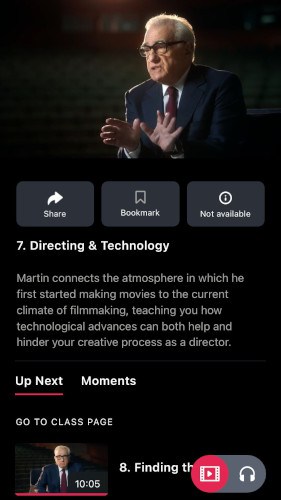 Scorsese Masterclass discusses why interacting with actors is crucial for films. Martin discusses the casting process and all the things to consider before casting someone. You will also learn how to find the best locations for shooting, use production design to differentiate themes, and the importance of collaborating with a cinematographer for the best outcome.

Martin breaks critical details like costume design (how to let character dictate costume), way of directing different people, and adding your own touch to every script. He simplifies it in a way that is easy to understand for novices.
Shooting Low Budget
Lessons 16-21
The filmmaking industry isn't always the most pocket-friendly. There are times when directors have to focus on low-budget filmmaking to stand out. Martin's discussion on taking shots and collaborating with the team to cut costs is my personal favorite.
For any particular story, you must empower your team. Martin offers some great ways to work with your crew. He goes on to discuss the editing room. There are times when you must let go of your favorite scenes and trust the editor's experience.

The video lesson becomes more interesting as color enters the discussion. Martin Scorsese goes on to explain his use of color to enhance his shots. I loved the evolution of black-and-white films and when Martin Scorsese explains how he decided to keep the Raging Bull black and white.
The Power of Music
Lessons 22-24
Once Martin is done explaining his approach to sound design, he explains how it solves many editing problems. Sound can change the intent of a scene. He explains that you don't always have to add a sound. There are times when you will have to take it away as well.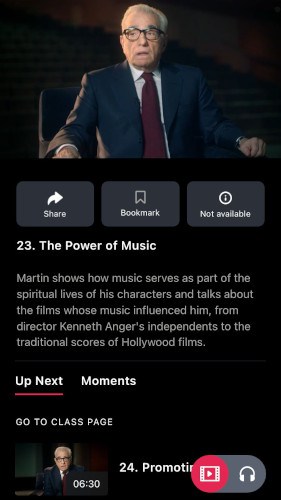 Music is a huge part of cinema. In Martin's case, everyone knows that his music reflects his character's life stage, complications, and spiritual lives. Martin Scorsese masterclass also includes a discussion about directors whose music influenced Martin's movies the most. A simple example is director Kenneth Anger's Independents.

Young filmmakers also learn promotional techniques. Martin highlights how promotion impacts your audience through music, trailers, or promotional campaigns. It is your chance to establish a voice for your film.
Scene Discussion
Lessons 25-30
In these lessons, Martin Scorsese breaks down the use of lighting, voice-over, and images to embody the entire historical moment. He uses examples like Francois Truffaut's films and Jacques Tourneur's Out of the Past. Martin discusses camera tilts and how they impact a scene.
Martin further goes on to tell how voiceovers can push a story forward. The main idea is to connect the audience with the character. He also discusses Vertigo to explain the emotional power cameras and color can add to your own work.

Finally, Martin teaches film enthusiasts and fresh directors to keep their creative spark alive. One thing that doesn't work for one filmmaker can be groundbreaking for the other. You must not lose sight of your aim and style in filmmaking.
Fast-Track Lesson Plan
Finish Martin Scorsese MasterClass in 2 hours, 40 minutes, and 45 seconds.
| | | |
| --- | --- | --- |
| No. | Lesson | Duration |
| 4. | Discovering Your Process | 12:51 |
| 5. | Channeling Your Influences | 06:46 |
| 6. | Developing Your Style | 14:35 |
| 7. | Directing and Technology | 09:36 |
| 9. | Working with The Script | 15:20 |
| 11. | Directing Actors | 09:36 |
| 13. | Production Design | 18:05 |
| 15. | Understanding Cinematography | 11:00 |
| 16. | Shooting Low Budget Films | 11:42 |
| 18. | Editing: Part 1 | 14:40 |
| 19. | Editing: Part 2 | 09:38 |
| 21. | Choosing Black and White | 07:16 |
| 23. | The Power of Music | 13:39 |
| 28. | Scene Discussion: Vertigo | 02:12 |
| 29. | Scene Discussion: 8 1/2 | 03:31 |
Engagement and Retention of Martin Scorsese MasterClass
Martin Scorsese's masterclass review is incomplete without highlighting engagement and retention. Martin does a brilliant job at walking over the filmmaking process. He is encouraging throughout the lessons. He covers everything from sound to images.

In every lesson, you will see images of what Martin is trying to explain. It breaks the monotony of the lesson. You will see Martin directly engaging with the camera, which kept me interested in what he had to say.

Whatever Martin teaches is summarized in the class review PDF on the app. You can download it and revise it after every lesson. I loved the assignments where I had to choose scenes and describe them. The previsualization and sound assignments were the most exciting for me.
My Firsthand Experience With Martin Scorsese MasterClass
What I liked About Martin Scorsese MasterClass
Class Guide
The class review guide is my personal favorite. It gives a detailed summary of each lesson. It is easy to read and follow. There are engaging exercises to introduce film enthusiasts to the filmmaking process. Aspiring filmmakers can learn a great deal from the 76-page guide.
What I Didn't Like about Martin Scorsese MasterClass
Technical Jargon
The lessons are great for newbies but they contain complex jargon. A fresh filmmaker might not be familiar with complex film jargon in Scorsese MasterClass. It might be a little tough for a novice to follow and understand the lesson in time because of it.
Is Martin Scorsese's MasterClass a Good purchase?
Price of Martin Scorsese MasterClass
The price of Martin Scorsese's course is the same as others on the MasterClass app. You will find three annual plans.
| | |
| --- | --- |
| Plan | Price |
| Individual (one device) | $10 per month |
| Duo (two devices) | $15 per month |
| Family (six devices) | $20 per month |
The best purchase for me is the family subscription. I share it with my friends and learn together. We can review any courses of our choice. It is amazing how there are more than 150 courses to view at any time. You can find anything that meets your taste on this platform.
Does the Class Live Up to the Hype?
Martin Scorsese masterclass definitely lives up to the hype for me. I came in as a film enthusiast and have started feeling like a novice filmmaker. The exercises on the PDF are the highlight of the entire course. They give you a glimpse of what filmmaking is like.
Martin Scorsese MasterClass: Ratings from Around the Web
Nothing is more credible than what people like you and I have to say about online courses. People have debated every bit of Martin's Masterclass. The comments on YouTube surely tell us how brilliant these lessons are.
If that wasn't enough, people on Reddit are trying to guest passes to MasterClass only to watch Martin's course. It shows us how popular these Masterclass lessons have become.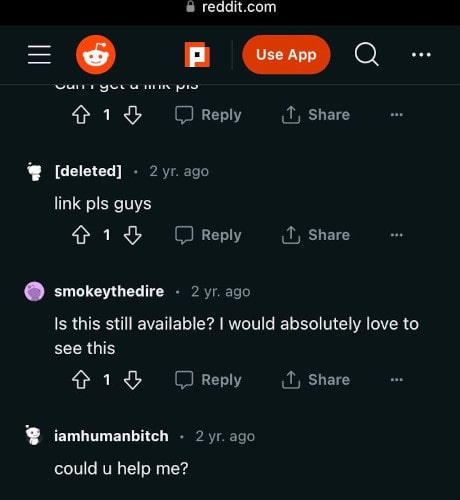 From the comments on Facebook, we can clearly see I am not the only fan of Martin's soothing voice. It has kept many like myself hooked to his course.

Essentials Used in the Martin Scorsese MasterClass
You will only need a notebook and a pen to cover the course. But an interest in filmmaking is a must for it too. Other the movies mentioned in the class guide, you should watch these from Martin's filmography:
Taxi Driver (1976)
Raging Bull (1980)
Goodfellas (1990)
The Departed (2006)
Shutter Island (2010)
George Harrison: Living in The Material World – documentary (2011)
Hugo (2011)
The Wolf of Wall Street (2013)
The Irishman (2019)
Courses Similar to Martin Scorsese's MasterClass
Other Courses of Arts & Entertainment on MasterClass
David Lynch teaches Creativity and Film
James Cameron teaches Filmmaking
Jeff Koons teaches Art and Creativity
Aaron Sorkin teaches Screenwriting
Samuel L. Jackson teaches Acting
Judd Apatow teaches comedy
David Sedaris teaches Storytelling and Humor
Helen Mirren teaches Acting
Nancy Cartwright teaches Voice Acting
MasterClass Competitors
Udemy
Udemy is one of the most popular online learning providers, with a massive choice of various classes. The learning platform covers a range of comedy film and creativity courses,
Coursera
Coursera is another big name in the online courses market, with a lot to offer in film-related fields. It's a great way to expand your knowledge of the field without spending much money on online learning.
Skillshare
Skillshare focuses on practical courses, with educational videos substituting expensive college courses. The aim is to provide users with marketable skills for finding a job. There are some courses related to movies, writing, and directing.
Martin Scorsese's MasterClass Review: FAQ

I've spent the last ten years passionately studying various online learning platforms. Udemy, MasterClass, Coursera, and Skillshare are the main ones, but I review lesser-known study tools as well. I test and analyze each course and lesson thoroughly before sharing my research.