Mellody Hobson MasterClass Review:

Advice for Strategic Decision-Making In Business
Last updated on: September 4, 2023, Written by:
Bill Tremlon
Just a heads up, whenever possible, I use affiliate links in my reviews to help cover the costs of running this site. You can learn more here.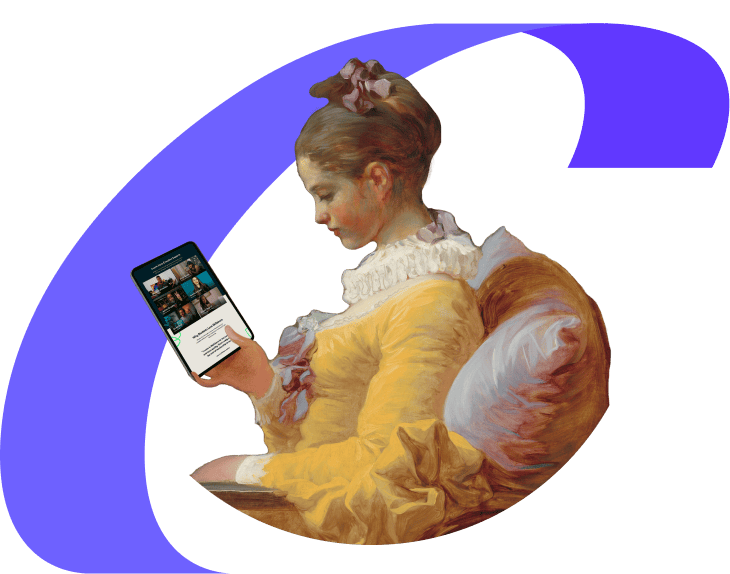 As a new business owner trying to build entrepreneurial skills, I found Mellody Hobson's MasterClass incredibly enlightening. In her class, Hobson presents an essential toolkit for decision-making. Her seasoned advice can be a vital asset in times of financial crisis.

This course is an opportunity to understand the nuances of business strategy and witness its application in real-world scenarios. I will assess the course in detail to make it easier for you to decide whether it's worth taking.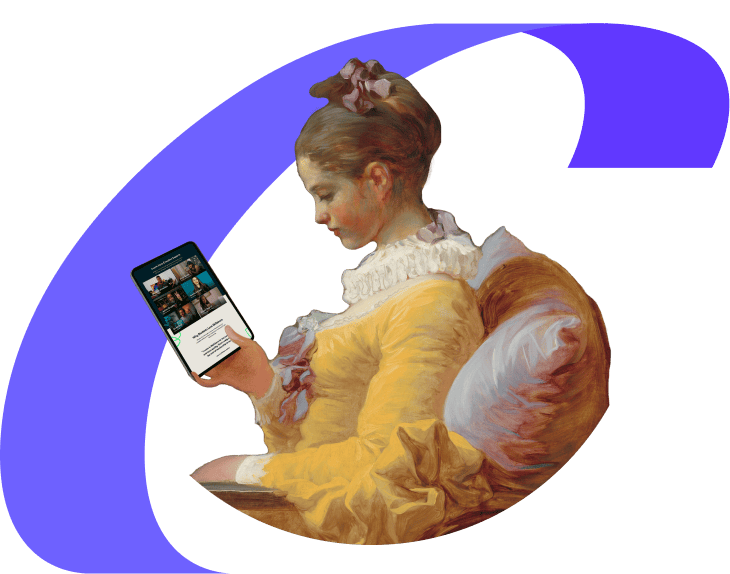 Mellody Hobson MasterClass Overview
In Mellody Hobson's MasterClass, she teaches strategic thinking, a skill essential in navigating various situations in life and business. You will learn her principles for strategic planning and a robust toolkit for managing challenging times. Enhanced by two real-world business case studies, Hobson illuminates how you can apply these tools in complex scenarios.

Mellody Hobson MasterClass Review Summary
| | |
| --- | --- |
| ⭐ Rating: | 9.0 ★★★★★ |
| 🥇 Category of class: | Business |
| 📈 Suits best for: | Aspiring entrepreneurs, business owners |
| 🕒 Lenght: | 1 hours 38 minutes |
| ⏳ Avg. Lesson Duration | 10 minutes |
| 🛍️ Course Essentials: | A notebook, pen, and eagerness to improve your decision-making |
| 💼 Complementary material: | a 49-page class guide |
| 📚 No. of Lessons: | 10 lessons |
| 🛒 Payment options: | Individual / Duo / Family |
| 💵 Price: | 10 – 20 $ (billed annually) |
| 🔄 Refund policy: | 30-day satisfaction guarantee |
| 🎁 Free trial: | ✅ |
Key Skills You'll Learn
Strategic thinking;
Problem-solving;
Navigating adverse circumstances;
Making strategic decisions;
Internal and external communication.
Who is Mellody Hobson MasterClass for
Mellody Hobson's MasterClass is ideal for aspiring and established entrepreneurs, business leaders, or anyone eager to enhance their decision-making and strategic thinking skills. The content is understandable for beginners yet provides enough depth to engage seasoned professionals.
Our Evaluation
Total score: 9.0
Mellody Hobson as an Instructor
Student Engagement and Retention
In This Mellody Hobson's MasterClass
Review, You'll Learn
Mellody Hobson MasterClass Instructor Review
About Mellody Hobson
Mellody Hobson is an exceptional leader with an impressive career in finance. As a driven young woman, she embarked on her professional journey back in 1991. Mellody joined Ariel Investments, founded by the famous investor John Rogers, as a summer intern. She managed to climb the ladder since then and became the first Black woman president of an investment fund.

Hobson has worked with big companies like Starbucks and JPMorgan Chase & Co. and even became a part-owner of an NFL team. Facing challenges like the 2008 financial crisis and COVID-19 sharpened her decision-making skills further. And I didn't even mention that she studied at Princeton University.
Mellody Hobson as an Instructor
Mellody Hobson is a regular advisor on CBS News and The Tom Joyner Morning Show, helping people understand money via financial literacy. As a financial advice columnist for Black Enterprise magazine and the host and producer of an ABC Network show, she's proven her ability to turn complex financial concepts into relatable and engaging content.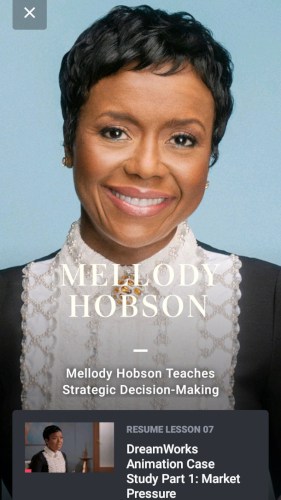 About MasterClass
Since 2015, MasterClass brings 180+ online classes from top-tier instructors in almost any field. It includes pre-recorded video lessons from masters such as Richard Branson, Martin Scorsese, Aaron Sorkin, Gordon Ramsay, and many others.

The video quality equals Hollywood movies, and every MasterClass category is carefully structured. But that's not all. There are interactive assignments, MasterClass community activities, and an ever-growing video library to enjoy. The sheer amount of content can make it hard to begin. Cursums will help you to choose wisely.
Uniqueness and Freshness of the Content
Mellody Hobson's financial insights are scattered across platforms like TV shows, the Black Enterprise magazine, and her TED Talk. However, the lack of structure in these can deter learners from seeking comprehensive, accessible knowledge.

Mellody Hobson's MasterClass is a structured, affordable journey into strategic thinking and problem-solving. It stands out with Hobson's guiding principles, toolkit, and, most notably, real-world case studies that bring theoretical knowledge to life.

MasterClass offers a wide range of business-related courses such as Kris Jenner's branding lessons or learning negotiation with Chris Voss. While they are immensely valuable for other skills, none teaches strategic decision-making better than Mellody Hobson's MasterClass. Hobson's unique blend of professional expertise, personal anecdotes, and practical advice make her course a standout.|
Mellody Hobson MasterClass Content and Structure Review
Mellody Hobson's MasterClass is a well-structured course with ten engaging lessons, each averaging around 10 minutes. The longest video, "Ariel Investments Case Study Part 1: Watch Your Feet," is around 19 minutes long. The course includes a comprehensive 49-page class guide, offering detailed insights into the case studies discussed.
Framework for Strategic Decision Making
1-2 Lessons Summary
In the first two lessons, Mellody Hobson introduces herself. She shares her personal journey as an African American Woman, being the youngest of six kids in a financially struggling family. She narrates how she met John Rogers, CEO of Ariel Investments, got a summer internship, and climbed to the position of president of the company.
Hobson then explains how strategic thinking can be applied while making pivotal decisions. Her strategic thinking involves five key principles:
Putting others first
Co-Leadership for diverse perspectives
Lifelines – seeking advice from experienced individuals
Hope is not a plan – (magical thinking is wrong)
Maintaining conviction in your decisions
According to these principles, Mellody Hobson builds her toolkit for navigating crises and finding unique opportunities.
Case Study: Ariel Investments During the 2008 Crises
3-6 Lessons Summary
Hobson delves into the intricacies of her decisions for Ariel Investments during the financial turmoil of 2008. She explains how tech advancements that are a part of our lives today seemed like a crazy idea.

She tells about her experiences as the co-CEO of the company along with John Rogers. At the time, a major investor terminated the contract with them on call, and how they both cried when the phone disconnected.
Mellody dived into the details of critical decisions about the firm's survival in those times, telling how George Lucas, her boyfriend at that time, pushed her to begin thinking strategically. She also took advice from other friends in those days, including Bill Bradley and George Roche. She made decisions about managing headcount strategy and keeping the research team excluded from layoffs. She ensured the firm's progress through the crisis and, later on, pushed for diversity in corporate America.
Case Study: DreamWorks Animation As It Undergoes An Industry Change
7-9 Lessons Summary
The lessons in this section present Hobson's experiences at DreamWorks Animation as a Board member during a significant industry shift. She sheds light on the role of people who sit on board seats, the dilemmas faced, and the decisions taken. Here, learners can explore different outcomes and consider how they would navigate through complex decisions in life.
Takeaway
10 Lesson Summary
Lesson 10 serves as a conclusion, where Hobson imparts her final thoughts and encourages students to utilize the knowledge gained in their decision-making. Her words are a consolidation point, cementing the importance of strategic thinking in career development and general life situations.
Fast-Track Lesson Plan
Mellody Hobson's MasterClass is a short course. Still, you can skip the lessons containing case studies and understand the crux of her advice by taking these three lessons in 23 minutes and 4 seconds.
| | | |
| --- | --- | --- |
| No. | Lesson | Duration |
| 1. | Overview | 05:41 |
| 2. | Strategy & Problem Solving – Mellody's Tool Kit | 08:14 |
| 10. | Conclusion: Final Thoughts And Common Questions | 09:09 |
Mellody Hobson MasterClass Student Engagement and Retention
One can't help but notice how the phenomenal visual quality of MasterClass makes Mellody's course aesthetically pleasing. Hobson's superior narrative skills and exceptional instructional quality ensure that you hear everything when she speak.

Although it literally only a couple of slides and Hobson talking, it is still captivating if you have even the slightest interest to hear how our society should deal with money. The material is easily understood and captivating, prompting viewers to binge-watch the course. The content flows naturally, making it easy to follow along.
My Personal Experience With Mellody Hobson MasterClass
Things I Liked About the Mellody Hobson MasterClass
Teaches Strategic Thinking Using Case Studies
Mellody Hobson's MasterClass includes real-life case studies from her tenures at companies Ariel Investments and DreamWorks Animation. They were really helpful in teaching hands-on strategic thinking and problem-solving techniques.
Structured And Engaging Lessons
Mellody Hobson's MasterClass has structured, engaging lessons that effectively interweave case studies with her strategic decision-making toolkit and guiding principles. This constant reinforcement elevates understanding.
Not Limited To A Specific Business Niche
I initially feared the class would be finance-focused, given Mellody's expertise. However, it provided universally applicable strategic decision-making insights, not limited to one industry.
Things I Didn't Like About the Mellody Hobson MasterClass
The Short Length Of The Course
While Mellody Hobson's masterclass is captivating, its brief length is a drawback. More case studies could have enriched the learning experience and deepened the understanding of strategic thinking.
Is Mellody Hobson MasterClass Worth the Money
Cost of Mellody Hobson MasterClass
MasterClass is available monthly for $10, $15, or $20 (for Individual, Duo, or Family plans, respectively), offering all courses in its library. The subscription is unquestionably worth it for Mellody Hobson's course alone, as its insights can dramatically enhance personal and professional decision-making processes.
| | |
| --- | --- |
| Plan | Price |
| Individual (one device) | $10 per month |
| Duo (two devices) | $15 per month |
| Family (six devices) | $20 per month |
Does the Class Keep Its Promises
With its applicability across industries and impactful lessons, Mellody Hobson's MasterClass exceeds expectations. I recommend this course, as it provides practical insights that can transform one's approach to strategic thinking and decision-making.
Mellody Hobson MasterClass: What Others Have Said
People have been praising Mellody Hobson's course across social media, as proven by this Youtube comment section:
LinkedIn members also acknowledged the worth this class has brought: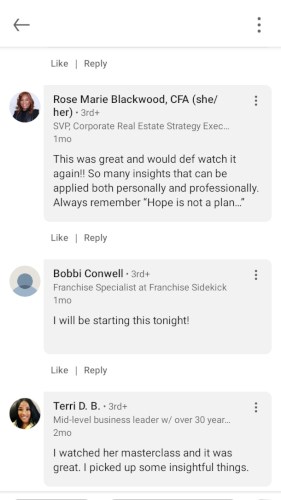 Alternatives to Mellody Hobson MasterClass
Other Business Courses Available on Masterclass
Bob Iger Teaches Business Strategy and Leadership
Paul Krugman teaches Economics and Society
Robert Reffkin teaches Buying and Selling Real Estate
Chris Voss teaches the Art of Negotiation
Sara Blakely teaches Self-made Entrepreneurship
Howard Schultz teaches Business Leadership
Diane Von Furstenberg teaches Building a Fashion Brand
Elaine Welteroth teaches Designing Your Career
Daniel Pink teaches Sales and Persuasion
David Axelrod & Karl Rove teach Campaign Strategy and Messaging
Anna Wintour teaches Creativity and Leadership
Alternatives to MasterClass
Udemy
Udemy is one of the most popular online learning providers, with a massive choice of various classes. The learning platform covers a range of courses for starting your own business or a personal brand.
Coursera
Coursera is another big name in the online courses market, with a lot to offer in business, economics, and management fields. It's a great way to expand your knowledge of the field without spending much money on online learning.
Skillshare
Skillshare focuses on practical courses, with educational videos substituting expensive college courses. The aim is to provide users with marketable skills for finding a job. There are plenty of courses related to business, finance, and entrepreneurship.
Q&A about Mellody Hobson MasterClass

I've spent the last ten years passionately studying various online learning platforms. Udemy, MasterClass, Coursera, and Skillshare are the main ones, but I review lesser-known study tools as well. I test and analyze each course and lesson thoroughly before sharing my research.