Chris Voss MasterClass Review:

Lessons From An FBI Hostage Negotiator
Just a heads up, whenever possible, I use affiliate links in my reviews to help cover the costs of running this site. You can learn more here.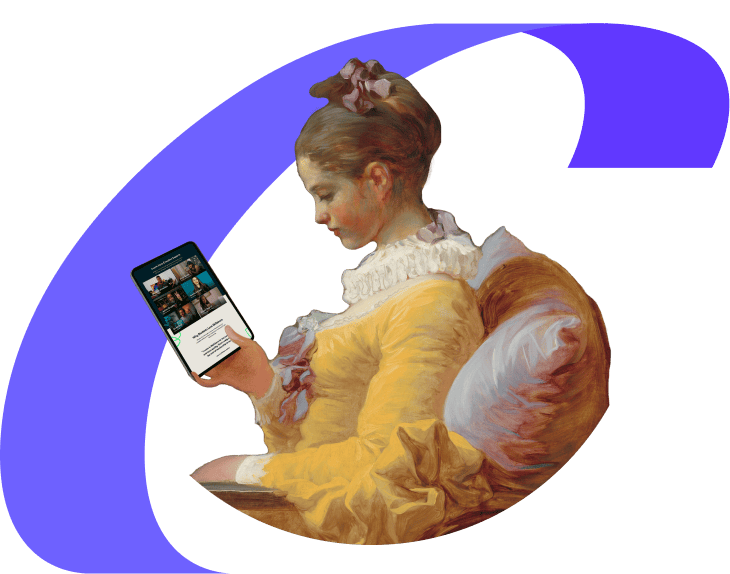 Life is essentially a neverending series of negotiations. Whether you're seeking a raise at work or trying to get your child to cooperate at home, you're negotiating whenever you want something from someone. You need strong negotiation skills if you want to improve the quality of your life.

However, despite being one of the most practical skills a person can have, negotiation skills don't come naturally to most individuals. That's why you're probably wondering whether the Chris Voss MasterClass on the "Art of Negotiation" could help improve your outcomes during your negotiations.

Is it the perfect negotiation learning kit everyone is touting it to be? Read this Chris Voss MasterClass review to find out about it.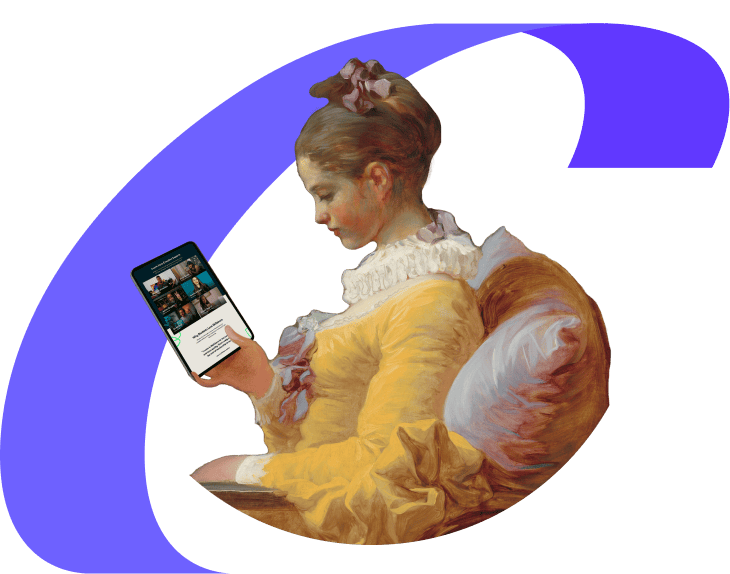 Chris Voss MasterClass Overview
The Chris Voss MasterClass is full of insightful tips and practical techniques to make you a master at the art of negotiation. You will learn how to leverage emotional intelligence and communication skills to handle a wide range of negotiation situations. Chris Voss also incorporates real-life examples of various scenarios to show you how the art of negotiation works.

Chris Voss MasterClass Review Summary
| | |
| --- | --- |
| ⭐ Rating: | 9.8 ★★★★★ |
| 🥇 Category of class: | Business and Leadership |
| 📈 Suits best for: | Anyone interested in improving their negotiation skills |
| 🕒 Lenght: | 3 hours 4 minutes |
| ⏳ Avg. Lesson Duration | 10 minutes |
| 🛍️ Course Essentials: | Note-taking materials, an open mindset, and a practice partner |
| 💼 Complementary material: | 14-page class guide |
| 📚 No. of Lessons: | 18 lessons |
| 🛒 Payment options: | Individual / Duo / Family |
| 💵 Price: | 10 – 20 $ (billed annually) |
| 🔄 Refund policy: | 30-day satisfaction guarantee |
| 🎁 Free trial: | ✅ |
Key Skills You'll Learn
How to use negotiation principles;
Tactical empathy and collaboration;
Understanding body language & speech patterns;
Communication skills;
Emotional intelligence;
Identifying "black swans".
Who is the Chris Voss MasterClass for?
The Chris Voss MasterClass is for anyone seeking to learn effective negotiation tactics that can be applied in both personal and business negotiations. The negotiation techniques and tactical tools Chris shares are designed to foster collaboration and evoke positive emotions, ensuring that both parties can walk away feeling the deal was fair to them.

As such, the Chris Voss MasterClass is perfect for those who wish to navigate negotiation scenarios with skill and confidence without appearing aggressive or provoking negative emotions.
Our Evaluation
Total score: 9.8
Chris Voss as an Instructor
Student Engagement and Retention
In This Chris Voss's MasterClass
Review, You'll Learn
Chris Voss's MasterClass Instructor Review
About Chris Voss
Chris Voss is a decorated former FBI hostage negotiator, CEO of the Black Swan Group, and author of the international best-seller, Never Split the Difference: negotiating as if your life depends on it.

Chris was trained in the art of negotiation by the Harvard Law School and Scotland Yard, a skill the former lead negotiator has used successfully in his storied career. Some highlights of Chris Voss's career as an FBI negotiator include the 1993 World Trade Center bombing, the Jill Carrol case in Iraq, and the 1993 Chase Manhattan Bank Robbery.

In 2007, Voss retired from the FBI after a 24-year run and went on to found the Black Swan Group, a consulting firm that teaches clients both personal and business negotiation strategies, as well as how to identify the 'black swans' that often make or break a successful negotiation.
Chris Voss as an Instructor
Chris Voss is remarkably talented as an instructor. He captures the essence of negotiation skills in his online course with expertise and charisma. With his extensive experience as a former FBI negotiator, Chris Voss brings real-world insights to the table.
Throughout the Chris Voss MasterClass, he guides you through various negotiation situations, showcasing his tactical empathy approach. His ability to dissect body language, speech patterns, and communication strategies is truly commendable. Voss emphasizes the importance of understanding the other party's perspective as an underrated negotiation strategy.

One of the highlights of the online course is the emphasis on practical techniques. Chris Voss teaches practical skills and includes mock negotiations. Moreover, the manner in which Chris talks makes his teaching style engaging and with captivating real-life examples. You will also appreciate his focus on emotional intelligence and the impact it has on any successful negotiation.
About MasterClass
Since 2015, MasterClass brings 180+ online classes from top-tier instructors in almost any field. It includes pre-recorded video lessons from masters such as Richard Branson, Martin Scorsese, Aaron Sorkin, Gordon Ramsay, and many others.

The video quality equals Hollywood movies, and every MasterClass course is carefully structured. But that's not all. There are interactive assignments, MasterClass community activities, and an ever-growing video library to enjoy top rated MasterClass. courses. The sheer amount of content can make it hard to begin. Cursums will help you to choose wisely.
Uniqueness and Freshness of the Content
There is no shortage of online learning sources where you can find Chris Voss's advice on negotiations. But these sources often come in the form of scattered interviews, podcast appearances, and short video clips across various platforms.

The Chris Voss MasterClass chapters offer a compelling solution to these challenges. Unlike scattered online resources, the Chris Voss MasterClass provides high-quality video lessons structured logically. It offers a step-by-step progression through the intricacies of negotiation.

Therefore, while there may be other online learning courses available on negotiation or business, such as Bob Iger's leadership course, the Chris Voss MasterClass negotiation class stands in a league of its own. This online course combines Voss's decades of experience as a former FBI hostage negotiator with real-life negotiation scenarios and mock negotiations to enhance the practicality of the course.
Chris Voss's MasterClass Content and Structure Review
The Chris Voss MasterClass is 3 hours and 4 minutes long, consisting of 18 fast-paced video lessons. Each lesson averages around 10 minutes in length, with the longest one running for about 16 minutes. Thanks to Voss's captivating teaching style, this is one of the few MasterClass courses that you can comfortably complete in one sitting.
Tactical Empathy
1-4 Lessons Summary
Chris Voss introduces us to his MasterClass with a lesson on tactical empathy. He defines tactical empathy as the ability to understand the other party's point of view, allowing you to make an authentic connection. According to Chris, a successful negotiation strategy should foster collaboration and help both parties find common ground.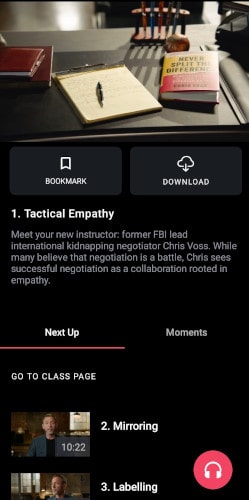 To conclude the tactical empathy lesson, Chris illustrates how the FBI successfully employed this approach to secure the release of Jill Carrol, an American journalist kidnapped in Iraq. By appealing to her captors' own rules, they were able to facilitate her release.

After the introductory lesson, lessons 2 and 3 focus on mirroring and labeling as tactical empathy tools. These techniques help neutralize negative emotions and encourage positive ones, allowing you to build rapport more easily. In lesson 4, Chris enlists the help of a professional actor to demonstrate these negotiation tactics in action.
Mastering Delivery
5-9 Lessons Summary
In the mastering delivery lesson, Chris Voss emphasizes the importance of delivery. It's not just what you say but how you say it that matters. Chris suggests brilliant ways you can change your tone of voice, allowing you to influence your counterpart's emotional state.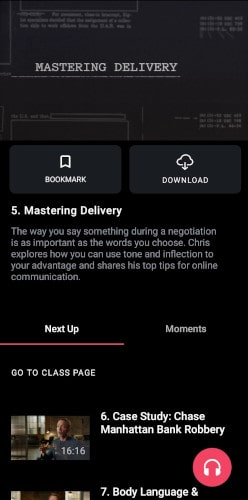 In lesson 6, we see those negotiation skills put into action in a case study of the Chase Manhattan Bank Robbery, where Chris talks bank robbers into surrendering, resulting in the successful rescue of the hostages.

After the Chase Manhattan Bank Robbery case study, Voss teaches how to use body language and speech patterns to create the illusion of control and gain the upper hand in a negotiation.

Lesson 9 is a mock negotiation involving a teenager. In this teenager lesson, Chris plays the role of a father who is opposed to his teenage daughter spending the weekend at her boyfriend's place. Voss negotiates with her using negotiation tactics.
The Accusations Audit
10-15 Lessons Summary
In lesson 10, the accusations audit lesson, Chris Voss explains how to launch a preemptive attack on your counterpart by addressing any potential fears they might have about your ability to treat them fairly. He considers this technique arguably the most valuable secret in the art of negotiation, as it helps lower your opponent's guard by demonstrating your understanding of their point of view.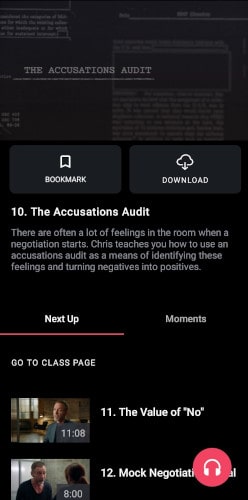 Moving on to lesson 11, Chris discusses the value of no when negotiating. You're more likely to achieve a successful negotiation by guiding your counterpart to reject outcomes that don't benefit both parties.

Next is the rival lesson, a mock negotiation where Chris demonstrates his superior negotiating skills by persuading his 'rival' to abandon their agenda and align with his.

After the rival lesson, Chris Voss explains how to bend your counterpart's reality by appealing to their sense of justice.

It leads us to the bargaining lesson, where Chris suggests brilliant ways you can use to bargain with skill and tact. After the bargaining lesson, Chris uses a mock salary negotiation to show us the proper way to go about negotiating for a raise. The salary lesson was a real eye-opener on where most of us go wrong when negotiating for a raise.
Black Swans
16-18 Lessons Summary
In lesson 16, Chris focuses on sharing insightful tips on how to find black swans. Voss defines black swans as crucial nuggets of information you were not aware of before entering the negotiations but are critical for success.
To illustrate the effectiveness of this technique, Voss references the 2003 Dwight Watson 'Tractor Man' incident. In this case, the identification of a black swan enabled the FBI to successfully persuade Watson to surrender willingly.

Lesson 17 is a mock negotiation of a high-stakes negotiation where the actor has to put their newly-learned negotiation skills to the test and talk Chris out of executing a hostage in 60 seconds.

The Chris Voss MasterClass concludes in lesson 18 as Chris shares a poignant story that influenced his journey to master the art of negotiation.
Fast-Track Lesson Plan
Finish Chris Voss's MasterClass in 1 hour, 3 minutes, and 46 seconds.
| | | |
| --- | --- | --- |
| No. | Lesson | Duration |
| 1. | Tactical Empathy | 9:41 |
| 2. | Mirroring | 10:21 |
| 3. | Labeling | 11:27 |
| 5. | Mastering Delivery | 10:49 |
| 10. | The Accusations Audit | 8:04 |
| 14. | Bargaining | 13:24 |
Chris Voss MasterClass Review: Student Engagement and Retention
The Chris Voss MasterClass will captivate you from the introductory lesson, and, as I've mentioned in other MasterClass reviews, it maintains Hollywood-level production quality, with no exception in Chris's MasterClass. I especially appreciated the "Case Files" touch that Chris employed in his course, making each lesson feel like an episode of your favorite crime drama.

The video lessons progressively build upon one another, ensuring constant reinforcement of the negotiation techniques learned in previous lessons.

All these make Chris Voss's MasterClass a thrilling online course that will leave you yearning for more.
My Personal Experience With the Chris Voss MasterClass
Things I Liked About the Chris Voss MasterClass
MasterClass by Former FBI Lead Hostage Negotiator
As Chris so eloquently puts it, life is a negotiation. If you're going to learn about the fine art of negotiation from anyone, it may as well be from someone who has made a career out of successfully negotiating high-stakes situations. The Chris Voss MasterClass provides insightful tips and negotiation techniques that are backed by Chris's extensive experience as a former FBI lead hostage negotiator.
Mock Negotiations
The practicality of the Chris Voss MasterClass stood out to me. Chris doesn't just share just theoretical knowledge. He uses mock negotiations with a professional actor, real-life examples, and case studies that demonstrate how his negotiation tactics can be applied in various scenarios. This hands-on approach enhances the learning experience and helps bridge the gap between theory and practice.
Easy to Apply Negotiation Skills
I also loved that most of the negotiation skills Chris Voss teaches in his MasterClass are easy to apply in real-life situations. Rather than focusing on overly complex or abstract concepts, Chris breaks down the techniques into practical steps that can be implemented immediately.
Well-Structured Curriculum
The Chris Voss MasterClass offers a comprehensive and well-structured curriculum. The lessons are thoughtfully organized, building upon each other to provide a logical progression in learning. This ensures that you develop a solid foundation in negotiation skills and can apply them effectively in real-world situations.
Things I Didn't Like About the Chris Voss MasterClass
Mock Negotiations Could be More Comprehensive
The only issue I had with Chris Voss's MasterClass is that some of the mock negotiations felt less realistic compared to real-life scenarios. In particular, the teenager lesson stood out as the negotiation outcome seemed too quick and easily resolved. It's possible that time constraints influenced the depth of the role play. However, I found that all other mock negotiations were well-executed and informative.
Is the Chris Voss MasterClass Worth the Money
Chris Voss MasterClass Cost
This online MasterClass course costs from $10 per month. So, is Chris Voss's MasterClass worth the money? It definitely is. For just $10, you can gain access to a MasterClass membership, which not only allows you to enroll in the Chris Voss MasterClass but also offers opportunities to learn about business management from Kris Jenner or build stronger relationships through Esther Perel's MasterClass. There is a wide range of other courses taught by world-renowned experts in various fields.
| | |
| --- | --- |
| Plan | Price |
| Individual (one device) | $10 per month |
| Duo (two devices) | $15 per month |
| Family (six devices) | $20 per month |
The annual membership gives you unlimited access to all the MasterClass courses available, which means you can continue to expand your knowledge beyond negotiation skills.
Does the Class Keep Its Promises?
The Chris Voss MasterClass unquestionably fulfills its promise of enhancing your negotiation skills. Voss teaches practical techniques that can be immediately applied in real-life situations. What sets this MasterClass apart is the simplicity and intuitiveness of the negotiation skills and strategies taught. At first glance, they may seem too straightforward to be effective, but the results speak for themselves – they work!
Chris Voss MasterClass Review: What Others Have Said
Most reviews about Chris Voss MasterClass are overwhelmingly positive, with praise for how the MasterClass significantly improves negotiation skills and empowers to achieve better outcomes in various scenarios.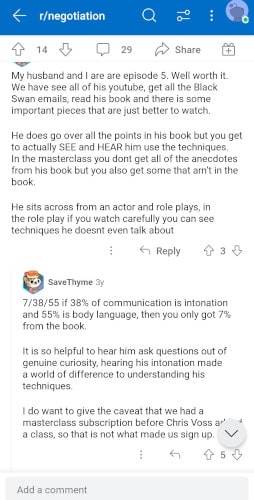 Reviewers appreciate the clarity and effectiveness of Chris Voss's teaching style. They commend his ability to break down complex concepts into easily understandable steps, making the learning process engaging and enjoyable.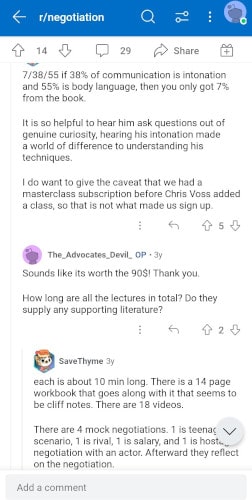 Moreover, students express gratitude for the real-life examples and case studies presented in the Chris Voss MasterClass. They find these examples to be relatable and appreciate the opportunity to witness the application of negotiation techniques in different contexts.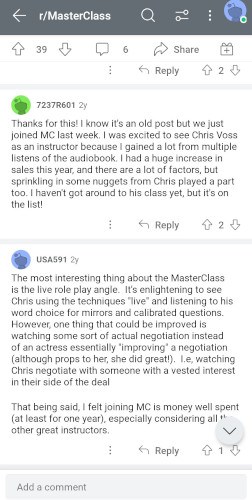 While the majority of reviews are positive, there are occasional mentions of wanting more practice exercises or a deeper dive into certain topics. However, overall, the consensus is that the Chris Voss MasterClass provides substantial value and equips learners with practical skills applicable in real-world negotiations.
Essentials Used in the Chris Voss MasterClass
There are no specific tools or physical essentials required for the Chris Voss MasterClass. However, you'll get more about this class if you'll approach it with an open mindset and find some practice partners. It's also highly beneficial to read Chriss Voss's book – Never Split the Difference: Negotiating As If Your Life Depends On It (2016, co-written with Tahl Raz) after the MasterClass course.
Alternatives to Chris Voss's MasterClass
Other Business and Leadership Courses Available on MasterClass
Richard Branson teaches Disruptive Entrepreneurship
Howard Schultz teaches Business Leadership
David Axelrod and Karl Rove teach Campaign Strategy and Messaging
Alexis Ohanian teaches Building Your Startup
Daniel Pink teaches Sales and Persuasion
Paul Krugman teaches Economics and Society
Sara Blakely teaches Self-Made Entrepreneurship
Bob Iger teaches Business Strategy and Leadership
Jeff Goodby & Rich Silverstein teach Advertising and Creativity
Geno Auriemma teaches Leading Winning Teams
Alternatives to MasterClass
Udemy
Skillshare focuses on practical courses, with educational videos substituting expensive college courses. The aim is to provide users with marketable skills for finding a job. There are plenty of courses related to business, finance, and entrepreneurship.
Coursera
Udemy is one of the most popular online learning providers, with a massive choice of various classes. The learning platform covers a range of courses for starting your own business or a personal brand.
Skillshare
Coursera is another big name in the online courses market, with a lot to offer in business, economics, and management fields. It's a great way to expand your knowledge of the field without spending much money on online learning.
Q&A about the Chris Voss MasterClass

I've spent the last ten years passionately studying various online learning platforms. Udemy, MasterClass, Coursera, and Skillshare are the main ones, but I review lesser-known study tools as well. I test and analyze each course and lesson thoroughly before sharing my research.