Aaron Franklin MasterClass Review:

The Ultimate Guide to Texas-Style Barbecue
Just a heads up, whenever possible, I use affiliate links in my reviews to help cover the costs of running this site. You can learn more here.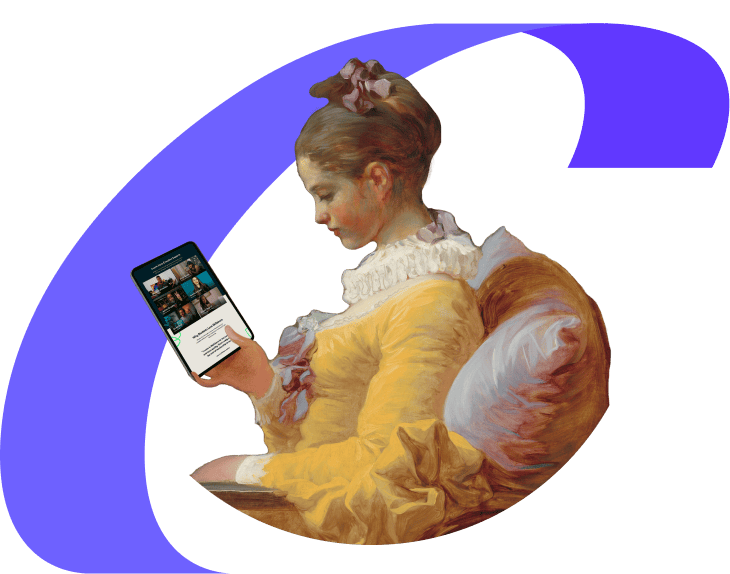 Every barbecue enthusiast dreams of serving succulent smoked meats that will make the guests beg for the secret recipe. It can become a reality now, thanks to Aaron Franklin's Masterclass.

In this comprehensive online course, the co-owner of the legendary Franklin Barbecue in Austin, Texas, spills the beans on his techniques to nail the Central Texas barbecue. This Masterclass is literally the backstage pass to one of America's top barbecue hotspots, where you will learn the crux of Texas-style barbecue.

We will meticulously evaluate each aspect of the Aaron Franklin masterclass, from the depth of its content to the presentation style and, most importantly, the practical BBQ skills it imparts. Read on our Aaron Franklin Masterclass review as we arm you with the information you need to decide on whether to opt for this course.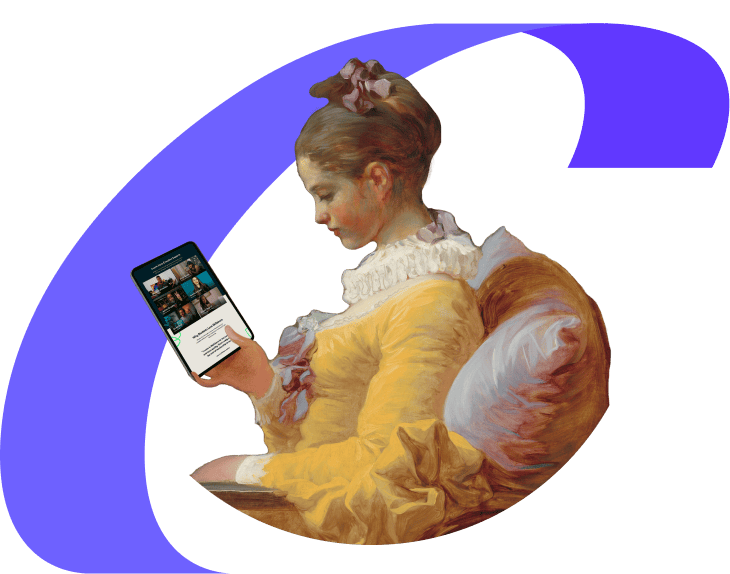 Aaron Franklin MasterClass Overview
You will find it all about Texas-style BBQ in this Aaron Franklin Masterclass. He shares his knowledge and passion, providing step-by-step guidance on smoking and grilling techniques, meat selection, and fire management. Even if you aren't a beginner, Aaron will help you elevate your BBQ game to the next level.

Aaron Franklin MasterClass Review Summary
| | |
| --- | --- |
| ⭐ Rating: | 9.0 ★★★★★ |
| 🥇 Category of class: | Food |
| 📈 Suits best for: | Anyone interested in Texan Barbecue |
| 🕒 Lenght: | 4 hours 36 minutes 15 seconds |
| ⏳ Avg. Lesson Duration | 20 minutes |
| 🛍️ Course Essentials: | High-quality smoker, wood, other barbecue tools, and recipe ingredients |
| 💼 Complementary material: | 41-page PDF class guide |
| 📚 No. of Lessons: | 16 lessons |
| 🛒 Payment options: | Individual / Duo / Family |
| 💵 Price: | 10 – 20 $ (billed annually) |
| 🔄 Refund policy: | 30-day satisfaction guarantee |
| 🎁 Free trial: | ✅ |
Key Skills You'll Learn
Understanding and Selecting Meats;
Mastering Fire Management;
Making Marination Rubs and Sauces;
Smoking Meats;
Building a Barbecue Pit;
Wood Selection;
Slicing and Serving Smoked Meats;
Plan and Manage Time for a Long Smoking Process;
Cultivating a Barbecue Mindset;
Troubleshooting Common Problems During Smoking Process.
Who is Aaron Franklin MasterClass for
From a beginner who wants to know the basics of smoking meats to a professional cook who wants to perfect his BBQ skills, learners at any level can benefit from Aaron Franklin's Masterclass. His engaging and down-to-earth teaching style, coupled with his vast cooking knowledge, make his MasterClass understandable and enjoyable for all BBQ fans.
Our Evaluation
Total score: 9.0
Aaron Franklin as an Instructor
Student Engagement and Retention
In This Aaron Franklin MasterClass Review, You'll Learn
Aaron Franklin MasterClass Review: Instructor
About Aaron Franklin
Aaron Franklin is an esteemed figure in American cuisine, recognized as a barbecue cook, television host, and author, specializing in Texas-style barbecue. He co-owns the critically acclaimed Franklin Barbecue in Austin, Texas. People love his famous smoked brisket so much that there are long lines waiting to get in even at common work hours.

The skilled cook has become a household name, thanks to his PBS TV show, "BBQ with Franklin," and his bestselling book, "Franklin Barbecue: A Meat-Smoking Manifesto." Aaron also has earned several awards to back his fame as a pitmaster, including the James Beard Foundation Award for Best Chef.

His restaurant Franklin Barbecue has received recognition from Texas Monthly and Bon Appétit magazine. He has rooted his influence in the food industry not only with his barbecue skills but also due to his charisma and deep understanding of BBQ techniques.
Aaron Franklin as an Instructor
Aaron Franklin is a true pitmaster and a barbecue maestro, establishing him as a reliable instructor in the art of BBQ. His teaching style is approachable and friendly, combining a deep knowledge of barbecuing with a clear and engaging manner of explanation.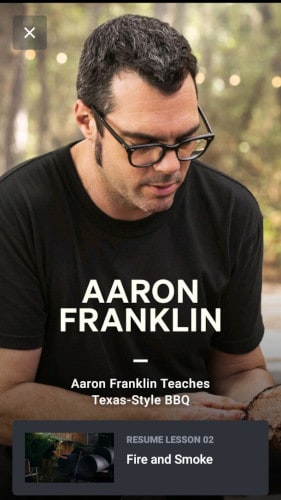 You can sense his aim to teach every possible detail in the lesson videos, such as the one where he teaches how to slice the brisket to maximize its flavor. Aaron's years of experience with offset cookers make him an adept instructor to give tips on the optimum functioning of your gas or electric smoker.

Aaron's success as an instructor is evident through his popular PBS show, where he breaks down the complex science of smoking meats into understandable and easy-to-follow lessons. Now he came to share his knowledge in an original Franklin's BBQ MasterClass series.
About MasterClass
Since 2015, MasterClass brings 180+ online classes from top-tier instructors in almost any field. It includes pre-recorded video lessons from masters such as Richard Branson, Martin Scorsese, Aaron Sorkin, Gordon Ramsay, and many others.

The video quality equals Hollywood movies, and every MasterClass course is carefully structured. But that's not all. There are interactive assignments, MasterClass community activities, and an ever-growing video library to enjoy. The sheer amount of content can make it hard to begin. Cursums reviewed MasterClass lessons to help you choose wisely.
Uniqueness and Freshness of the Content
The internet has numerous videos, articles, and forums offering Aaron Franklin's barbecue advice. While YouTube and various food blogs contain snippets of his wisdom, they often prove problematic for learners. Information is scattered and unorganized, leading to a disordered learning experience.

Aaron Franklin's book, although comprehensive, can be a costly investment for barbecue a novice cook or a backyard hobbyist. Especially considering that it is hard to prepare your first brisket without video guidance.

Aaron Franklin's MasterClass, on the other hand, offers a complete and organized learning experience. The course walks learners through each stage of the BBQ process, from selecting and preparing meats to creating a clean fire and serving the final product.

What sets this MasterClass apart is the access to Aaron Franklin himself, whose engaging teaching style makes this course a unique and value-packed offering. In the introductory lesson, Aaron Franklin says that this MasterClass offers unparalleled depth into barbecuing, exceeding his prior teachings and free content.

He claims that the course mimics the hands-on experience given to his team at Franklin Barbecue.

There are other courses available that teach the art of cooking in general, including some Michelin star chefs like Gordon Ramsay or such big names like US chef Thomas keller. Alternatively, you can explore something completely different, such as wine tasting MasterClass with James Suckling. However, Aaron Franklin's MasterClass stands out for its depth and authenticity when preparing meat.

Unlike other courses providing general tips and simple techniques, (for simpler and beginner-friendly cooking courses, I recommend checking out Alice Waters' MasterClass review), Aaron Franklin's MasterClass dives deep into the art and science of Texas-style barbecue. Learners gain his insights and techniques, making it the most unique option available.
Aaron Franklin MasterClass BBQ: Content and Structure Review
Aaron Franklin's MasterClass has 16 video lessons, each averaging around 20 minutes. The longest video, about trimming the brisket, is almost 35 minutes long, showing the depth of detail Aaron goes into for each lesson.

The full course is 4 hours 36 minutes, plus the supplementary PDF class book you can read at your own pace. In our experience, dedicating a few hours a week enables one to finish the entire course within a month.

The MasterClass includes a detailed class book with lesson recaps, helpful diagrams, and more. If you truly want the best BBQ tips out of this course, you must invest adequate time to carefully follow the video lessons and read the 41-page PDF class book. Practicing the techniques taught by Aaron might take a few additional weeks to complete the course fully.
Section 1: The Foundations of a Good Barbecue
1-2 Lessons Summary
Aaron Franklin starts his MasterClass by explaining the fundamentals of barbecue. From the basics of cooking a good brisket to understanding the types of smokers and wood used for different meats, Aaron teaches Texas-style bbq with a lot of expertise. In the introductory lesson, you learn about Aaron's journey with BBQ, and he gives a sneak peek into his restaurant, Franklin's bbq, igniting the learners' interest.

In the next lesson, he delves into fire management. Here, he shares essential tips and techniques on managing direct and indirect heat and choosing between different smoker types, and other critical aspects of barbeque cooking.

You will learn about wood selection and its impact on the flavor, how to build and maintain a fire, visual cues for good and bad smoke, and troubleshooting the bad smoke.
Section 2: Smoking Pork Butt and Ribs
3-4 Lessons Summary
After laying the groundwork, Aaron Franklin transitions into the heart of the course in the third and fourth lessons, that is, smoking meats. He offers step-by-step demonstrations to make pork butt and ribs. The Smoked Pork he makes is incredibly easy to shred and turns into delicious and moist pulled pork.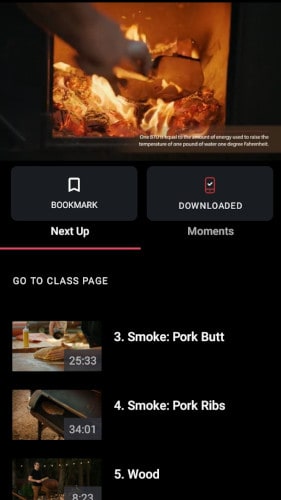 Aaron provides meticulous instruction for trimming, seasoning, and preparation techniques for smoking meat. It ensures learners have the knowledge to produce mouthwateringly tender pork dishes themselves.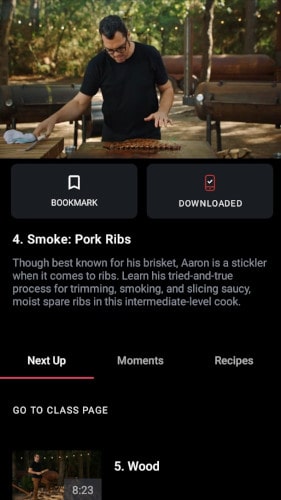 Section 3: Choosing the Right Meat and Wood
5-7 Lessons Summary
From the fifth lesson, Aaron builds upon the foundation laid in previous chapters and teaches the learners in detail about choosing the right wood for barbeque. Good wood is the basic element of the process and is crucial to understanding how to bring the right flavor to the meat.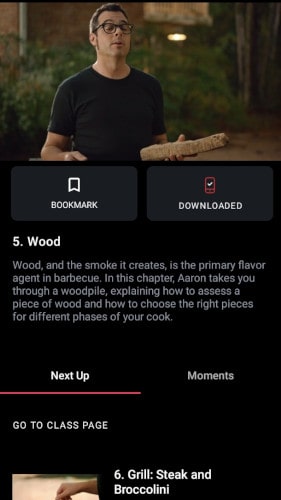 Next, Aaron explains how to make the perfect Grilled Steak and Broccolini, instructing the grilling do's and don'ts alongside the recipe. If you nail the correct temperatures, it's one of the best BBQ recipes you'll ever try.

The 7th lesson is about beef quality and selection, a topic of paramount importance as it directly impacts the quality of the final product. Aaron's expertise shines through as he delivers practical, detailed advice that learners can easily apply.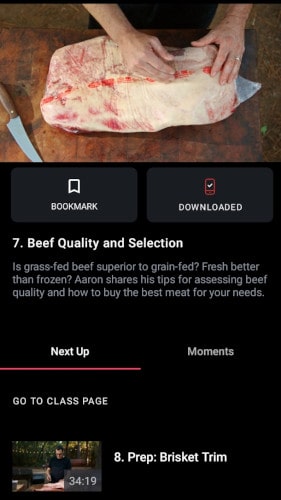 Section 4: A-Z of Prepping, Smoking, and Serving the Brisket
8-13 Lessons Summary
The long lines of people waiting outside Aaron's famous barbecue joint every day is a reason strong enough to learn how Aaron crafts the Central Texas bbq staple: the famous Brisket. To say this section is the highlight of the MasterClass won't be wrong.
Starting from the longest lesson that guides through trimming the brisket, Aaron demonstrates how to season and smoke it to achieve a juicy, tender piece of meat. The section is packed with useful Aaron's tips and guides you through the complete process of wrapping and resting the brisket, emphasizing that all of these steps should not be neglected.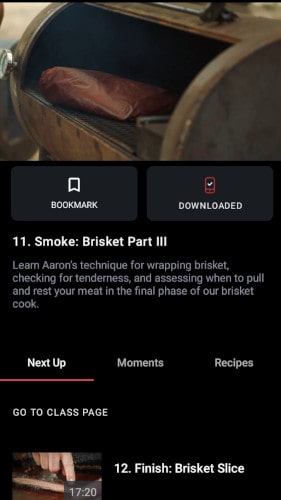 The lesson on slicing and serving provides crucial knowledge on how to present your smoked meat, enhancing both the visual appeal and the eating experience. Plus, you will also learn how to make the perfect barbecue sauce.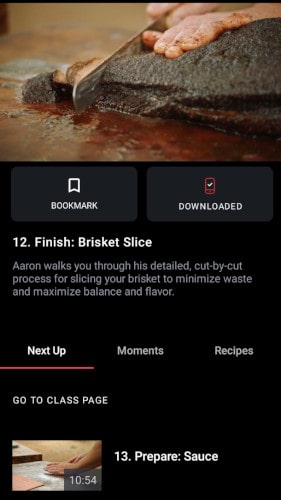 Section 5: Offset Smokers, Franklin Barbecue and Evolution of Texas Style BBQ
14-16 Lessons Summary
In the 14th lesson, Aaron gives a detailed tour of an offset smoker, his ultimate choice for making smoked meat. Aaron explains their construction and operation and discusses their role in grilling the perfect barbecue. Furthermore, he explains how you can modify your equipment before a cookout.

Next, Aaron reveals the humble beginnings leading to the birth of Franklin Barbecue restaurant. It provides learners with the skills to create their own barbecue setup, making the course an educational experience and a launchpad for their ventures in search of a perfect brisket.
Finally, he concludes with an interesting account of how brisket became a signature choice for barbecue. It is a bonus chapter where learners get to know about the roots of barbecue cooking culture in Texas.
Fast-Track Lesson Plan
If you are short on time, you can get the best of Aaron Franklin's MasterClass in 2 hours, 55 minutes 16 seconds. Here's how the fast version of the cooking course goes:
| | | |
| --- | --- | --- |
| No. | Lesson | Duration |
| 2. | Fire and smoke | 28:30 |
| 5. | Wood | 8:23 |
| 7. | Beef quality and selection | 8:27 |
| 8. | Prep: Brisket Trim | 38:19 |
| 9. | Smoke: Brisket part 1 | 20:13 |
| 10. | Smoke: Brisket part 2 | 17:01 |
| 11. | Smoke: Brisket part 3 | 18:36 |
| 12. | Finish: Brisket Slice | 17:20 |
| 13. | Prepare: Sauce | 10:54 |
| 14. | Offset smokers | 4:33 |
Aaron Franklin MasterClass: Student Engagement and Retention
Aaron Franklin's MasterClass is highly engaging due to its visual appeal and high-quality cooking instruction. MasterClass videos are produced by professional filmmakers, featuring clear visuals and sound, which makes them a joy to watch. You get detailed close-ups during the demonstrations making it easy to understand and replicate what Aaron Franklin teaches.

Aaron is a top-notch instructor as he breaks down the Texan bbq processes into manageable steps, explaining the "why" of every step in detail. Learners grasp the material of the course easily due to his warm, conversational style.

The course structure keeps all learners engaged and helps them progress evenly. No matter if you are a complete beginner or a semi-professional. The lessons build upon the previous ones, maintaining a flow that invites every cook to progress smoothly.

The comprehensive downloadable class book, complementing the video lessons, reinforces the understanding of barbecue skills. You can even refer to it later whenever you are in need. I finished the course half a year ago, and I'm still using it every time I have a cookout.
My Personal Experience With Aaron Franklin MasterClass
Things I Liked About the Aaron Franklin MasterClass
Comprehensive Barbecue Knowledge
Aaron Franklin is a world-renowned pitmaster, and his MasterClass offers an in-depth exploration of barbecue cooking techniques, recipes, and tips. The course helps you learn a range of skills, from choosing the right meat and wood to maintaining the perfect fire and, finally, cooking Central Texas barbecue recipes to perfection.
Engaging Teaching Style
Franklin is known for his friendly and approachable teaching style. He explains complex barbecue concepts in a way that's easy to understand for every cook. It's interesting to see how he makes a detailed game plan on his butcher's paper, starting from when he wants to serve the meat and then figuring out what he needs to do before that.
Hands-on Demonstrations
Franklin's Masterclass provides practical, hands-on experience on how to prepare and cook barbecue. At one instance, Aaron guides about the right way to wrap the brisket, and in another one he explains how to check whether the brisket has rested well enough. These demonstrations can be extremely beneficial for visual learners. I don't imagine learning cooking any other way.
Valuable Downloadable PDF Class Guide
With no extra cost, the course also comes with a valuable resource in the form of a PDF book. It is a helpful reference when you are shopping for barbecue equipment and ingredients for cooking yourself. The book supplements the video content excellently and will help you cook long after you have finished the entire course. I have even printed it and keep it near my kettle grill and gas smoker.
Things I Didn't Like About the Aaron Franklin's MasterClass
Requires Significant Time Commitment
Aaron Franklin's Masterclass is not something that you can rush through. Each lesson requires time to watch, and the actual Texas-style BBQ process, as Aaron teaches it, cannot be done quickly. No matter if it is ribs, pork, or any other recipe.
High Equipment Costs
Aaron Franklin is known for using high-quality barbecue equipment, some of which can be costly. While it's not necessary to have the top-tier gear to apply what you learn in the course, having similar equipment can help you cook closer to the results Franklin demonstrates.
Is Aaron Franklin MasterClass Worth the Money
Cost of Aaron Franklin MasterClass
The Aaron Franklin Masterclass lesson cost, like other courses on the MasterClass platform, priced at $120-240 or a monthly subscription of $10-20 (depending on the number of devices required).
| | |
| --- | --- |
| Plan | Price |
| Individual (one device) | $10 per month |
| Duo (two devices) | $15 per month |
| Family (six devices) | $20 per month |
While you are paying Aaron Franklin's Masterclass cost, you will get unlimited access to all courses on MasterClass. While the price may seem high for just one course, the wealth of knowledge Aaron Franklin shares is priceless for barbecue cooking enthusiasts.
Does the Class Keep Its Promises?
The verdict of our Aaron Franklin Masterclass review is that the cooking course truly lives up to expectations. It is complete with practical demonstrations in great detail and invaluable resources about Texas barbecue.

Aaron's expert guidance and approachable teaching style make it totally worth every penny and minute invested. You can uncover new insights and cooking techniques even if you're an experienced pitmaster.
Aaron Franklin MasterClass: What Others Have Said
Aaron's course continues to receive high praise for its thorough and accessible approach to the craft of barbecuing. People can't stop praising how well their barbecue turned after they took help from the Aaron Franklin's MasterClass. Below is one of the many Reddit comments praising the cooking course.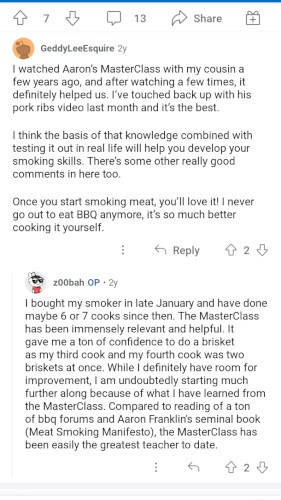 Aaron's MasterClass is being reviewed positively on social media platforms like Instagram, Twitter, and Facebook. Here is an Instagram user's review.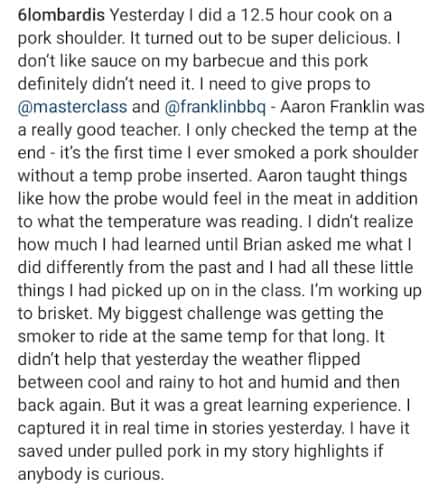 Essentials Used in the Aaron Franklin's MasterClass
The bare minimum to start this BBQ course is a large offset smoker and some meat. If you do not have one, Franklin shows how they work and gives ideas on how to make one.
Of course, getting clean smoke from a homemade smoker might be difficult. So I still include it in the essentials list below:
High-quality smoker (purchased or hand-made);
Lots of quality local Wood;
Common barbecue tools – knives, spritzer, tongs, cutting board, and others;
Recipe ingredients, such as Pork, Ribs, salt, pepper, and more.
Alternatives to Aaron Franklin MasterClass
Other Food and Cooking Courses Available on Masterclass
Wolfgang Puck teaches cooking
Gordon Ramsay teaches restaurant recipes at home
Thomas Keller teaches cooking techniques
James Suckling teaches wine appreciation
Apollonia Poilane teaches bread baking
Massimo Bottura teaches modern Italian cooking
Dominique Crenn teaches modern vegetarian cooking
Niki Nakayama teaches Modern Japanese cooking
Michael Pollan teaches intentional eating
Alternatives to MasterClass
Udemy
Udemy is one of the most popular online learning providers, with a massive choice of cooking classes. The learning platform covers a range of BBQ courses too for both beginner and advanced chefs.
Coursera
Coursera is another big name in the online courses market, with a lot to offer in culinary and related fields. It's a great way to expand your knowledge cooking without spending much money on online learning.
Skillshare
Skillshare focuses on practical courses, with educational videos substituting expensive college courses. The aim is to provide users with marketable skills for finding a job. There are quite a few courses related to cooking and BBQ as well.
Q&A about Aaron Franklin's MasterClass

I've spent the last ten years passionately studying various online learning platforms. Udemy, MasterClass, Coursera, and Skillshare are the main ones, but I review lesser-known study tools as well. I test and analyze each course and lesson thoroughly before sharing my research.