Alice Waters MasterClass Review:

A Fresh Perspective On The Art of Home Cooking
Just a heads up, whenever possible, I use affiliate links in my reviews to help cover the costs of running this site. You can learn more here.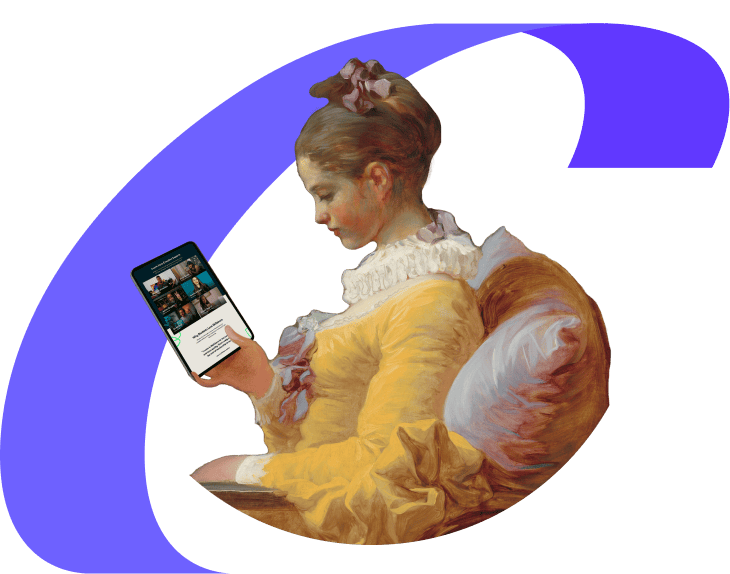 Good food is the fuel of the soul. But you don't need to go to a restaurant to eat well. A few good recipes are enough. Alice Waters MasterClass is all about simple dishes you can prepare in your kitchen. As the founder of the farm-to-table movement, Alice teaches you the art of ingredient-driven cooking.

Waters MasterClass encourages you to explore and play with flavors, textures, and combinations. She brings her wealth of knowledge and passion for cooking to this course. This Alice Waters MasterClass review brings my honest opinion about this cooking course and whether it can level up your cooking skills.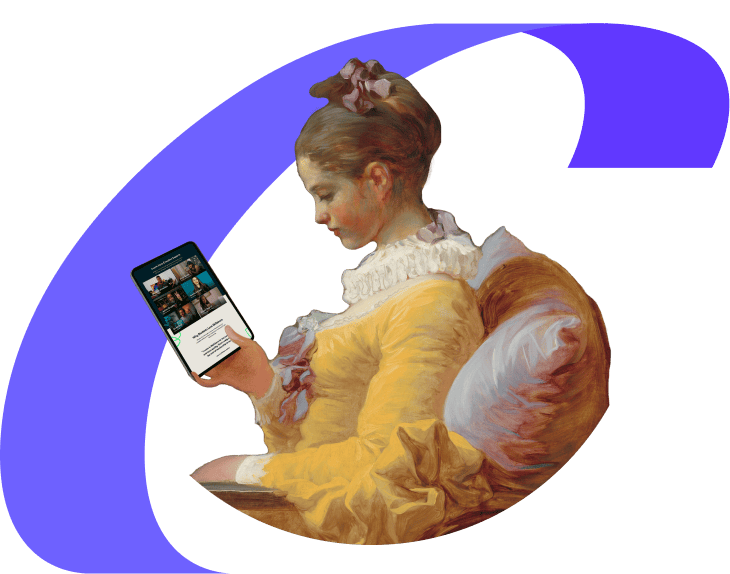 Alice Waters MasterClass Overview
Alice Waters MasterClass is a wholesome and captivating journey into sustainable cooking. Waters shares her knowledge of delicious meals that are ingredient-driven. She emphasizes the importance of mindful cooking and sourcing locally. This course caters to aspiring chefs and seasoned cooks through engaging lessons and high-production quality.
Alice Waters MasterClass Review Summary
| | |
| --- | --- |
| ⭐ Rating: | 9.3 ★★★★★ |
| 🥇 Category of class: | Food |
| 📈 Suits best for: | Aspiring chefs and seasoned cooks |
| 🕒 Lenght: | 3 hours 47 minutes |
| ⏳ Avg. Lesson Duration | 15 minutes |
| 🛍️ Course Essentials: | Fresh ingredients, an open mind, and a passion for cooking |
| 💼 Complementary material: | 77-page digital students workbook and online forum |
| 📚 No. of Lessons: | 17 lessons |
| 🛒 Payment options: | Individual / Duo / Family |
| 💵 Price: | 10 – 20 $ (billed annually) |
| 🔄 Refund policy: | 30-day satisfaction guarantee |
| 🎁 Free trial: | ✅ |
Key Skills You'll Learn
Sourcing for and selecting ingredients;
Enhancing flavors with herb;
Meal planning and fresh food preparation;
Salad preparation and vegetable cooking techniques;
Using kitchen tools and equipment;
Farm-to-table cooking.
Who is Alice Waters MasterClass for
Whether you're a beginner looking to develop your culinary skills or an experienced home cook seeking a new perspective, this Alice Waters MasterClass offers you what you need. The insights, tips, and techniques are open-ended, can be applied to any kitchen, and do not limit you to the confines of recipes.
Our Evaluation
Total score: 9.3
Alice Waters as an Instructor
Student Engagement and Retention
In This Alice Waters' MasterClass
Review, You'll Learn
Alice Waters MasterClass Instructor Review
About Alice Waters
Alice Waters has been a renowned and accomplished figure in the culinary world for over 40 years. She is the founder and executive chef of the Chez Panisse restaurant in Berkeley, California. She also founded the farm-to-table movement, where she shows her dedication to using local and seasonal ingredients. The movement gained her massive recognition, including the James Beard Award.

In addition, Alice Waters was honored with Restaurant Magazine's Lifetime Achievement Award in 2007. Her influence even reached the highest levels of government, inspiring Michelle Obama's White House vegetable and herb garden. This passion and expertise is what she brings to her MasterClass course.
Alice Waters as an Instructor
Alice Waters is an engaging and knowledgeable instructor in her cooking MasterClass. Though Alice does not have formal teaching experience, she compensates for this with her expertise and dedication to a waste-free mindset.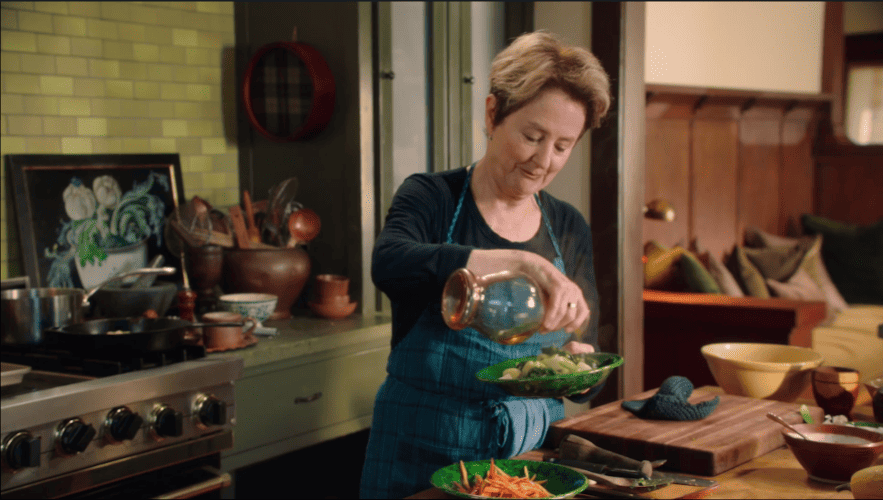 Alice Waters teaches her techniques and philosophy effectively, creating an authentic and inspiring learning experience. You are sure to feel like learning to cook recipes from your mom or grandmother.
About MasterClass
Since 2015, MasterClass brings 180+ online classes from top-tier instructors in almost any field. It includes pre-recorded video lessons from masters such as enterpreneur Richard Branson, screen writer Martin Scorsese, writer Aaron Sorkin, chefs Thomas Keller and Gordon Ramsay, and many others.

The video quality equals Hollywood movies, and every MasterClass course is carefully structured. But that's not all. There are interactive assignments, MasterClass community activities, and an ever-growing video library to enjoy. The sheer amount of content can make it hard to begin. Cursums will help you to choose wisely.
Uniqueness and Freshness of the Content
Finding comprehensive and reliable advice from Alice Waters in other online cooking classes can be challenging. These sources are often expensive, lack organization and the depth of the art of home cooking. This inconsistency hinders your learning of home cooking, making it hard to understand Alice's philosophy fully.

The Alice Waters MasterClass offers an unparalleled learning experience of her cooking process. It delivers a comprehensive package of modern middle eastern cooking expertise. Her knowledge is shared through a structured curriculum, exploring all aspects of home cooking. The course is well organized with a logical progression allowing you to follow through with edible education.

While there are other food philosophies you can opt for, MasterClass, which features a diverse range of chefs including world-renowned chef Gordon Ramsay and well-known sommelier James Suckling, offers the Alice Waters MasterClass course as one of the best choices for home cooking It offers the benefits of a MasterClass course and captures the essence of what it means to be a home cook. The High-quality video lessons, downloadable materials, and online forums will make you a better cook.
Alice Waters MasterClass Content and Structure Review
Alice Waters' MasterClass course consists of 17 high-quality video lessons. These lessons delve into her cooking philosophy and her fresh approach used to the farm-to-table movement. The average lesson lasts 15 minutes, while the longest runs for over 30 minutes and delves into the depths of aromatics cooking for a well-stocked pantry.

You can complete the Cooking MasterClass course rather quickly. However, the time it takes to fully understand Alice's philosophy of food will depend on your dedication and engagement with home cooking. The actual Alice Waters MasterClass worth lies in the hands-on assignments. It can take months after you're done with Alice's staples.
Alice's Philosophy of Culinary Arts and Ingredient Selection
1-2 Lessons Summary
Lessons 1-2 introduces you to Alice's philosophy of food. She emphasizes the importance of accessing the natural and freshest ingredients. Alice encourages you to move beyond the confines of recipes, develop a deep sense of intuition, and rely on your senses when cooking.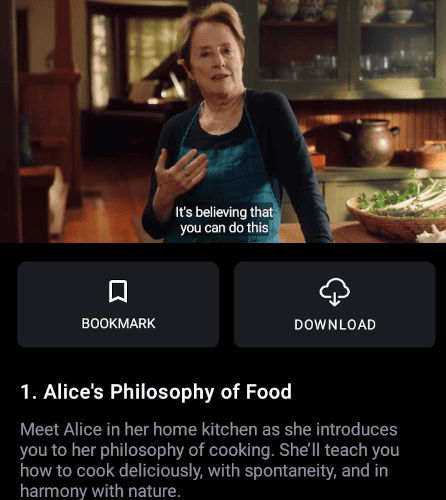 Throughout the lessons, Waters shows you how to discern fresh herbs and establish a connection with the local farmers markets yourself. The key skills you'll learn here are ingredient selection, connecting with local farmers, planning beautiful meals based on seasonal ingredients, and building a foundational knowledge of fresh produce.
Essential Techniques and Kitchen Tools
3-6 Lessons Summary
In lesson 3 on A Vegetable Lunch: Roasted, Steamed, and Raw, her opening remarks are ''Simplicity doesn't mean you haven't thought something through; it means you have thought it through so well that you can do it simply.''

Alice proceeds to demonstrate how to plan and prepare vegetables for a simple, meatless lunch using three methods to cook: roasting, steaming, and raw. She shares tips on timing and techniques for retaining flavors and nutrients in beautiful salad recipes.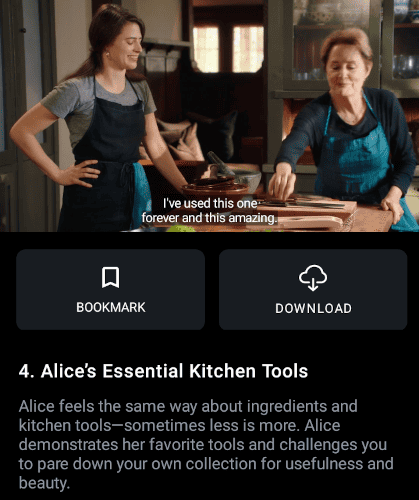 In later lessons, Alice shows you her everyday aromatics cooking tools, emphasizing the need for simplicity and investing in essential utensils for a home cook. What I liked in these lessons is her use of inexpensive tools, which are practical and minimize clutter.

She then delves into a well-stocked pantry, tips on ingredient selection, and cost-effective shopping. Alice teaches how to make your own pantry staples like Quick Pickles, Sautéed Greens, and Oat Pancakes, adding versatility to everyday cooking.
Seasonal Eating and Garden Freshness
7 -9 Lessons Summary
From lessons 7 to 9, you'll learn about seasonal ingredients, leaves, fresh herbs, and aromatics. Alice teaches you how to use tender and strong herbs in different dishes, stressing the importance of using only fresh vegetables and herbs.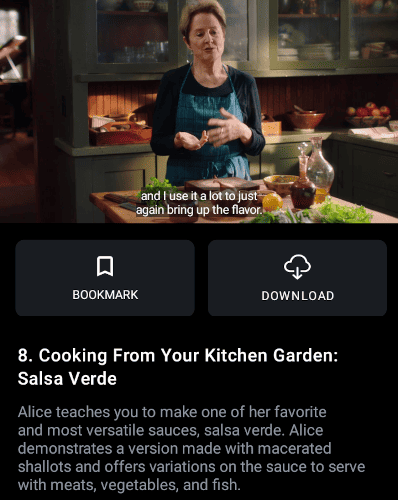 She demonstrates salsa Verde preparation using macerated shallots. Here, she provides sauce variations that can accompany the right vegetables and meats. You'll notice here that Alice offers alternatives to the seasonal ingredients she uses. You also learn to make beautiful and delicious meals like the Mesclun Salad.
Exploring Chez Panisse Cooking
10-12 Lessons Summary
In these lessons, the primary skills you'll learn from Alice are well-stocked pantry cooking, discerning flavors, and choosing the right fruit for different dishes and recipes. She teaches all about rustic galette chez panisse cooking with homemade pastry dough and seasonal eating.
Alice Waters emphasizes the importance of tasting and choosing fruits at their peak ripeness in the farmer's market. In this part of Alice Waters MasterClass, she also offers tips on repurposing fruits and putting them together in a seasonal fruit bowl.
Planning, Serving, and Meaningful Connections
13-17 Lessons Summary
In the last part of the Alice Waters MasterClass, she guides you through planning and preparing a 3-course menu using simple and seasonal ingredients. Here, you learn some skills, including portioning, planning, cooking timing, plating, and flame-cooking techniques.
Alice's philosophy on food gets more emphasis as she encourages you to practice mindfulness and care when you start cooking. Alice Waters further reflects on the need to connect with the source of your own food, elevating the art of home cooking and setting up a table.

The last two lessons are a bonus. These lessons focus on The Edible Schoolyard Project. It's an organization dedicated to transforming public education through organic produce, cafeterias, and kitchen garden. It teaches the values of nourishment through fresh produce and simple food.
She finishes with bonus recipes for a simple yet flavorful eggs-on-toast dish, highlighting the importance of a waste-free mindset.
Fast-Track Lesson Plan
Finish Alice Waters modern middle eastern cooking course in 1 hour, 35 minutes, and 56 seconds.
| | | |
| --- | --- | --- |
| No. | Lesson | Duration |
| 1. | Alice's Philosophy of Food | 2:52 |
| 2. | The Farmer's Market: Learning From the Source | 9:13 |
| 3. | Alice's Essential Kitchen Tools | 11:00 |
| 4. | A Well-Stocked Pantry | 28:24 |
| 5. | Follow the Rhythms of Nature: Seasonal Eating | 15:06 |
| 6. | A Market Fresh Dinner: Planning and Prep | 23:58 |
| 7. | The Power of Food: The Edible Schoolyard | 4:23 |
Alice Waters MasterClass Student Engagement and Retention
The most iconic thing about the Alice Waters MasterClass is the passion for food and the art of home cooking. Throughout her Chez Panisse cooking course, Alice inspires a deep appreciation for home cooking. Her clear and smooth voice and high-quality video lessons keep you hooked.

Alice's instructions are detailed, insightful, and accompanied by practical examples as she shares her personal experiences with the restaurant Chez Panisse, making the lessons relatable and engaging. The course balances explanation and demonstration, allowing you to participate in the learning process actively.
My Personal Experience With Alice Waters MasterClass
Things I Liked About the Alice Waters MasterClass
Expert Advice
Learning from Alice Waters is a truly remarkable experience. With a career spanning over 4 decades, Alice brings unparalleled expertise in home cooking with recipes of simple dishes. I love how she encouraged me to take a unique perspective on cooking. With her instruction, you are not limited to specific recipes, as Alice Waters teaches you to explore different flavors, fresh vegetables, and cooking styles.
Emphasis on Sustainable Cooking
Alice's philosophy is one of environmental consciousness. She emphasizes a waste-free mindset, teaching you how to select quality fresh produce and using the entire plant to reduce food waste when cooking. Through her local farmer's market approach, you'll develop sustainable cooking practices that benefit both the environment and your budget.
Things I Didn't Like About the Alice Waters MasterClass
Limited Accessibility of Ingredients
Alice Water's beautiful meals mostly rely on the freshest ingredients. While this concept is understandable to other chefs, it may not apply to all due to the limited access to local farmers market. It means buying and stocking your weekly supply of organic produce. You may not achieve the quality, taste, and freshness of a fresh-farm beautiful meal.
Over-emphasis on Plant-Based Meals
Alice's philosophy of food primarily focuses on plant-based meals, which can be limiting. For meat lovers, I suggest Grill master Aaron Franklin, who teaches BBQ. Not all learners may be vegan, and some may have specific dietary requirements. This approach to home cooking is based on vegan recipes
Is Alice Waters MasterClass Worth the Money
Cost of Alice Waters MasterClass
While the total amount billed annually may seem high, the value and benefits you get from Waters MasterClass outweigh this cost. With MasterClass cost for online lessons, you have an all-access pass to over 150 courses in different fields. You can also learn from other experts such as Gordon Ramsay and Thomas Keller.
Alice Waters MasterClass cost is priced like other courses on the platform. There are three annual plans available:
| | |
| --- | --- |
| Plan | Price |
| Individual (one device) | $10 per month |
| Duo (two devices) | $15 per month |
| Family (six devices) | $20 per month |
In addition, when you join with friends and family, the total costs will drastically reduce. Lastly, MasterClass offers a 30-day refund policy, allowing you to assess if MasterClass meets your needs.
Does the Class Keep Its Promises
Taking Alice Waters MasterClass review allows you to learn from an expert in culinary arts. As a renowned chef, food activist, and founder of the farm-to-table movement, Waters shares her philosophy and techniques in her cooking classes. So whether you're a novice or an experienced cook, you'll gain valuable insights and knowledge.
Alice Waters MasterClass: What Others Have Said
On Instagram, the learners are awe-struck by the tenderness and straightforward teaching approach, resonating with them and making learning enjoyable.
Alice Waters is highly regarded on Youtube, referring to her as a Guru. Alice's expertise and passion for cooking are highly admired, and her course is highly valuable.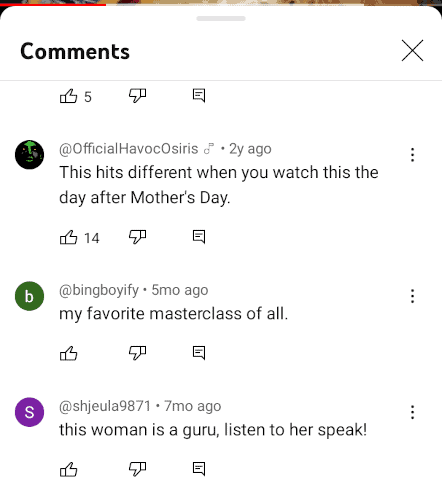 You can see the users' enthusiasm to take the Alice Waters MasterClass review on Twitter. There's also a positive affirmation of the course as it inspires motivation and inspiration for the art of home cooking.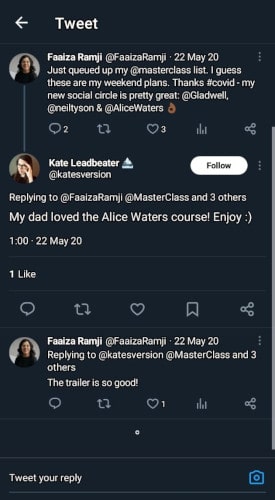 Essentials Used in the Alice Waters MasterClass
With a stable internet connection and a passion for cooking, you are good to go with the Alice Waters MasterClass course. However, you'll get much more value when you have these additional items:
Ingredients
Essential kitchen tools
Cookbook or recipe binder
Access to a farmer's market or local produce
Of course, you can use the downloadable cookbook for more item suggestions.
Alternatives to Alice Waters MasterClass
Other Food and Cooking Courses Available on Masterclass
Gordon Ramsay teaches restaurant recipes at home
Thomas Keller teaches cooking techniques
Wolfgang Puck teaches cooking
Aaron Franklin teaches Texas-style BBQ
James Suckling teaches wine appreciation
Apollonia Poilane teaches bread baking
Massimo Bottura teaches modern Italian cooking
Dominique Crenn teaches modern vegetarian cooking
Niki Nakayama teaches Modern Japanese cooking
Michael Pollan teaches intentional eating
Alternatives to MasterClass
Udemy
Udemy is one of the most popular online learning providers, with a massive choice of cooking classes. The learning platform covers a range of home cooking courses too for both beginner and advanced chefs.
Coursera
Coursera is another big name in the online courses market, with a lot to offer in culinary and related fields. It's a great way to expand your knowledge of cooking without spending much money on online learning.
Skillshare
Skillshare focuses on practical courses, with educational videos substituting expensive college courses. The aim is to provide users with marketable skills for finding a job. There are quite a few courses related to cooking and home kitchen as well.
Q&A about Alice Waters MasterClass

I've spent the last ten years passionately studying various online learning platforms. Udemy, MasterClass, Coursera, and Skillshare are the main ones, but I review lesser-known study tools as well. I test and analyze each course and lesson thoroughly before sharing my research.