Gordon Ramsay MasterClass Review:

It's No Hell's kitchen For Aspiring Chefs?
Last updated on: September 5, 2023, Written by:
Bill Tremlon
Just a heads up, whenever possible, I use affiliate links in my reviews to help cover the costs of running this site. You can learn more here.
Gordon Ramsay is one of the most iconic chefs. He influenced the entire culinary industry with his achievements and fiery TV personality. The chance to learn from a world-renowned chef like him is an opportunity any cook wouldn't want to miss. But I was hesitant about his MasterClass as Gordon Ramsay's content is abundant on the internet.

Will Gordon Ramsay's MasterClass teach something new? Short answer – it does, but it isn't a course for everyone. I completed his MasterClasses and will share my experience in this Gordon Ramsay MasterClass review.
Gordon Ramsay MasterClass Overview
Gordon Ramsay's MasterClass comes in two installments. The first part is perfect for beginners learning more about fundamental cooking techniques. The second one takes these a step further and teaches more advanced techniques. Both courses have class guides with video lessons, detailed recipes, and assignments. Both of Gordon Ramsay's MasterClasses are definitely worth a try.

Gordon Ramsay MasterClass Review Summary
| | |
| --- | --- |
| ⭐ Rating: | 9.6 ★★★★★ |
| 🥇 Category of class: | Food |
| 📈 Suits best for: | Part 1 – beginner cooks, Part 2 – suits intermediate/advanced cooks |
| 🕒 Lenght: | Part 1 – 3 hours and 54 minutes, Part 2 – 4 hours and 14 minutes |
| ⏳ Avg. Lesson Duration | 15 minutes |
| 🛍️ Course Essentials: | Basic kitchen gear |
| 💼 Complementary material: | Class guides with detailed recipes, beverages to pair dishes, and presentation tips |
| 📚 No. of Lessons: | Part 1 – 20 lessons, Part 2 – 15 lessons |
| 🛒 Payment options: | Individual / Duo / Family |
| 💵 Price: | 10 – 20 $ (billed annually) |
| 🔄 Refund policy: | 30-day satisfaction guarantee |
| 🎁 Free trial: | ✅ |
Key Skills You'll Learn
Designing your kitchen;
Handling knives accurately and safely;
Making pasta dough for fresh pasta;
Telling the freshness of various ingredients;
Cooking iconic dishes like Beef Wellington;
Cooking restaurant-quality food at home;
Various cooking methods (e.g. frying, sauteing, grilling, roasting);
Getting creative with different ingredients;
What beverages to pair dishes.
Who is Gordon Ramsay MasterClass for
Gordon Ramsay's MasterClasses are for any aspiring chef. Whether you're a home cook looking to impress guests at a dinner party or a cook climbing the career ladder to become a chef, Ramsay's cooking courses will suit you perfectly. However, the first course caters to beginners and intermediates, while the second covers more advanced cooking tips.
Our Evaluation
Total score: 9.6
Gordon Ramsay as an Instructor
Student Engagement and Retention
In This Gordon Ramsay's MasterClass
Review, You'll Learn
Gordon Ramsay MasterClass Instructor Review
About Gordon Ramsay
Gordon Ramsay is a world-renowned chef with multiple Michelin-starred restaurants and famous for his TV personality. To this day, he's been awarded 17 Michelin stars and currently holds seven. He also received the Most Excellent Order of the British Empire (OBE) from Queen Elizabeth II for his contribution to culinary arts.

Ramsay gained worldwide fame through his appearances in Hell's Kitchen, Kitchen Nightmares, MasterChef, and MasterChef Junior. He's notably known for his no-nonsense personality in these cooking shows, which has become a trademark of his persona. With all these under his belt, Ramsay is a culinary legend.
Gordon Ramsay as an Instructor
There's a difference between Chef Ramsay on TV or as a head chef and his MasterClass. I expected him to be more direct, but I was wrong. Throughout his cooking course, Gordon Ramsay is very engaging and goes into great detail on essential cooking skills. He even talks about frugal cooking and uses only basic kitchen equipment you'd find in any home kitchen.
There's a big visual aspect of his video lessons. Chef Ramsay talks about and shows a technique – always leaving you with context. For example, he talks about the importance of making accurate cuts safely and starts slowly chopping so you can see the technique in detail. The teaching style alone shows why people love Gordon Ramsay.
About MasterClass
Since 2015, MasterClass brings 180+ online classes from top-tier instructors in almost any field. It includes pre-recorded video lessons from masters such as Richard Branson, Martin Scorsese, Aaron Sorkin, Gordon Ramsay, and many others.

The video quality equals Hollywood movies, and every MasterClass course is carefully structured. But that's not all. There are interactive assignments, MasterClass community activities, and an ever-growing video library to enjoy. The sheer amount of content can make it hard to begin. Cursums will help you to choose wisely.
Uniqueness and Freshness of the Content
Gordon Ramsay's content is all over the internet. You can find videos on him giving Beef Wellington advice to cooking classic French cuisine. While this proves how much value Ramsay brings, it also raises questions about the course's uniqueness.

To my surprise, the detail of the content in both MasterClass courses was distinctively great. Sure, you can find Gordon Ramsay MasterClass recipes on other sources like YouTube. But the structure of each lesson and the course format turned them into unique video lessons that teach various dishes much more effectively.

You'll see this in all Gordon Ramsay MasterClass lessons, whether on organizing your kitchen or making scrambled eggs. Compared to other MasterClass courses about food and cooking, like Thomas Keller's culinary class and Franklin's bbq class, this made Gordon Ramsay's cooking course stand out.
Gordon Ramsay MasterClass Content and Structure Review
Part one gets you closer to Chef Ramsay himself. It starts with an introduction to Gordon's Journey, followed by kitchen layout, mastering ingredients, and choosing fresh vegetables. This installment follows Gordon's Method, Mastering Ingredients, and Make lesson formats. He talks about himself and teaches knife skills, using different types of ingredients, and cooking flavorful dishes.

You'll miss personal remarks and motivational tips in Part 2. Chef Ramsay quickly introduces the course and dives right into cooking red wine poached egg. It's more straightforward and skips the content that can benefit beginners. It is what separates the two parts. The first part's cooking lessons appeal to beginners and intermediates, while the second is better for advanced cooks.

Both courses have structured lessons that run for about 15 minutes each. Although the second part has fewer lessons, the total duration is similar. The MasterClass course runs for 3 hours and 54 minutes, while the second one is slightly longer at 4 hours and 14 minutes.
Gordon Ramsay Teaches Cooking Part I
The first Gordon Ramsay MasterClass has lessons that follow four formats.
Gordon's Journey talks about his journey to becoming the world-renowned chef he is today.
Method is where Gordon Ramsay shows techniques on various aspects of cooking, from using a knife properly to creating the optimal kitchen layout.
Mastering Ingredients format takes a type of ingredient and explains everything a cook needs to know about it.
Make are the cooking classes that employ the techniques taught in the previous lessons.
Gordon's Journey
2-11 Lessons Summary
Gordon Ramsay's MasterClass begins with how he became the chef he is today. Chef Ramsay stresses the importance of learning the best techniques from masters, giving his mother as the prime example. The Gordon's Journey lesson that follows later in the course goes over his path and essential tips on becoming a master chef yourself. It's enjoyable for any Gordon Ramsay fan.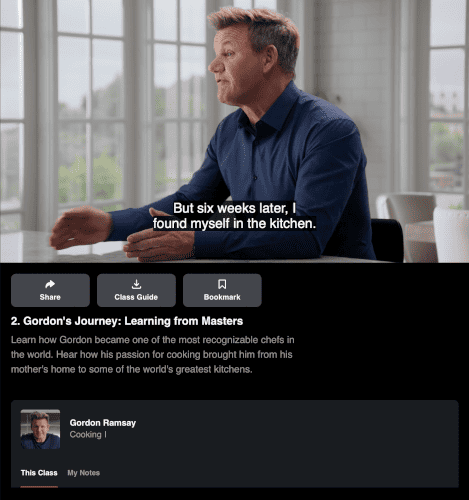 Method
Summary of Lessons 3, 6, 8, 12, 14, and 15
These lessons are beneficial for prepping ingredients and creating the best kitchen. In Method lessons, you'll learn about designing a kitchen, different knife cuts, breaking down a whole chicken and fish, making fresh pasta dough, and rolling pasta dough for making ravioli, fettuccine, and other noodles. These lessons will elevate your cooking skills even if you pass some of the recipe videos from the course.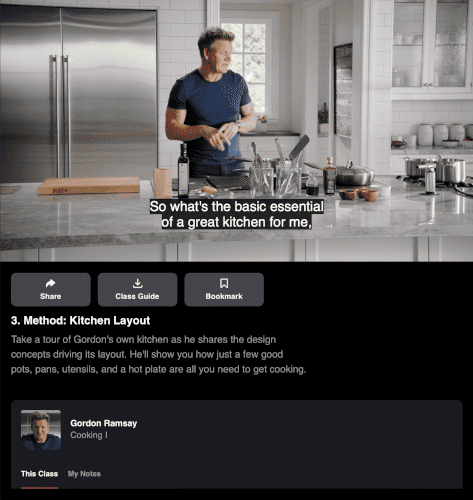 Mastering Ingredients
Summary of Lessons 4, 10, and 17
In the lessons about ingredients, Gordon Ramsay shows how to select fresh produce, what to look for in seafood on your next fishmonger visit, and different meat cuts. Like the Method lessons, they are very constructive and explain things you should know before food prep. You can take notes for each variety of ingredient to understand how to tell they are fresh and what cut of meat to use for different purposes.
Make
Summary of Lessons 5, 7, 9, 13, 16, and 18
The Make lessons are essentially recipe video lessons that use various cook techniques. In these lessons, you'll learn how to cook classic dish recipies:
Poached egg and mushrooms on brioche
Scrambled eggs with sea urchin
Chicken supreme with root vegetables
Salmon with shellfish minestrone
Lobster ravioli
Beef Wellington
The content structure caught my eye for these lessons. For example, you pick up knife skills and learn to break down a whole chicken before cooking chicken supreme with Gordon Ramsay. The order of the lessons made following the course easy. I'm sure even novice cooks won't leave the MasterClass confused.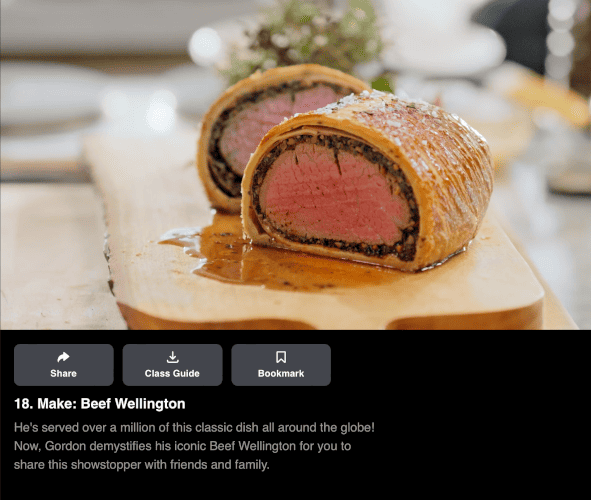 Fast-Track Lesson Plan
All lessons in Gordon Ramsay's first MasterClass are valuable. But if you're in a rush and want to get the best out of the course in the shortest time possible, consider skipping the following lessons to finish Gordon Ramsay MasterClass part 1 in 3 hours, 18 minutes, and 17 seconds.
| | | |
| --- | --- | --- |
| No. | Lesson | Duration |
| 1. | Introduction | 03:54 |
| 7. | Make: Elevated Scrambled Eggs | 06:28 |
| 8. | Method: Breaking Down a Whole Chicken | 09:00 |
| 15. | Method: Rolling Pasta Dough | 15:49 |
| 20. | Closing | 01:26 |
Gordon Ramsay Teaches Cooking II: Restaurant Recipes at Home
The second part of Gordon Ramsay's cooking class is more streamlined as it's recipe-based. He teaches you how to make some of the dishes you'd find in a restaurant. Gordon Ramsay shows such dishes as pomme puree and raspberry souffle.
In this part of Gordon Ramsay's MasterClass, he makes a quick introduction and begins teaching the Gordon Ramsay's cooking collection:
Red Wine Poached Egg, Asparagus, and Mushrooms
Crispy Duck, Red Endive and Spinach
Pomme Purée
Cauliflower Steak, Olives, and Mushrooms
Rack of Lamb With Thumbelina Carrots
Roasted Eggplant With Basil and Feta
Grilled Baby Leeks, Miso Broth and Caviar Vinaigrette
Szechuan Roasted Whole Chicken
Hoisin Chicken and Pickled Daikon
Szechuan Chicken Breast and Udon Noodles
Sesame Crusted Tuna With Cucumber Salad
Fried Branzino With Thai Chili Lettuce Cups
Raspberry Soufflé
Gordon Ramsays MasterClass covers everything from presentation to serving. Chef Ramsay also talks about the ingredients he uses in detail. You'll often hear him explain why he uses one over another, like shallots instead of white onions, to control acidity.

Throughout these recipe videos, Gordon Ramsay uses essential home cooking equipment. You won't see any fancy restaurant-grade gear. He uses pretty much the same equipment he showed in the first part.

The accessibility of the ingredients is also one thing that surprised me about this part. I expected Chef Ramsay to introduce ingredients home cooks like myself would struggle to obtain. Luckily, he only uses what you would find in your local stores. The only challenge could be getting the freshest ingredients, but Gordon Ramsay already teaches that in the first part.

Overall, these lessons are straightforward yet very detailed. You will not only learn to cook a particular dish but understand critical points about the ingredients used for it. It can help cooks get creative and pair appropriate ingredients to create their own recipes.
Fast-Track Lesson Plan
Since the each recipe is unique, I recommend not skipping any of the lessons. However, if you want to learn the techniques covered, you can pass a few lessons. Skip the following lessons to finish Gordon Ramsay Teaches Cooking II in 2 hours and 55 minutes.
| | | |
| --- | --- | --- |
| No. | Lesson | Duration |
| 2. | Red Wine Poached Egg, Asparagus, and Mushrooms | 26:06 |
| 7. | Roasted Eggplant With Basil and Feta | 22:50 |
| 9. | Szechuan Roasted Whole Chicken | 13:00 |
| 12. | Sesame Crusted Tuna With Cucumber Salad | 17:04 |
Gordon Ramsay MasterClass Student Engagement and Retention
In both MasterClass courses, Gordon Ramsay is very engaging and keeps a positive tone. However, you see more of Chef Ramsay's excitement in the first part. It is more apparent in the lessons about fundamentals, like knife skills, basic cooking techniques, and setting up your kitchen.

The second part is also engaging, but he is more constructive due to the nature of the recipes and the culinary skills required. I found the engagement of the course was the same, but the entertainment aspect was slightly reduced.
My Personal Experience With Gordon Ramsay MasterClass
Things I Liked About the Gordon Ramsay MasterClass
Chef Ramsay's Teaching Style
One of the biggest Gordon Ramsay MasterClass pros is that you learn from Gordon Ramsay! But what I liked the most was his teaching style. Chef Ramsay is engaging and thoroughly explains his cooking technique. Whether discussing French pastry fundamentals or modern Italian cooking, he equips you with the necessary cooking techniques to cook in your kitchen.
Tips Beyond Cooking
Gordon Ramsay MasterClass courses focus on more than just cooking. Sure, you'll learn various techniques to improve your cooking skills, but he also gives practical tips on hygiene, food safety, and determining the freshness of ingredients. You'll see these tips in both parts of Gordon Ramsay's MasterClass. They come in handy, especially for home cooks who have yet to learn these tiny yet critical details.
Visual Aspect
Both parts of Gordon Ramsay's cooking course have great visual appeal. While Chef Ramsay explains a cooking method or a technique, you see him performing it from different angles. MasterClass team did an excellent job capturing the cooking journey of each dish. Even when he's doing something as simple as scrambling eggs with sea urchin tongues, you see the high production quality in Gordon Ramsay's class.
Things I Didn't Like About the Gordon Ramsay MasterClass
Class Guides Could Be Better
I was not too fond of the workbook of the first part. It's well-structured, and every lesson has two pages of content in the workbook. But it only goes over recipes broadly without cooking times, making it difficult to follow. So don't expect the class guide to be as detailed as Alice Walters cooking workbook.
Beverages, Sauces, and Garnishes
The second part includes what beverages to pair with each dish, but that's it. The course doesn't cover how to make any. I previously finished Wolfgang Puck's cooking course, which had a cocktails lesson. It would be nice to see something similar from Gordon Ramsay's course as well.
Expensive or Inaccessible Ingredients
Pretty much all the ingredients used in Part 1 are accessible. We see Chef Ramsay mention humble ingredients and use basic equipment. However, some recipes feature ingredients that may not be accessible or too expensive, like truffle, lobster, and sea urchin tongues.
Is Gordon Ramsay MasterClass Worth the Money
Cost of Gordon Ramsay MasterClass
You need a MasterClass subscription to watch Gordon Ramsay cooking courses. MasterClass monthly billing Is from $10 to $20 monthly with the annual plan. While this may be a big investment for some, Gordon Ramsay's MasterClass cost is peanuts compared to the value the platform provides. Even if you only intend to watch courses on cooking, you'll find over 20 top MasterClass classes, each offering something unique.
| | |
| --- | --- |
| Plan | Price |
| Individual (one device) | $10 per month |
| Duo (two devices) | $15 per month |
| Family (six devices) | $20 per month |
Does the Class Keep Its Promises
Gordon Ramsay MasterClass promises a lot and delivers them perfectly. The first part teaches you the basics, like setting up an optimal kitchen, mastering vegetables, and other basics. And the second part covers restaurant recipes you can cook in your own kitchen. These provide aspiring chefs with the necessary culinary training to take their cooking skills to a new level, making it worth investing time and money.
Gordon Ramsay MasterClass: What Others Have Said
Gordon Ramsay courses are well-received among MasterClass users. It's not just Gordon Ramsay fans that finish the course. Here's what people had to say about them.

A Reddit user sharing his experience with the Gordon Ramsay MasterClass, sharing the techniques used and information was great, but the lessons were too specific.
Here's a Twitter user showcasing the techniques he learned from Gordon Ramsay's red wine poached egg lesson.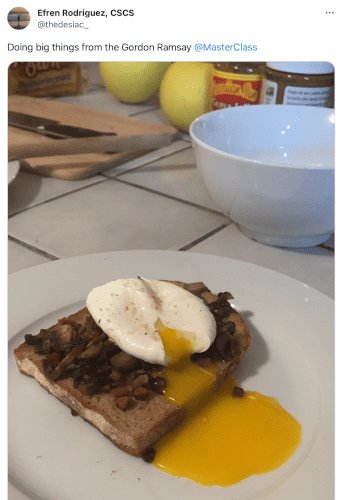 A Facebook commentator thanking Gordon Ramsay for sharing his knowledge with others.
Essentials Used in the Gordon Ramsay MasterClass
Here are some of the essential home kitchen equipment that I recommend to have before starting any of the MasterClass courses on cooking.
Cutting board
A set of knives with shears
Honing rod
Peeler
Palette knife
Heat-resistant utensils, whisks, and spatulas
Kitchen scale and measuring cups
Drum sieve
Graters and strainers
Pastry brush
Tweezers
Alternatives to Gordon Ramsay's MasterClass
Other Food and Home Courses Available on Masterclass
Wolfgang Puck teaches cooking
Thomas Keller teaches Cooking Techniques
Aaron Franklin teaches Texas-Style BBQ
James Suckling teaches wine appreciation
Apollonia Poilane teaches bread baking
Massimo Bottura teaches modern Italian cooking
Dominique Crenn teaches modern vegetarian cooking
Niki Nakayama teaches Modern Japanese cooking
Michael Pollan teaches intentional eating
Alternatives to MasterClass
Udemy
Udemy is one of the most popular online learning providers, with a massive choice of various classes. The learning platform covers a range of food courses for beginner and advanced learners.
Coursera
Coursera is another big name in the online courses market, with a lot to offer in sports-related fields. It's a great way to expand your knowledge of the field without spending much money on online learning.
Skillshare
Skillshare focuses on practical courses, with educational videos substituting expensive college courses. The aim is to provide users with marketable skills for finding a job. There are some courses related to food as well.
Q&A about Gordon Ramsay MasterClass

I've spent the last ten years passionately studying various online learning platforms. Udemy, MasterClass, Coursera, and Skillshare are the main ones, but I review lesser-known study tools as well. I test and analyze each course and lesson thoroughly before sharing my research.