Esther Perel MasterClass Review:

Can It Help Improve Your Relationships?
Last updated on: September 4, 2023, Written by:
Bill Tremlon
Just a heads up, whenever possible, I use affiliate links in my reviews to help cover the costs of running this site. You can learn more here.
At times, relationships can be confusing and difficult to maintain. We may not always have the best relationship skills, but there are professionals that can help us to improve them. One of the best-known relationship experts in the world is Esther Perel, and her MasterClass is readily available on the platform.

This course is for everyone interested in relational intelligence and willing to improve their relationships. That's why I wrote this review. Perel's MasterClass review is all about how the quality of our relationships determines the quality of our lives.
Esther Perel MasterClass Outline
Perel offers tools and building blocks to anyone interested in relational intelligence. She gives teachings on relationship dimensions, illustrations, and exercises to reconfigure your relationship creatively. This course is for everyone in relationships, doesn't matter if personal or professional relationships.

Esther Perel MasterClass Review In a Nutshell
| | |
| --- | --- |
| ⭐ Rating: | 9.4 ★★★★★ |
| 🥇 Category of class: | Business |
| 📈 Suits best for: | Anyone in any relationship |
| 🕒 Lenght: | 3 hours 6 minutes |
| ⏳ Avg. Lesson Duration | 15 minutes |
| 🛍️ Course Essentials: | Pen, paper, and interest in relational intelligence |
| 💼 Complementary material: | Access to workbook |
| 📚 No. of Lessons: | 12 lessons |
| 🛒 Payment options: | Individual / Duo / Family |
| 💵 Price: | 10 – 20 $ (billed annually) |
| 🔄 Refund policy: | 30-day satisfaction guarantee |
| 🎁 Free trial: | ✅ |
Main Skills You'll Learn
Understanding of relationship dynamics;
Creating new behaviors;
Empathy;
Setting boundaries in relationships;
Effective listening;
Conflict resolution.
Is Esther Perel MasterClass For Me?
This course is for everyone interested in developing vibrant relations creatively and understanding relationships. It's for personal and professional relationships and all about connecting. Perel's deep knowledge and understanding of relationships motivated me to connect more with my friends and colleagues.
Our Evaluation
Total score: 9.4
Esther Perel as an Instructor
Student Engagement and Retention
In This Esther Perel's MasterClass
Review, You'll Learn
Esther Perel MasterClass Teacher Review
Meet Esther Perel
With a background in educational psychology and a master's degree in expressive art therapy, Esther's expertise in psychotherapy is one of her most outstanding features. She practiced couple and family therapy early in her career before she broadened it to workplaces. She's a systemically trained family therapist who focuses on interconnections in relationships rather than causes.

She has a therapy practice in New York and consults Fortune 500 companies worldwide. Her 35 years of psychotherapy experience is one reason she's a New York Times bestselling author. She owns several podcasts, written articles, and a YouTube streaming platform where her fans interact.

Her knowledgeable popular Ted talks have got her almost 40 million views, and her best-selling books have been translated into almost 30 languages.
Esther Perel as a Teacher
As a world-renowned psychotherapist, Esther Perel is a great host and an amazing teacher. It's not just about the speaking experience, as she's a perfect example of passion and wisdom in what she's talking about. Experience also makes her an ideal choice for her audience.
When you take this course, prepare to have a clear breakdown of concepts. Perel explains every relationship system and tool you need and helps you reframe your idea of connection. She uses illustrations from her past sessions with original voices and exercises to keep you engaged.
About MasterClass
Since 2015, MasterClass brings 180+ online classes from top-tier instructors in almost any field. It includes pre-recorded video lessons from masters such as Richard Branson, Chris Voss Martin Scorsese, Aaron Sorkin, Gordon Ramsay, Bob Iger and many others.

The video quality equals Hollywood movies, and every MasterClass course is carefully structured. But that's not all. There are interactive assignments, MasterClass community activities, and an ever-growing video library to enjoy. The sheer amount of content can make it hard to begin. Cursums will help you to choose wisely.
Originality and Novelty of the Content
Although there are podcasts Where Should We Begin? or How's Work?, articles, Youtube workshops, Ted talks, and books, none has an in-depth approach to what the world-renowned psychotherapist is teaching. Everything is dispersed online and doesn't clearly show how Esther approaches modern relationships.

Esther Perel's MasterClass is the only resource you can get structured, full-detailed teachings of relational intelligence. Even better, this course gives you a chance to come out of your delusional concepts about interactions and gives you a chance to see the other side, your partner, boss, employee, or friend.

Other relationship-related courses, like the one by Daniel Pink, will most likely teach the same points. Perel MasterClass proves its uniqueness with her illustrative, innovative approach to moving forward with people in our lives.
Content and Structure of the Esther Perel MasterClass
Esther Perel's MasterClass has 12 video lessons, each with a specific and different topic. Finishing the whole course takes you 3 hours and 6 minutes, excluding the exercises. each task in the class guide took me 3 to 5 minutes on minimum.

On average, a lesson takes 15 minutes to go through everything. The longest lasts for 19 minutes and 50 seconds. It's possible to finish the whole course in a day or two, but it can take more than that with all the exercises and self-reflection.
Me, You, and Us
2-4 lessons summary
In the first three lessons of Perel's class, after lesson one, Esther talks about how to understand yourself better. It's all about searching for yourself, communicating with yourself, and looking into your behaviors toward yourself and others.

In the third lesson, Esther discusses broadening the perspective of yourself and others. Understanding where others come from by putting yourself in their shoes. Esther calls this empathy which is dire in relating and coping with others.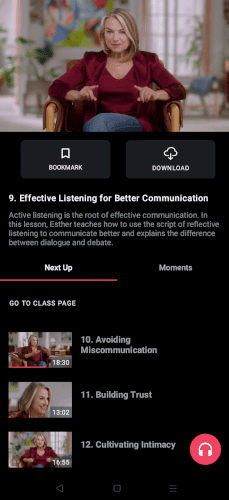 She talks about setting your boundaries in the fourth lesson, both personal and work-related. She also emphasizes self-reflection before you understand others and set boundaries. Perel insists on taking the several assignments she gives and exercises.
The Ecology of Conflict
5-8 Lessons Summary
Esther explains the dynamics of power in relationships. Lesson 5 describes the tools you can use to realize and manage power dynamics. Perel insists that relationships determine how you handle power structures.

In the next lesson, Perel talks about the roles of everyone in relationships and the importance of embracing that. The lesson explains ways to understand everyone's roles and their interdependent parts.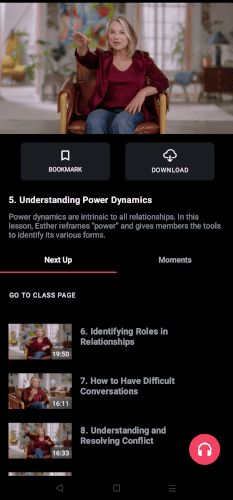 Lesson 7 Esther gives tools to help with difficult conversations in our relationship. She has several exercises to help you navigate these complex discussions more effectively. She gives examples of hard conversation instances and explains what makes them challenging.

Lesson 8 is about learning conflict control and its three dynamics. Esther discusses the fight/flee, fight/fight, flee/flee concepts and gives another perspective on conflict, showing you how to manage conflict better.
Healing and health
9-12 Lessons Summary
This section is about bringing more intimacy or eroticism, as Perel puts it. She speaks about clear communication to avoid miscommunication, building a foundation of trust, and sharing provocative talks.
In lesson 9, Esther illustrates active listening as a root of effective listening for good communication. She teaches a better way of dialogues, reflective listening, and the difference between exchanging words and arguing or debating.

Lessons 10 and 11 are all about teaching how to use communication skills to avoid miscommunicating. She explains how we misunderstand others and how we can avoid this. In the last lesson, she gives tips on building or rebuilding trust to cultivate or save a relationship.
Fast-Track Lesson Plan
Esther Perel's MasterClass takes 1 hour and 33 minutes, and 30 seconds to finish.
| | | |
| --- | --- | --- |
| No. | Lesson | Duration |
| 2. | Developing Self-Awareness | 15:22 |
| 3. | Developing Empathy | 16:54 |
| 5. | Understanding Power Dynamics | 14:19 |
| 8. | Understanding and Resolving Conflict | 16:33 |
| 9. | Effective Listening for Better Communication | 17:20 |
| 11. | Building Trust | 13:02 |
Engagement and Retention of Esther Perel MasterClass
Most courses of MasterClass are produced with high quality, and Esther's class is not an exception. I found her video lessons very clear and audible the whole time. There were audio illustration instances she shared of her past podcasts, and they were all clear and understandable, even without her intervention.

Esther explains every concept deeply and gives actual instances and relatable examples in life. There were also clear and easy-to-see points at every beginning of a subsection which made everything easy to keep up with.

The course had intriguing images that are appealing, especially if you're a visual learner. The writing exercises in almost every section kept me engaged.
My Firsthand Experience With Esther Perel MasterClass
What I liked About Esther Perel MasterClass
Practical Exercises Throughout the Course
I liked how Esther made the whole course engaging, like a one-on-one interaction. I felt involved and participated so much in writing down answers to her questions. Every lesson was about reflecting on yourself or your current or past relationship, which I found helpful.
A Clear Course Guide
The guide was convenient, supplementing everything Esther said. The sections consisting of infographics were incredible. The guide alone feels like a complete course without the video lessons, especially with the clear structure and joining of related topics.
Insightful Tips and Suggestions
Esther was about educating how things work and how you use your skills in cultivating strong relationships. It's all about understanding the concepts you didn't know existed and using them to understand yourself and others for better communication and relations.

Perel's MasterClass is also a great resource for reviving lost personal relationships and restoring the fire that was once there. It's what she calls eroticism, the aliveness, and vitality of both workplace and love relationships.
What I Didn't Like about Esther Perel MasterClass
Lack of Personal Feedback
I didn't like the idea of not participating directly with her. It felt like some questions needed me to raise a hand and answer or share some of my exercise questions. Also, getting a response from Esther on what she thinks about an answer would have been great.
Focus On Relationships Only
The course was mainly detailed on relationships. There was not much on psychology as you would expect from a psychotherapist. I did learn meaningful skills in connecting with others, but I wish there were more information on behavioral and mental processes that lead to certain people's actions.
Is Esther Perel MasterClass a Good purchase?
Price of Esther Perel MasterClass
The price for Esther's MasterClass is the same as other courses. There are three plans; the individual plan is $10 monthly for one account and device. The Duo plan is $15 monthly for one account and two devices. Lastly, the family plan for $20 for one account and six devices.

I confidently confirm that Esther Perel's MasterClass is worth every penny. In her class, you get teachings, tools, and a push to understand yourself deeper. You get to have personal time listening to her at your own pace, use the tips as you wish, and rewind anytime you need to get clarity on a concept.
| | |
| --- | --- |
| Plan | Price |
| Individual (one device) | $10 per month |
| Duo (two devices) | $15 per month |
| Family (six devices) | $20 per month |
Purchasing or receiving a course for her class will also grant you unlimited access to other courses taught by world-class instructors, ranging from entrepreneurs like Kris Jenner to politicians like Hillary Clinton. I particularly appreciated the recommendations I received.
Does the Class Live Up to the Hype?
Yes. I found the class engaging and learned more than in any other Ted talks or articles about relational intelligence. Esther eloquently explains every concept while giving relatable examples and offering suggestions to connect with others.

Before the online course, I thought connecting with others only meant understanding and fitting in their shoes. I knew nothing about discovering myself first and setting boundaries to understand others better.
Esther Perel MasterClass: Ratings from Around the Web
It seems like Esther Perel's MasterClass has been received well online. Most people seem to get what it's all about, and they're embracing its teachings with positive reviews. People on Twitter especially are thrilled about the course.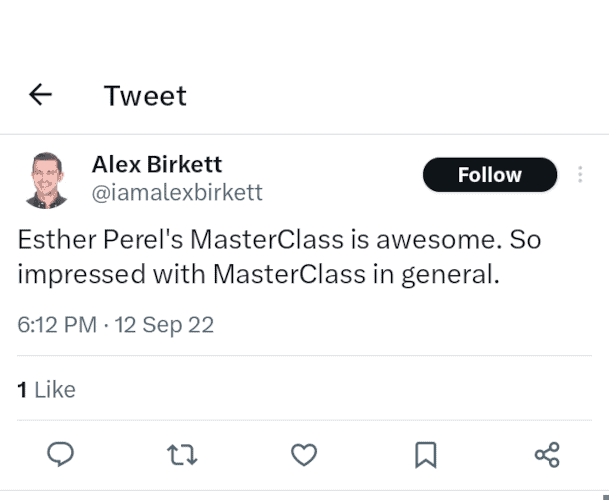 Another place Esther Perel's work has gone viral and is deeply appreciated is on LinkedIn.
Facebook people have not been left behind. They're realizing the course and especially some specific lessons by this relationship expert.
Essentials Used in the Esther Perel MasterClass
To start the course, you need a pen, notebook, and an open mind ready to learn and work on yourself. Some knowledge of her practice and work might also come in handy to engage more in the class. For example, watch his popular 2013 TED Talk – The Secret to Desire in a Long-Term Relationship, and read these books prior to or after the course to get the most out of it:
Mating in Captivity: Unlocking Erotic Intelligence (2006)
The State of Affairs: Rethinking Infidelity (2017)
Courses Similar to Esther Perel MasterClass
Other Courses of Business on MasterClass
Chris Voss teaches The Art of Negotiation
Richard Branson teaches Disruptive Entrepreneurship
Howard Schultz teaches Business Leadership
David Axelrod and Karl Rove teach Campaign Strategy and Messaging
Alexis Ohanian teaches Building Your Startup
Daniel Pink teaches Sales and Persuasion
Paul Krugman teaches Economics and Society
Sara Blakely teaches Self-Made Entrepreneurship
Bob Iger teaches Business Strategy and Leadership
Jeff Goodby & Rich Silverstein teach Advertising and Creativity
Geno Auriemma teaches Leading Winning Teams
Alternatives to MasterClass
Udemy
Udemy is one of the most popular online learning providers, with a massive choice of various classes. The learning platform covers a range of courses for starting your own business or a personal brand.
Coursera
Coursera is another big name in the online courses market, with a lot to offer in business, economics, and management fields. It's a great way to expand your knowledge of the field without spending much money on online learning.
Skillshare
Skillshare focuses on practical courses, with educational videos substituting expensive college courses. The aim is to provide users with marketable skills for finding a job. There are plenty of courses related to business, finance, and entrepreneurship.
Esther Perel MasterClass: FAQ

I've spent the last ten years passionately studying various online learning platforms. Udemy, MasterClass, Coursera, and Skillshare are the main ones, but I review lesser-known study tools as well. I test and analyze each course and lesson thoroughly before sharing my research.