Hillary Clinton MasterClass Review:

Does it Deliver Empowering Lessons?
Last updated on: September 4, 2023, Written by:
Bill Tremlon
Just a heads up, whenever possible, I use affiliate links in my reviews to help cover the costs of running this site. You can learn more here.
I've always been curious about what drives women in power and politics. Women have more challenges than men. They have to overcome social inequality and criticism way more than men. A great place to start exploring this topic is by looking into the lives of successful women.

One of them is Hillary Clinton – the former secretary of state and the 42nd First Lady of the USA. Hillary's personal story, told in her MasterClass course, is one of profound resilience and courage. It made her a historical figure. In this Hillary Clinton MasterClass Review, I will take you through the Clintons' central message.
Hillary Clinton MasterClass Overview
Hillary Clinton's MasterClass offers insights into her life from childhood to being the 42nd First Lady of the USA to running for the US Presidency. Through her personal story, the former secretary reveals the driving force behind her unyielding values-driven mission statement.

Hillary Clinton MasterClass Review Summary
| | |
| --- | --- |
| ⭐ Rating: | 9.3 ★★★★★ |
| 🥇 Category of class: | Community & Government |
| 📈 Suits best for: | Aspiring change-makers of all ages |
| 🕒 Lenght: | 3 hours 23 minutes |
| ⏳ Avg. Lesson Duration | 13 minutes |
| 🛍️ Course Essentials: | Hillary Clinton's Books, Speeches by Dr. Martin Luther King jr, Former President Clinton, and Barrack Obama |
| 💼 Complementary material: | A 46-page Classguide |
| 📚 No. of Lessons: | 16 lessons |
| 🛒 Payment options: | Individual / Duo / Family |
| 💵 Price: | 10 – 20 $ (billed annually) |
| 🔄 Refund policy: | 30-day satisfaction guarantee |
| 🎁 Free trial: | ✅ |
Key Skills You'll Learn
Crafting a clear and compelling life mission;
Managing a busy schedule;
Delivering powerful and persuasive speeches;
Negotiating with confidence and skill;
Developing resilience to navigate challenges.
Who is Hillary Clinton MasterClass for
In her words, Hillary Clinton's MasterClass course is for ''Anyone of any age who wants to think about building a life of meaning and purpose, of setting goals and achieving them, and having a mission that captures their value''.
Our Evaluation
Total score: 9.3
Hillary Clinton as an Instructor
Student Engagement and Retention
In This Hillary Clinton's MasterClass
Review, You'll Learn
Hillary Clinton MasterClass Instructor Review
About Hillary Rodham Clinton
Hillary Rodham Clinton, an esteemed American lawyer, and politician, is known for her roles as a former First Lady, secretary of state, and as a contender for the US Presidency. In 2000, Clinton was elected as the first female senator from New York, making history by simultaneously holding elected office while being a former First Lady.

Throughout her career, Hillary chaired the Senate's Democratic Steering and Outreach Committee. Notably, the former secretary spearheaded the Adoption and Safe Families Act in 1997 and the passage of the Foster Care Independence Act in 1999, positively impacting the lives of countless individuals.
Hillary Clinton as an Instructor
As an instructor, Hillary Rodham Clinton exudes charisma and authenticity. Clinton dispenses advice from her own experience as a lawyer and politician. Though not traditionally a professional educator, Clintons own experience compensates for this. She demonstrates that her passion for teaching is equally powerful as her dedication to public service.
About MasterClass
Since 2015, MasterClass brings 180+ online classes from top ranked instructors in almost any field. It includes pre-recorded video lessons from masters such as Richard Branson, film producer Martin Scorsese, writer Aaron Sorkin, chef Gordon Ramsay, relationship expert Esther Perel and many others.

The video quality equals Hollywood movies, and every MasterClass course is carefully structured. But that's not all. There are interactive assignments, MasterClass community activities, and an ever-growing video library to enjoy. The sheer amount of content can make it hard to begin. Cursums will help you to choose wisely.
Uniqueness and Freshness of the Content
When seeking Hillary Clinton's advice online, you may encounter fragmented and incomplete information. Various sources may offer snippets of Clinton's experiences, but they are expensive and lack an entertaining look.

MasterClass presents an ideal solution to these challenges. Hillary Clinton's MasterClass course offers a curated and well-structured learning experience. The course provides a cohesive and in-depth understanding of Clinton's journey, resilience, and leadership.

While other platforms may offer similar courses, MasterClass is the most comprehensive option. It provides unparalleled access to knowledge and experiences from the world's best experts. Furthermore, a MasterClass subscription grants you access to other courses taught by powerful women, such as Mellody Hobson's MasterClass, where she explains business thinking, as well as all other lessons available on the platform.
Hillary Clinton MasterClass Content and Structure Review
Hillary's class has 16 video tutorials totaling up to 3 hours and 23 minutes, and an average lesson is around 13 minutes long. The longest video lesson is lesson 15, titled Exclusive: The "Would-Be" Victory Speech, and lasts for 19 minutes and 51 seconds.
Discovering Your Purpose
1-2 Lessons Summary
The first video tutorials introduce Hillary Rodham Clinton where she takes you through discovering your life's values-driven mission statement and purpose. Through insights from her own experiences, the former secretary of state offers practical advice on setting and achieving goals.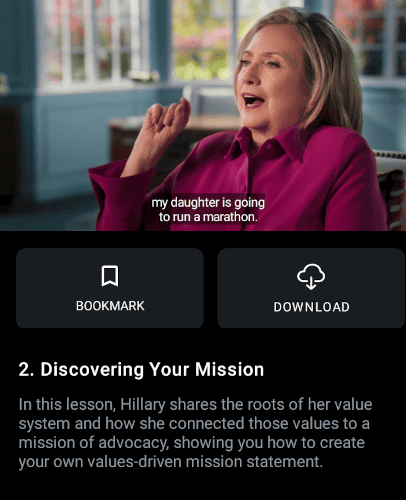 The lessons focus on introspection and self-discovery, emphasizing the importance of knowing your purpose and turning that purpose into a mission.
Building Resilience
3-8 Lessons Summary
The following lessons cover fundamental aspects of resilience, from developing a framework for hard work to organizing a busy life effectively. Hillary Clinton shares her expertise in preparing for public speaking.
The former senator studied persuasive speakers, like Dr. Martin Luther King Jr and Ex-president Barrack Obama. Additionally, Hillary Rodham Clinton MasterClass teaches you to maximize your strengths while learning to pivot in challenging situations.
Facing Challenges
9-13 Lessons Summary
Clinton then addresses the complexities of facing challenges and adversity such as being viciously mocked. You'll gain insights into handling criticism constructively and not taking it personally, which is vital for leadership and politics.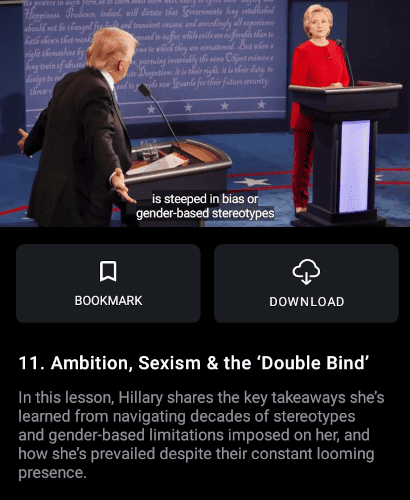 She also covers themes of ambition, sexism, and the 'Double Bind' that women in leadership often encounter. Clinton shares strategies to overcome setbacks and being called terrible names with courage and determination. The former first lady empowers you to dare to compete and emerge stronger.
Learning from Remarkable Leaders
14-15 Lessons Summary
This next section is where Hillary shares her relationship with her chief of staff – Huma Abedin, who has served for over 25 years. Together, they explore the depths of motivation and how it influences others.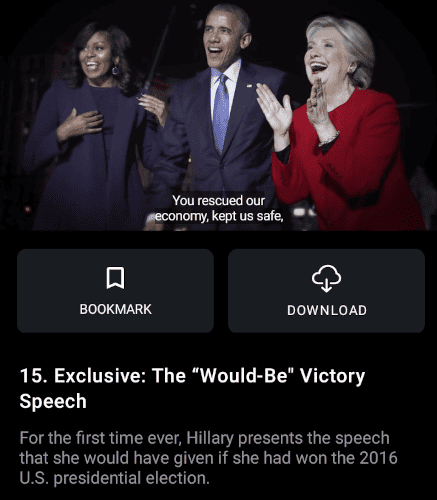 Hillary Rodham Clinton also reads her "Would-Be Victory Speech" for the 2016 presidential election night. This speech draws your attention to Clinton's journey up to that point and its invaluable lessons on public speaking and leadership.
Embracing Resilience in Life
16 Lesson Summary
Clinton then concludes her course on the Power of Resilience by emphasizing on the key takeaways. She inspires you to apply the acquired knowledge and skills daily for mental toughness.
Fast-Track Lesson Plan
Finish Hillary Clinton's MasterClass in 2 hours, 19 minutes, and 43 seconds.
| | | |
| --- | --- | --- |
| No. | Lesson | Duration |
| 2. | Discovering Your Mission | 12:11 |
| 3. | Hillary's Framework for Hard Work | 13:15 |
| 4. | Organizing a Busy Life | 13:07 |
| 6. | Studying Persuasive Speakers | 15:10 |
| 8. | The Fundamentals of Negotiation | 13:53 |
| 10. | Taking Criticism Seriously, Not Personally | 11:32 |
| 11. | Ambition, Sexism & the 'Double Bind' | 14:58 |
| 12. | Overcoming Setbacks | 14:16 |
| 13. | Daring to Compete | 11:31 |
| 15. | Exclusive: The "Would-Be" Victory Speech | 19:51 |
Hillary Clinton MasterClass Student Engagement and Retention
Hillary Clinton's MasterClass is highly engaging. The visual presentation of the lessons is top-notch, and the seamless transitions make it enjoyable to watch. In addition, Hillary Rodham Clinton effective and authentic communication style makes it easy for you to understand the course.

Hillary Shares complex concepts in a relatable manner with side notes and historical footage to ensure that you can follow along. The course structure and organization contribute to its high level of engagement. Each lesson builds upon the previous one, creating a natural flow that keeps you invested and eager to explore further.
My Personal Experience With Hillary Clinton MasterClass
Things I Liked About the Hillary Clinton MasterClass
Inspiring and Empowering Content
Hillary Clinton's MasterClass is an uplifting and motivational journey. Her stories of perseverance and the power of resilience inspired me to tackle challenges with renewed determination. The course instills a sense of empowerment, encouraging me to pursue self-improvement fearlessly.
Candid Insights from Hillary
Clinton's authenticity is a standout feature of her Power of Resilience course. She shares personal anecdotes and reflections, providing a glimpse into the life of a prominent politician. This openness created a genuine and relatable learning experience that connected me with Clintons course content.
Practical Life Lessons
The course offers practical advice that is applicable beyond politics. Whether it's organizing a busy life or mastering negotiation fundamentals, if you are interested in learning more about negotiation, I strongly recommend watching Bob Iger's MasterClass overview. Clinton's teachings equip you with valuable skills for everyday challenges.
Things I Didn't Like About the Hillary Clinton MasterClass
Limited Depth in Some Topics
While the course covers a diverse range of subjects, there was a need for a more in-depth exploration of specific topics. For instance, a more comprehensive analysis of ambition and sexism would have added more value to the course.
Is Hillary Clinton MasterClass Worth the Money
Cost of Hillary Clinton MasterClass
Hillary Clinton online MasterClass is competitively priced with three annual plans available, including:
| | |
| --- | --- |
| Plan | Price |
| Individual (one device) | $10 per month |
| Duo (two devices) | $15 per month |
| Family (six devices) | $20 per month |
It is worth purchasing a MasterClass subscription solely for Hillary Clinton's MasterClass. This online course also provides a rare opportunity to learn about how to campaign, and politics directly from a highly experienced and influential political figure.
Does the Class Keep Its Promises
Hillary Clinton's MasterClass delivers on its promises of providing inspiring and empowering content from a prominent political figure. From discovering one's own values and mission to navigating compromise and setbacks, the course covers various topics that align with its objectives on resilience.

Having taken the course, I recommend it to others seeking to be inspired and empowered by the wisdom and journey of Hillary Rodham Clinton.
Hillary Clinton MasterClass: What Others Have Said
There is a lot of appreciation for the Hillary Clinton Masterclass course on social media. Some users on YouTube, Instagram, and Facebook have not failed to give their honest reviews.

On YouTube, Hillary Clinton is an inspiration to many. Especially young girls and women. This MasterClass is an opportunity to learn from a renowned leader and former first lady.
On Instagram, it is evidence that the power of resilience as taught by Hillary will empower many for years to come. The class has affirmed its values-driven mission statement.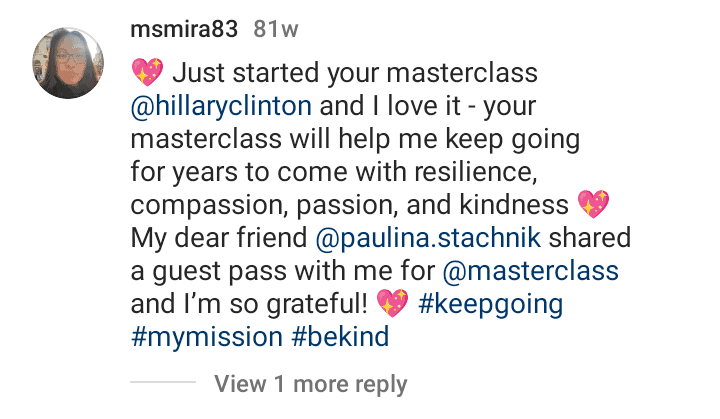 Although Facebook does not house many fans of the former secretary of state, you can find there many honest reviews of Hillary Clinton's Masterclass.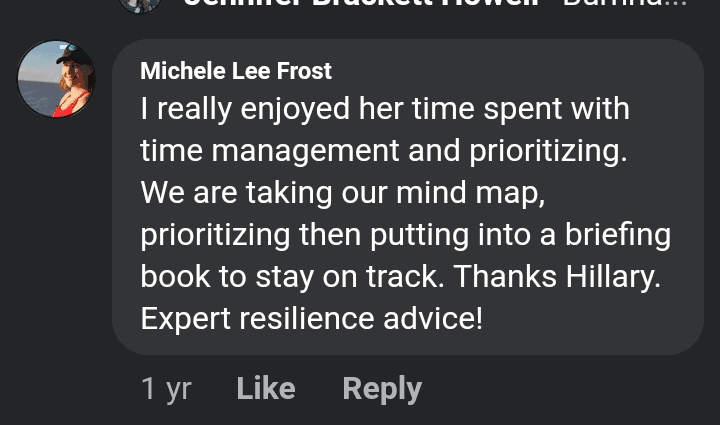 Essentials Used in the Hillary Clinton MasterClass
While you should gain a lot from simply watching the video lessons, you'll get much more value with these additional items:
Hillary Clinton's Books, such as What Happened (2017) and Hard Choices (2014).
Martin Luther King Jr.'s Speech – "I Have a Dream"
Speeches from Barbara Jordan
Speeches by Former President Barack Obama
Alternatives to Hillary Clinton MasterClass
Other Community & Government Courses Available on Masterclass
Dr. Jane Goodall Teaches Conservation
David Axelrod and Karl Rove Teach Campaign Strategy and Messaging
Bill Clinton teaches Inclusive Leadership
Malala teaches Creating Change
George W. Bush teaches Authentic Leadership
Madeleine Albright and Condoleezza Rice teach Diplomacy
Noam Chomsky teaches Independent Thinking and the Media's Invisible Powers
Paul Krugman teaches Economics and Society
Doris Kearns Goodwin teaches U.S. Presidential History and Leadership
Melinda French Gates teaches Impactful Giving
Alternatives to MasterClass
Udemy
Udemy is one of the most popular online learning providers, with a massive choice of various classes. The learning platform covers a range of courses on history, politics, and leadership.
Coursera
Coursera is another big name in the online courses market, with a lot to offer in the fields of politics and social sciences. It's a great way to expand your knowledge of these fields without spending much money on online learning.
Skillshare
Skillshare focuses on practical courses, with educational videos substituting expensive college courses. The aim is to provide users with marketable skills for finding a job. There is a great course on sociology there.
Q&A about Hillary Clinton MasterClass

I've spent the last ten years passionately studying various online learning platforms. Udemy, MasterClass, Coursera, and Skillshare are the main ones, but I review lesser-known study tools as well. I test and analyze each course and lesson thoroughly before sharing my research.